The Odd Location Where 'Weird Al' Yankovic Recorded His First Hit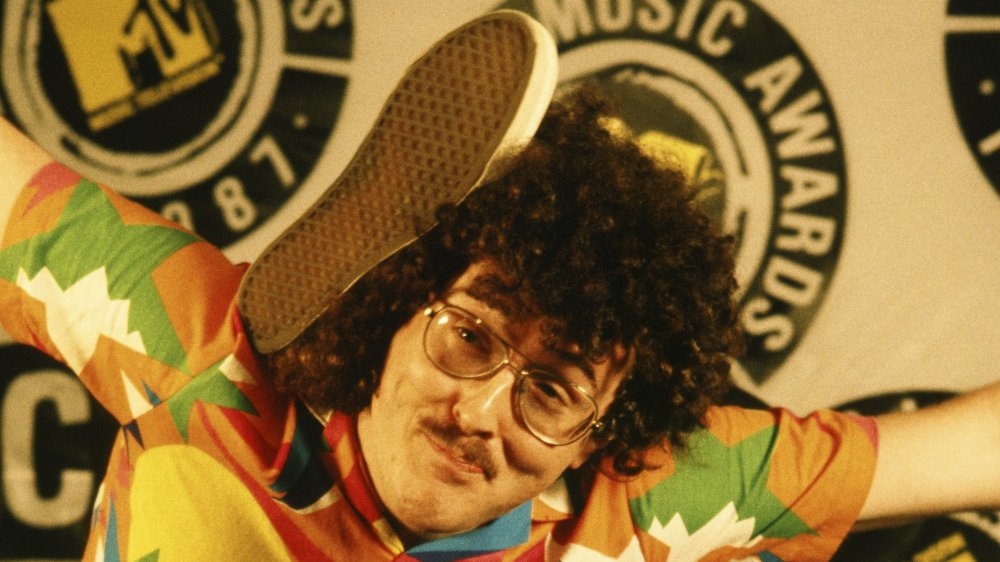 George Rose/Getty Images
"Weird Al" Yankovic is perhaps pop music's most bizarre success story. The man has made a long, successful, award-winning career full of best-selling albums and iconic, ground-breaking videos out of writing satirical, good-natured parodies of popular hits. It all started with "My Bologna," a parody of the Knack's hit "My Sharona," described succinctly by Rolling Stone: "accompanied only by his accordion, the song is a G-rated ode to bologna" which "launched a hugely successful career that is going strong to this day." To make the song's unlikely breakthrough even more impressive, Yankovic recorded the song in the men's bathroom across the hall from California State Polytechnic University's campus radio station.
Per the San Luis Obispo Tribune, Yankovic started playing the accordion as a child and started writing parody songs when he was still in high school, some of which he sent to his idol, Barry Hansen — "Dr. Demento" — who would occasionally play them on his national radio show that featured novelty songs. As an architecture student at California State Polytechnic University, Yankovic was a "bit of a nerd," according to friend Tom Walters, but found a niche as a DJ at the campus radio station and playing in a band with another friend, Joel Miller. It was during this time that he started going by "Weird Al," embracing the moniker after someone referred to him as "That f****** weird Al." According to Miller, "Al thought that was OK because people finally realized that he existed."
A solo bathroom recording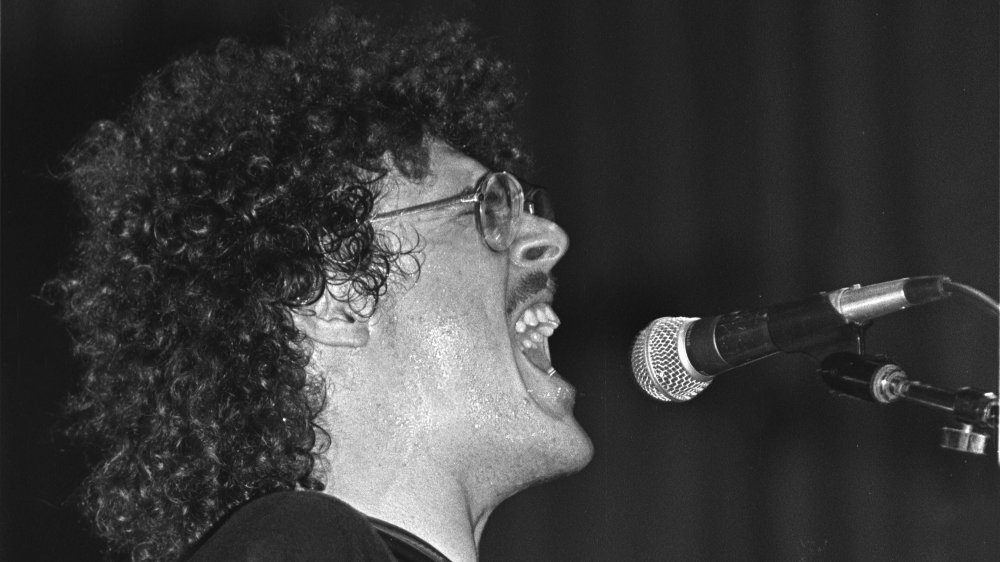 John Atashian/Getty Images
Yankovic started performing with fellow DJ Jon Iverson, who accompanied Al on guitar. The two unsuccessfully auditioned for The Gong Show and "kind of hit a stride when we started doing songs about food," Iverson told the Tribune. The Knack's "My Sharona" was a huge hit in 1979 and it made sense to use it as a basis for a new song. The two premiered "My Bologna" at a party, followed by a performance at the World Famous Darkroom club where "the crowd stopped talking and watched Yankovic jump around the stage" as soon as the song began. 
Perhaps inspired by the crowd's reaction, "Yankovic alone took his accordion into that restroom in the graphic arts building ... and recorded 'My Bologna.'" He sent the recording to Dr. Demento, who played it on his show and later sent a note to Al, which Al posted on Twitter in 2016, reporting that the song had "made a big hit with my audience, to put it mildly" and that a producer from Capitol Records had contacted him asking for a copy for The Knack. According to the Tribune, Al soon attended a Knack show and made his way backstage to meet the band. They told him they loved the song and the lead singer turned to a man "who happened to be Rupert Perry, the vice president of Capitol Records and he said, 'You should sign this guy."" He did, and the rest is Weird history.