How A Cheetah Brought Siegfried And Roy Together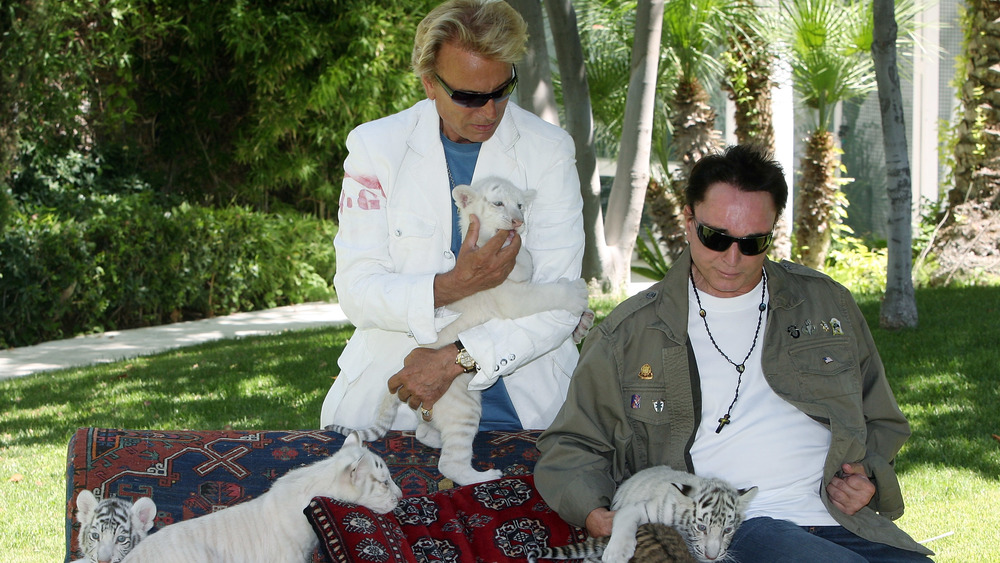 Ethan Miller/Getty Images
The names Siegfried and Roy are essentially synonymous with big cats, thanks to their many years dominating the Las Vegas entertainment scene with their over-the-top magic shows featuring white lions and white tigers. It's probably not too surprising that the masters of the impossible (per the Las Vegas Sun) had an almost unbelievably prescient meet-cute that revolved around a secret pet cheetah.
According to Best of Vegas, it all started on a German ocean liner in 1959. Siegfried Fischbacher was a cabin steward who had been a hobbyist magician since the age of nine. Roy Horn was a waiter who loved animals. After seeing Fishbacher performing some magic tricks for passengers, Horn approached him and asked, "If you can make a rabbit and a dove appear and disappear, can you do the same with a cheetah?" Roy revealed that he had sneaked his pet cheetah, Chico, onto the ship. It's unknown if Siegfried made Chico disappear that night, but he and Roy started working on their act, which combined magic and big cats into one extravagant show.
The two were promoted to cruise entertainers and spent years performing on ships. Eventually, they dropped anchor and toured Europe, performing at small clubs and casinos. This led to their discovery by a representative from the infamous Folies Bergère show, who asked them if they wanted to perform in Las Vegas. They arrived at the Tropicana casino in 1967 and remained Vegas fixtures for decades.
It started and ended with a big cat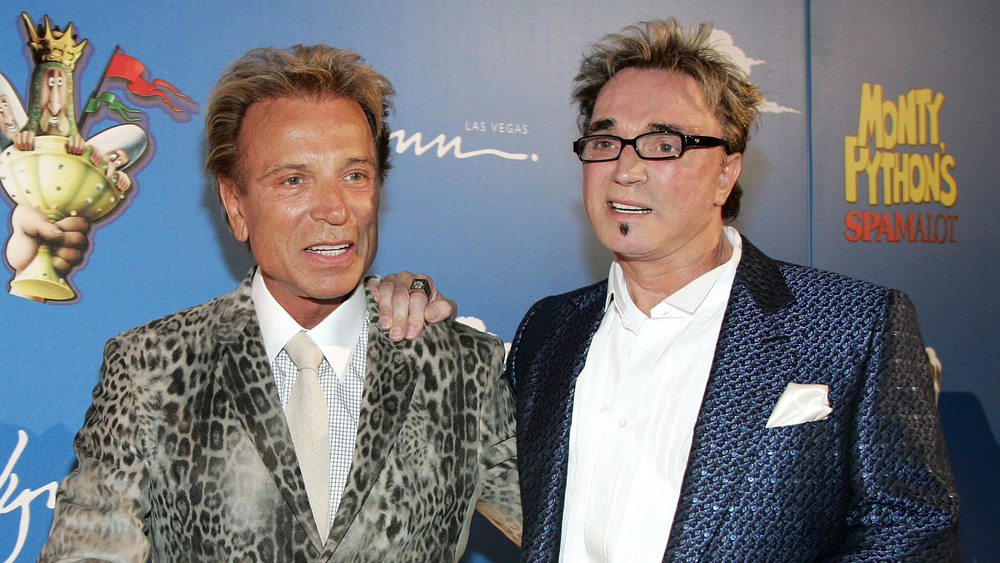 Ethan Miller/Getty Images
The Siegfried and Roy stage show came to a shocking and sudden end on October 3, 2003, when one of their cats, a white tiger named Mantacore, attacked Roy during a performance at the Mirage hotel and casino in front of 1,500 horrified audience members. Per ABC News, Roy had felt dizzy, tripped, and fell, at which point Mantacore grabbed him by the neck and dragged him offstage toward his cage. The resulting injuries included massive internal bleeding and damage to his airway; a doctor later told ABC that Horn had "flatlined" in the emergency room.
He remained hospitalized for a month. His recovery went on for several years; he appeared on the television show The Insider in 2006 to share his progress, walking with a cane and talking to the host after a period of barely being able to speak. Siegfried and Roy's final performance took place at a February 2009 benefit for the Lou Ruvo Brain Institute, per The Hollywood Reporter. They officially retired in 2010; their website noted that they'd performed a total of 5,700 shows at the Mirage in front of 10.5 million people. Roy Horn died from complications related to COVID-19 on May 8, 2020. The Las Vegas Review Journal quoted Siegfried Fischbacher: "Today, the world has lost one of the greats of magic, but I have lost my best friend."