The Super Bowl Halftime Show Costs A Lot More Money Than You Think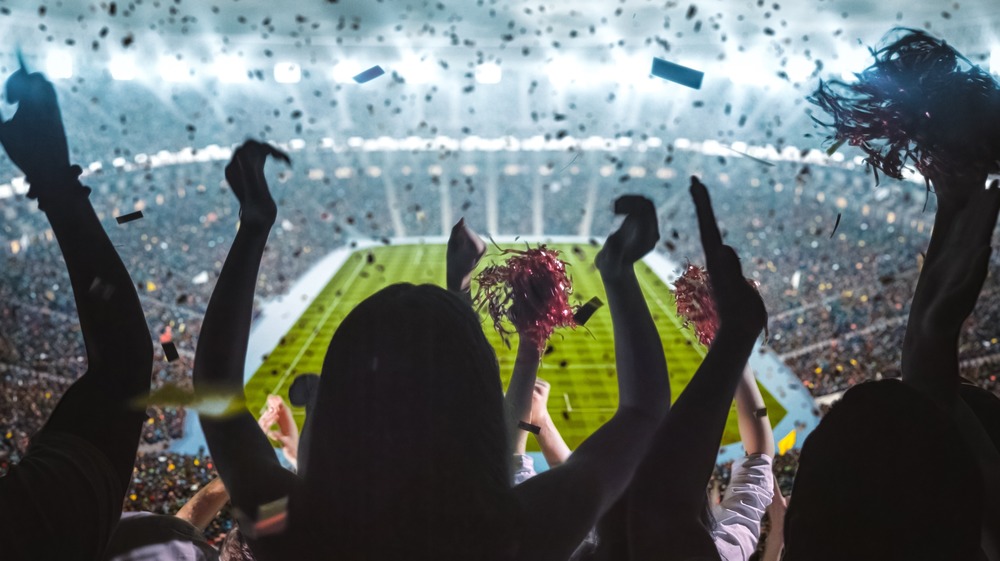 Shutterstock
On February 7, 2021, the Tampa Bay Buccaneers and the Kansas City Chiefs will square off in the Super Bowl to determine who will walk away champions of the 2020 NFL season. And you know what that means? Cue the spotlights, pose those background dancers, prep the song medley, and flip on the overdub, because it's time for another halftime show! (Sponsored by Pepsi.) Yes, in between all the running, throwing, kicking, scoring, flagrant marketing, couch-bound howling and chowing down on a scaffolding's worth of toxically lacquered buffalo wings, it's time to once again wonder: what exactly does Miley Cyrus have to do with big, sweaty dudes in body armor smashing into each other?
As Medium tells us, Super Bowls had halftime shows from the get-go, ever since The Three Stooges and a couple of marching bands took to the stage during the first Super Bowl in 1967. In fact, many halftime shows have featured marching bands, with 1972 being the first time a celebrity, Ella Fitzgerald, showed up. It took all the way until the '90s for halftime shows to surpass lackluster (I mean, KaleidoSUPERscope in 1983, per Sporting News? Yikes), starting with Michael Jackson's body doubles popping up from the top of giant screens in 1993 (watchable on YouTube). Thus began the era of the ludicrously over-the-top pageants of pomp and circumstance that we envision halftime shows to be. U.S.A.! U.S.A.!
But really, how much could all those stagehands, costuming, lighting, sound design, and months of practice cost?
Millions of viewers, millions in revenue
Some of the biggest names in music have made their way onto the field at halftime: U2 (2002), Janet Jackson and Justin Timberlake in the now-infamous defrocking incident (2004), Paul McCartney (2005), The Rolling Stones (2006), Prince and his amazing rendition of "Purple Rain" in an actual downpour (2007), Beyonce (2013), Bruno Mars (2014), Lady Gaga's non-lip-synced knockout extravaganza (2017), and most recently the Latina duo of Jennifer Lopez and Shakira (2020). Performances have gotten more and more elaborate, technical, highly choreographed, and sometimes involve thousands of performers.
Halftime-show hype draw viewers to the Super Bowl every year. As CBS Sports states, about 100 million people tuned into 2019's Super Bowl (which admittedly featured a less-than-stellar, cringy "shirtless Adam Levine" performance). Worldwide, Statista states that the game drew about 50-65 million more, which is underwhelming in comparison to the World Cup (over 1 billion tune in every year), but still makes the NFL the prime money-making sports league in the U.S. It earns $14 billion a year, as Refinery29 reports, and a single, 30-second ad, such as these 2021 ads on Delish from Budweiser, Doritos, Hellman's, Chipotle, etc., cost a stunning $5.6 million dollars each. Bleacher Report states that the total ad revenue per Super Bowl is now valued at over $400 million.
Basically, this means that the Super Bowl is one of the most reliably massive advertising platforms in the country. This makes the halftime show worth its obscene production cost.
A million a minute to produce, no pay for the performers
So how much does a Super Bowl halftime show cost, exactly? Well, it costs about $1 million per minute. Recent shows have run to about the 13-minute mark, meaning that the 2020 halftime show cost $13 million dollars. Firstpost summarizes the cost in terms of "thousands of people, months of planning and near military precision to pull off." The most challenging part of the entire production is transforming a professional sports field into a concert arena, described as a "Herculean task" of logistics, especially without damaging the grass or turf. 
Basically: Super Bowl halftime shows last 30 minutes, longer than a regular NFL game, right? But within those 30 minutes, entire stages, lighting systems, fire and special effects, electricity sources and cables, performers: everything is set up and taken down. Separate entertainment companies like Roc Nation, are hired by sponsors such as Pepsi (who has the halftime show contract from 2012 until 2022) to create this "big jigsaw puzzle," as Roc Nation producer Dan Parise describes on Firstpost.
And interestingly enough, how much of the halftime budget goes to the musicians themselves? Zero, as Sporting News describes. Before you wonder how that's possible, remember that the Super Bowl is practically the biggest promotional platform an artist could hope for. Justin Timberlake saw a 214 percent increase in Spotify streams after his performance, per Delish. And Lady Gaga? A whopping 2,000 percent boost in record sales, per Refinery29.