The Surprising Truth About The Land Rover Hearse That Will Carry Prince Philip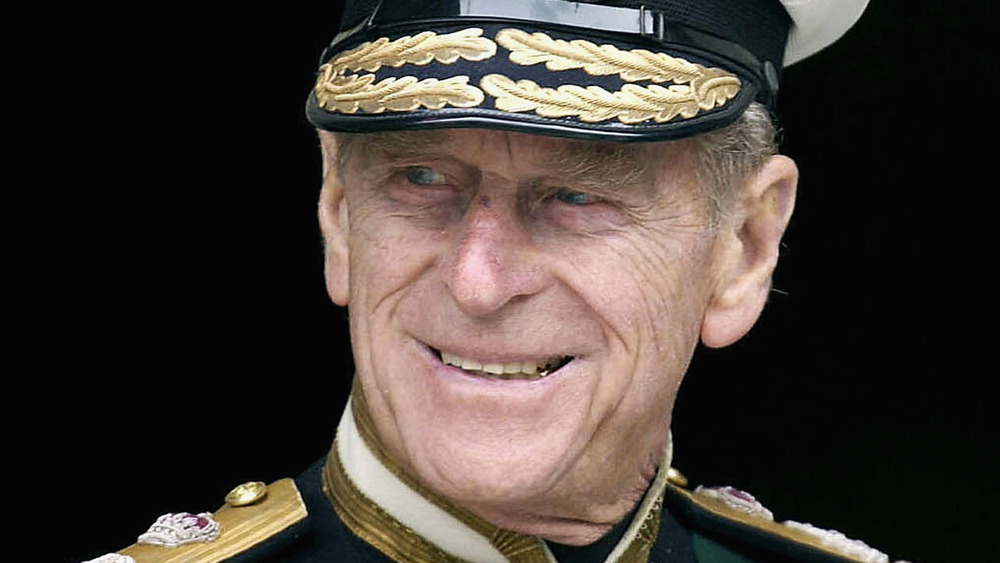 Anwar Hussein/Getty Images
Prince Philip, lifelong partner of Queen Elizabeth II, passed away in his sleep on April 9, 2021, at the age of 99, mere months before his 100th birthday in June. Prince Philip carries with him a legacy not only of being the longest-serving consort in British history, as the Guardian tells us, but of ardent environmentalism, as well as naval service that he continued after marrying the future queen in 1947.
Prince Philip wasn't merely an environmentalist in words and intentions, though. He was president of the UK's World Wildlife Federation branch from 1961 to 1982, as the Independent tells us, and its President Emeritus until death. In a letter readable on the WWF website, he wrote of supporting a multilateral initiative to preserve the Bornean rainforest, which is "essential for the survival of the rich diversity of plants and animals, including such special species as elephants, rhinos and orangutans." Prince Philip even selected a 100-percent biodegradable, woolen coffin for his burial, as the NY Post describes.
In this same vein, the prince chose an electric car — a Land Rover — to convey his body during his funeral, which doubles up as a gesture of respect to his military service. By all reports, he even helped design the vehicle, as iNews states.
A custom-made, hybrid Defender 130 Gun Bus
Prince Philip's hearse is a custom-made Defender 130 Gun Bus made by Foley's, a Land Rover manufacturer since 1966. They shipped the prince's order to him in 2016, as the Foley's website says. (The more standard version of the vehicle is pictured above.)
Prince Philips had very specific instructions about his funeral, and a palace spokesperson stated on iNews, "The Land Rover was very much part of the original plans as approved by the duke." The Drive quotes a Foley's Facebook post saying that the vehicle was, "Built to his specifications in the traditional Deep Bronze Green to an 'As New' standard. Built onto a galvanized chassis and hand-built rear body." It's also an electric hybrid.
Originally, the Land Rover was intended to carry the prince from Wellington Arch in central London to Windsor Castle, but because of COVID-19, the entire ceremony will take place within the grounds of Windsor. The Land Rover will be draped in Prince Philip's standard, which depicts his coat of arms, while a wreath, his naval cap and sword will be placed on top of the vehicle. Military pallbearers will flank the hearse as it moves, and members of the royal family will walk behind it.
The prince's funeral, scheduled to take place at 3 p.m. BST on Saturday, April 17, will be televised, as the BBC reports. The procession leading up to the funeral will start at 2:40 p.m., when his wool coffin will be placed in the Land Rover. The funeral itself will be held in St. George's Chapel, on the grounds of Windsor Castle.