What You Didn't Know About Richard Ramirez's Marriage
The romanticization of crime has been around for as long as crime itself. The American Psychological Association even has a term for it: hybristophilia, which they define as "sexual interest in and attraction to those who commit crimes." Not just active criminals, either; the feelings can also be "directed toward people in prison for various types of criminal activities."
A subset of hybristophilia involves women who fall in love with and even marry known serial killers. Psychology Today notes that the reasons some people may seek out this kind of marriage vary and include thinking they can change someone officially branded as "evil," wanting the publicity and notoriety that comes with such a partnership, enjoying the security of having a partner who they know is literally not going anywhere and is always thinking about them, or even seeing their own emotions reflected back at them. 
Public defender Rosalie Martinez met death row inmate Oscar Ray Bolin Jr. in 1995. Bolin had been convicted 10 times for the rapes and murders of three women; each conviction had been overturned, until he was finally convicted and sentenced to death. Martinez believed Bolin was innocent and left her husband and four children to marry Bolin over the phone. When asked about her attraction to Bolin, Martinez mentioned feeling "breathless" around him and recognized his loneliness, saying, "It affected me because I felt the same way."
Perhaps Doreen Lioy had similar feelings for the serial killer she eventually married. Lioy was a magazine editor who reportedly fell in love with Richard "The Night Stalker" Ramirez while watching his arrest and trial on television. 
'He's my best friend; he's my buddy'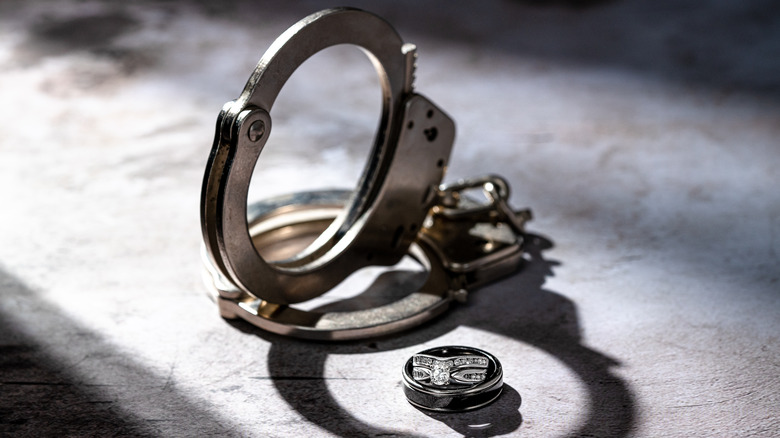 Shutterstock
As reported by All That's Interesting, in 1984 and 1985 Richard Ramirez terrorized California, killing at least 14 people and committing multiple rapes, assaults, and burglaries. Upon his capture and arrest in 1985, several women, including Doreen Lioy, started writing to Ramirez in prison. Lioy continued sending letters for years, convinced of Ramirez's innocence. She defended him in the press, at one point telling CNN, "He's kind, he's funny, he's charming. I think he's a really great person. He's my best friend; he's my buddy." Ramirez was convicted and sent to Death Row in 1989. Lioy sent him over 75 love letters over 11 years and became his most frequent visitor, sometimes coming to San Quentin State Prison four times a week. A reporter from the Los Angeles Times once observed a visit between Lioy and Ramirez and remarked that she seemed to be attracted to his vulnerability as a prisoner sentenced to death. 
Per Marie Claire, Lioy's family essentially disowned her in the course of her relationship with Ramirez, with her twin sister telling the San Francisco Examiner that it was a "very painful event." Ramirez proposed to Lioy in 1989 but they didn't marry until 1996. She continued defending him until 2009, when DNA evidence linked him to the 1984 rape and murder of a 9-year-old girl. A spokesperson for San Quentin stated that Ramirez had no personal visits in 2010 and no one claimed his body after his death in 2013.