The Untold Truth Of Randy Travis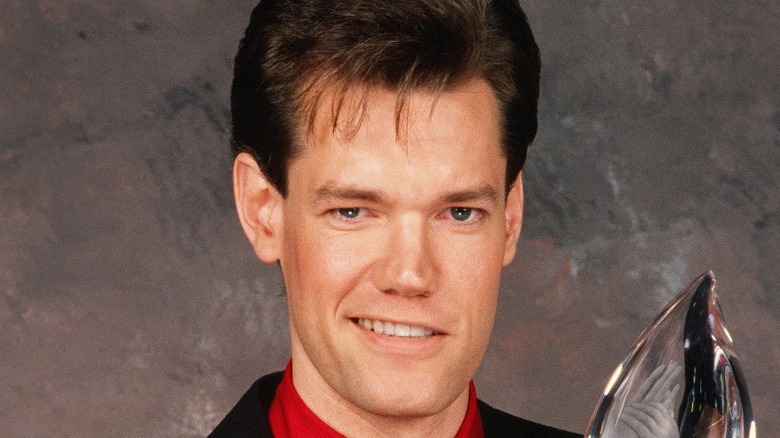 George Rose/Getty Images
Randy Travis' life is a country song. He was raised on a turkey farm, had a troubled relationship with his father, dropped out of school, and stole a truck along the way. As a teenager, he ran away from home to pursue his country music career. Then, he met a woman who invited him to live in her trailer with her and her husband and whose commitment to Randy eventually led to her divorce. After years of working in restaurants and a few false starts, he finally became a star. 
Randy's career took off in 1986 and continued strong for decades. According to his website, the country music artist has received seven Grammy awards and charted more than 50 singles. Country Music Hall of Fame reports that he was the first country artist to go platinum with his debut studio album. Later in life, he faced a few tragedies, including a divorce, arrests, and some serious health issues, but he has remarried, fought back harder than ever, and is still going strong. This is the untold truth of Randy Travis.
Randy Travis' dad inspired him to become a country singer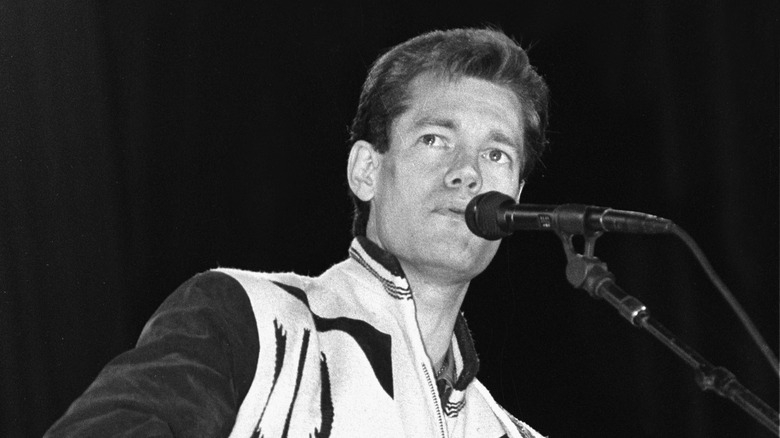 John Atashian/Getty Images
Harold Traywick, Randy Travis' father, was a country singer who wrote a few songs and even got on the radio in Monroe, a town near the family's home in Marshville, North Carolina. Harold paid for all three of his sons to take music lessons and built a music room with a stage in their home. By the time Randy was nine, he and his brother Ricky were performing regularly and taking part in contests. According to "Randy Travis: King of the New Country Traditionalists," Harold compiled scrapbooks filled with stories about the boys from local newspapers.
The darker side of the story is that Harold reportedly forced the boys to play even when they didn't want to. Harold had a bad reputation for drinking, and he was known to have a temper. He often screamed at the boys and also did the same to those in charge of the contests. As his sons got older, they acted out. Per "Randy Travis: King of the New Country Traditionalists," they became "high-spirited, hell-raising young troublemakers." Randy was arrested multiple times for breaking and entering, drinking and driving, and larceny. But through it all, he kept performing country music.
Randy Travis almost went to jail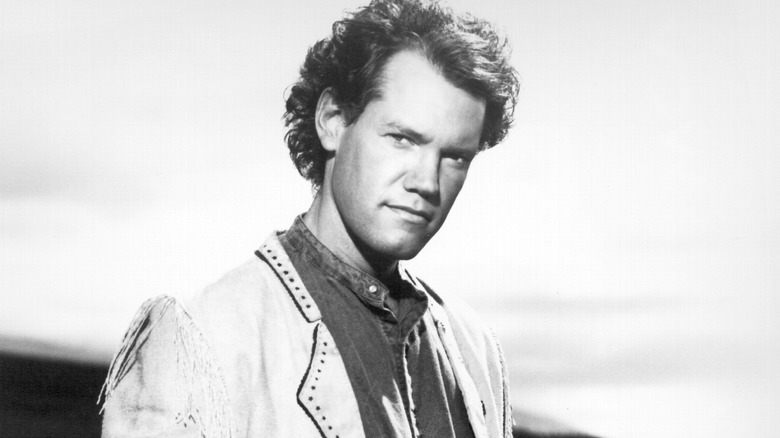 Jim Shea/Getty Images
In 1977, Randy Travis and his brothers entered a music contest at a bar in Charlotte, North Carolina, called Country City USA. The winner would receive $100 and a session in a recording studio. This is where Randy met his eventual wife, Lib Hatcher-Travis. She was the manager of the club and had organized the contest. According to "Randy Travis: King of the New Country Traditionalists," Lib said, "When I heard Randy, I just sort of dropped the papers, and thought, 'This is something special.'" On the final night of the contest, it was just Randy on the stage because Ricky Travis was doing time in juvie. Randy won the contest.
Lib offered Randy a job at the club singing, washing dishes, and helping out in general. She also offered him a place to stay in her and her husband's mobile home. But Randy was waiting for a court date after being arrested for stealing cars and breaking and entering. Lib talked to the judge and convinced him that she would take custody of Randy, who was only 17 at the time, so the judge let Randy off with probation. According to CBN, Randy said of Lib, "Having her in court the last time, saying that I was not drinking, not using drugs, not running with the same people anymore that kept me from going to prison."
Randy was found guilty of being too country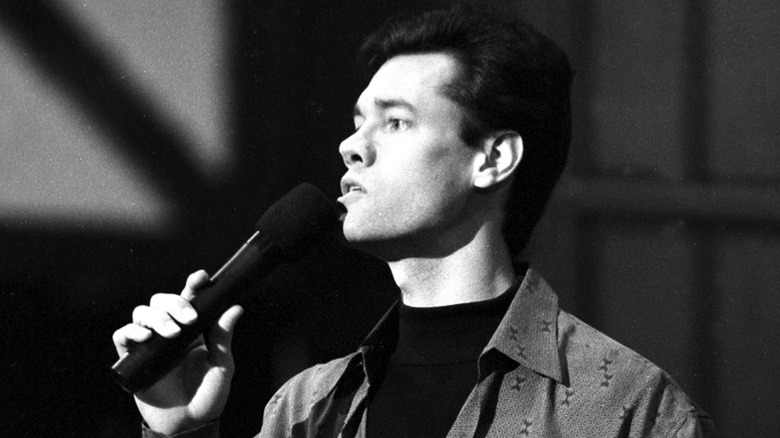 Michael Ochs Archives/Getty Images
Randy Travis sang at Country City USA six nights a week. Lib Hatcher put all her energy and money into furthering his career, to the point of it leading to her divorce from her husband. According to American Profile, Hatcher became his manager, and he recorded two singles for Paula Records. After years of working every angle to make Randy a country music star from Charlotte, Lib and Randy made the move to Nashville in 1981. There, she became the manager of the Nashville Palace. She let Randy sing regularly, but he also had to work in the kitchen. 
In Nashville, country music was going through an "Urban Cowboy" movement — an attempt to cross country music over to the mainstream by mixing it with elements of pop and rock. Think Alabama and Kenny Rogers. According to Randy Travis' website, when he pursued a record deal, he was turned down by every label in town at least once for being "too country." Randy's style was more reminiscent of the old guard, which didn't work in his favor for a few more years.
His first number one hit tanked the first time it was released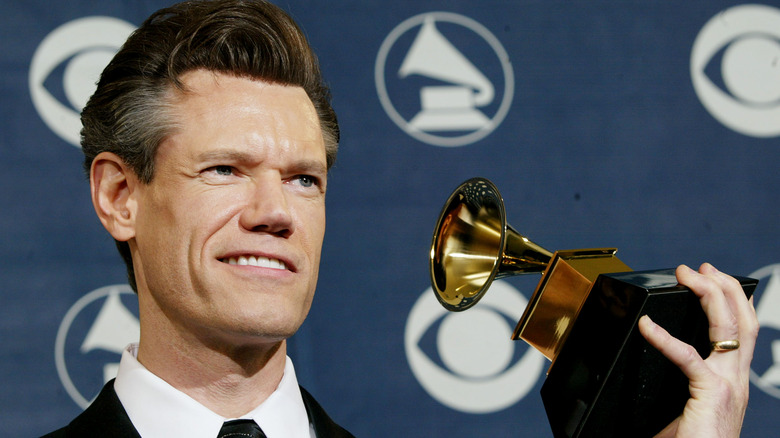 Frederick M. Brown/Getty Images
While working at the Nashville Palace, Randy Travis recorded an independent album, "Live at the Nashville Palace," which helped him gain the attention of a major label. In 1985, an A&R executive with Warner Bros., Martha Sharp, took a chance on Randy. According to the Washington Post, "she'd had enough of what they call crossover country, contemporary country and in some places, schlock, that dominated the country market at that time." Randy got a deal, but first he'd have to change his name from Randy Traywick to Randy Travis. After working so long for a record deal, he probably didn't mind.
One of his first singles was "On the Other Hand," a song about a married man turning down an affair. It entered the Billboard charts in August 1985 and stayed there for about 12 weeks, peaking at No. 67. Randy's team was disappointed with the lackluster results, but when his second single, "1982," was released later that year, it entered at No. 6. According to the Boot, "Propelled by that success, Warner Bros. re-released "On the Other Hand" to radio, and it became Travis' first No. 1 single. His first album with a record label, "Storms of Life," was also a No. 1 hit, and Randy was on his way.
Randy Travis was the youngest person to be invited to sing at the Grand Ole Opry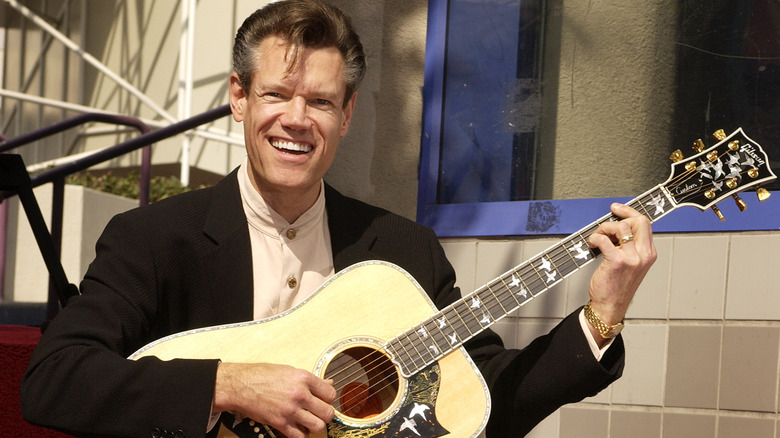 Vince Bucci/Getty Images
According to "Randy Travis: King of the New Country Traditionalists," Randy Travis had for years dreamed of playing at the Grand Ole Opry, the legendary weekly country music concert. Lib Hatcher courted the Opry crowd, but it didn't seem to get Randy anywhere. Then, in March 1986, he was invited to sing on the revered stage. Earlier that month, Randy and Lib had quit the Nashville Palace because Randy's career was starting to take off. According to the New York Times, "he became the youngest singer ever to join the Grand Ole Opry — a by-invitation-only honor." Randy was introduced by Little Jimmy Dickens and sang a classic Hank Williams song, "I'm So Lonesome I Could Cry." 
According to Taste of Country, "The year proved to be a pivotal one for the singer, who returned to the Opry on Dec. 20 and was asked to become an Opry member that night." Indeed, 1986 was a huge year for Randy Travis. His album sold two million copies, and he also opened for large acts including Conway Twitty, George Jones, and Barbara Mandrell.
Randy Travis recorded the first country album to go platinum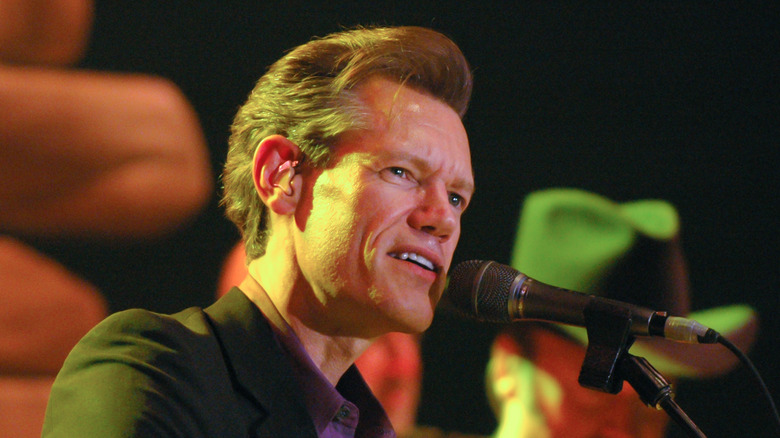 Steve Snowden/Getty Images
According to the Country Music Hall of Fame, Randy Travis "was the first country artist to go platinum with his disc debut and the first debut country artist to go multi-platinum." After this hugely successful album, 1987's "Storms of Life," he released "Always & Forever," which includes his most famous song, "Forever and Ever, Amen." This album went on to sell four million copies and earned Travis his first Grammy award, for best male country vocal performance.
In 1988, he released his third album with a label, "Old 8X10," which earned him his second Grammy. He continued to produce successful albums for the next few years. According to Cross Rhythms, by 1992, Randy had "clocked up so many country chart hits that Warner Bros were able to release two volumes of a 'Greatest Hits' compilation." A year earlier, in 1991, Randy and Lib Hatcher had laid to rest the rumors about their relationship and got married after almost 15 years of companionship.
Randy Travis acted in Hollywood Westerns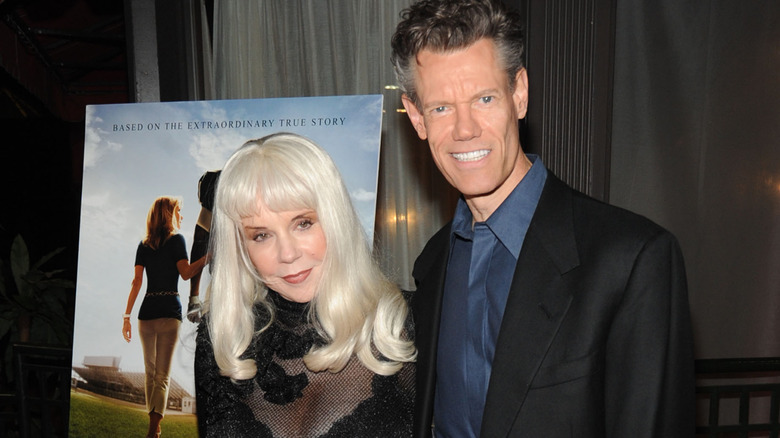 Rick Diamond/Getty Images
In 1988, Randy Travis got a taste of Hollywood when he took a small role in the film "Young Guns." Then, after recording back-to-back albums and touring endlessly for years, in 1993, he decided to take a year to focus solely on making films. He worked on five movies, four of which were Westerns. According to The Country Daily, he worked on "Maverick" with Jodie Foster and Mel Gibson, "Dead Man's Revenge" with Bruce Dern, "Frank and Jesse," "The Legend of O.B. Taggart" with Mickey Rooney, and "At Risk," which is described as the "only non-Western in the bunch." 
In 1994, he returned to his music career with the album "This is Me." Four singles from that album made it to the top ten on the Billboard charts. But Randy Travis didn't stop acting. He had a part in the film "The Rainmaker," starring Matt Damon, in 1997, and made numerous guest appearances on TV shows including "Matlock," "Touched by an Angel," "Frasier," and "Sabrina the Teenage Witch." While Randy enjoyed working in film and television, he told The Country Daily, "music is my first love, and it will always be."
Fans didn't buy that Randy Travis was a born again Christian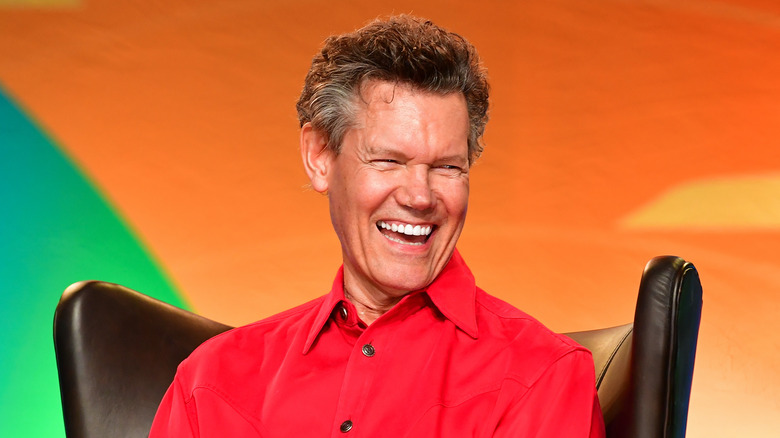 Erika Goldring/Getty Images
After a lifetime of singing country, Randy Travis pivoted to gospel music with his album "Inspirational Journey," released in 2000. Some were skeptical of his sincerity. According to the Houston Chronicle, "Some have suggested his gospel turn is nothing more than an attempt to keep his career afloat." His last mainstream country album, 1999's "Man Ain't Made of Stone," didn't produce any hit singles, with the closest being the title track's peak at No. 16.
In an interview with CBN, Randy was asked when he started his spiritual journey. He said, "When I got into my early 20s, I was going to bed one night. I was still drinking, still using drugs, and probably was drunk or high or both when I just picked up the Bible and started reading to go to sleep." He goes on to say that it gave him a sense of peace. Ten years later, he would get baptized alongside his wife. Randy produced five Christian albums. His second gospel album, "Rise and Shine" won a Grammy, and his song "Three Wooden Crosses" won a Country Music Award for song of the year.
He had an ugly divorce with his first wife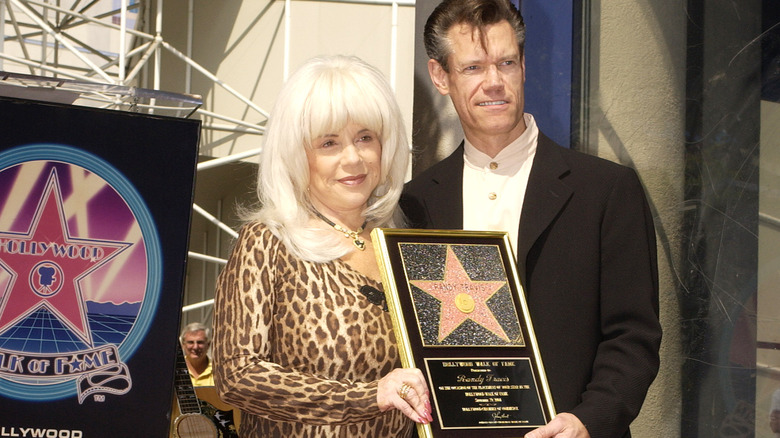 Vince Bucci/Getty Images
Randy Travis and his first wife, Lib Hatcher-Travis, decided to divorce in 2010. They had been married for 19 years and partners for at least a decade before that, though it is unclear at what point they started a romantic relationship after meeting in 1977. The couple kept their relationship out of the press as much as possible until after they married in a private ceremony in 1991. According to People, Lib remained Randy's manager after their divorce, but that relationship eventually soured, too.
Soon after their divorce, the couple began suing each other over business matters. According to ABC News, Randy claimed "his ex-wife breached her contract by spilling 'personal details' about him in a plot to ruin his career." Lib claimed that Randy came to her office with a truck and a team of folks to clear out her office. She sued Randy for breach of contract, and said that his actions interfered with her ability to manage his career properly. It was a sad ending to a 35-year relationship.
In and out of the tabloids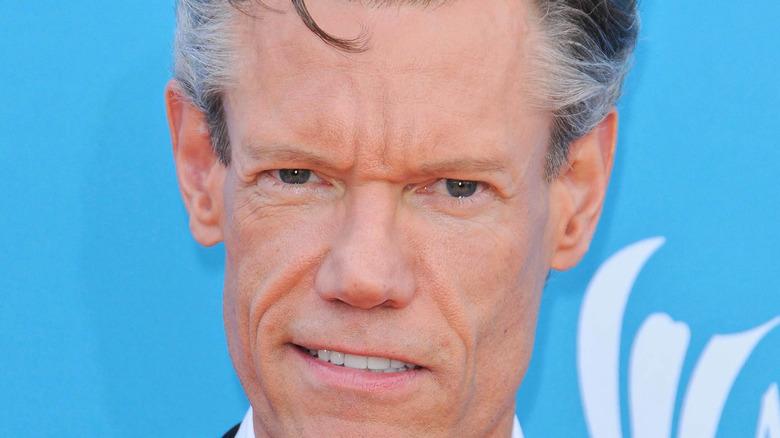 Shutterstock
After his divorce, Randy Travis found himself in the news and tabloids for a few embarrassing incidents. First, according to the Houston Press, there were rumors that the reason for his divorce was that Lib Hatcher-Travis had caught him cheating with the wife of his dentist, 51-year-old Mary Beougher. Then, in 2011, he collapsed in the middle of a concert at a gala in Fort Worth, Texas while touring for his 25th anniversary. His publicist explained the event as a result of taking multiple over-the-counter allergy medicines.
But it got worse in 2012, when Randy Travis made headlines for two alcohol-fueled incidents. In February 2012, he was arrested after being found drunk in a car parked in front of a church in Sanger, Texas, 25 miles from his ranch. He was charged with public intoxication. Just six months later he was found naked and drunk next to his car, which he had crashed. According to NBC, the police came when a convenience store clerk called 911 to report that "a man had walked into the store without any clothes on and asked for cigarettes." 
He was arrested on a charge of suspicion of public intoxication and on a charge of retaliation for threatening the police. Dash cam footage showed him telling the police he'd have them killed. Randy fought to not have the tape publicly released and lost. After the video was widely seen, Travis released a statement apologizing for his behavior.
A stroke almost stopped his career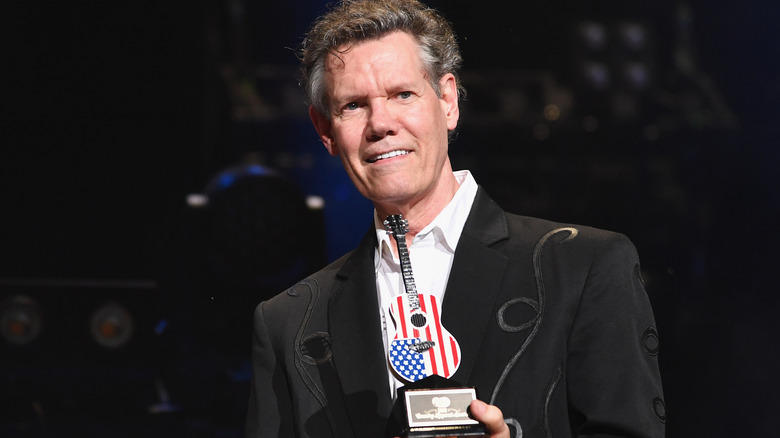 Erika Goldring/Getty Images
In 2013, Randy Travis suffered a stroke due to congestive heart failure. According to Country Thang Daily, it affected "the whole central region of his left brain. At one point, his heart completely stopped, and doctors rushed to put him on life support and into an induced coma, to help protect his brain." He was given a 1% chance of living. While in a coma, his fiancé, Mary Davis, was told to consider taking him off life support. Mary says that he squeezed her hand, letting her know it was possible for him to come back from this. Travis had brain surgery and spent six months recuperating in the hospital. At the time, he had a packed schedule of tour dates and a potential role in a TV pilot.
Travis had to learn how to walk again. The stroke also damaged his ability to talk and sing. According to Everyday Health, Travis said, "I had braved numerous storms in my life and had frequently faced overwhelming odds, times when others had advised me to give up. I hadn't quit then — and I wasn't about to quit now." In 2015, he married Mary. In 2016, he was inducted into the Country Music Hall of Fame and surprised his fans when he sang "Amazing Grace" at the ceremony.
In 2020, he released a song called Fool's Love Affair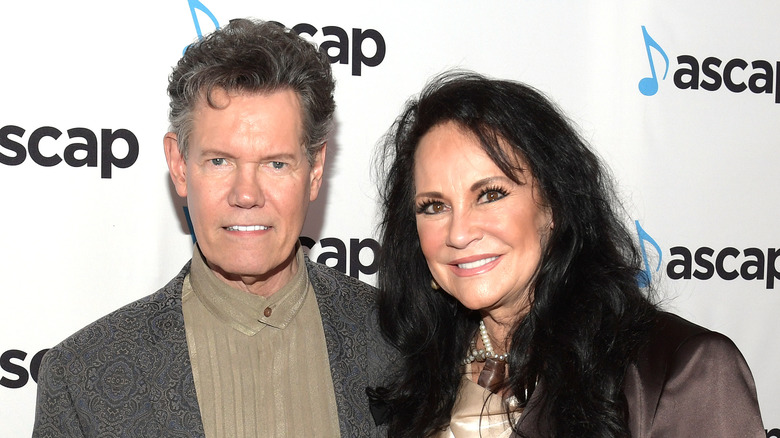 Jason Kempin/Getty Images
While Randy Travis cannot sing the way he used to, that hasn't stopped him from working. In 2020, he released his first single since surviving his stroke, "Fool's Love Affair," which was initially recorded in 1984. Charlie Monk co-wrote the song and proposed releasing it. According to the Tennesseen, "he or the others couldn't find the recording masters — essential for bringing the song up to modern standards." Looking all over Nashville for it, it took them three years to find it.
But even before the release of the single, Randy had been making strides to keep his career going. In 2019, he went on tour with James Dupré, who sang all of Randy's songs. He released his memoir, "Forever and Ever, Amen," that same year. In 2020, he released a DVD and album of live recordings of his gospel music. And today, you can find him on TikTok singing duets with his fans.