The Tragic Story Of Peter Lorre's Secret Drug Problem
Peter Lorre played some of the most infamous cinema villains in Hollywood history, but both his talents and hardships extended well beyond the roles that made him famous. Born László Loewenstein in Rózsahegy, Hungary, on June 26, 1904, he began acting with a German theatrical troupe in 1921. Per Britannica, Lorre became famous after his cinematic debut in Fritz Lang's 1931 film "M" — a chilling breakthrough performance as a psychopathic child murderer. 
Lorre went on to play a series of villains in several classic movies, including his English-language debut "The Man Who Knew Too Much," "Crime and Punishment," "The Maltese Falcon," and "Casablanca." He also made a series of crime films as Japanese private investigator "Mr. Moto," while his later roles often skewed comedic, including his final film, "The Patsy," with Jerry Lewis. His enormous expressive eyes, sleepy suave voice, and diminutive size made him instantly recognizable and helped him stand out among other actors. 
Lorre became good friends with several coworkers, including Humphrey Bogart, who headed an informal social organization named the "Holmby Hills Rat Pack" of which Lorre was a member. Per the Los Angeles Times, actor Vincent Price said Lorre "was the most inventive actor I've ever known. He was a great scholar, an accomplished dramatic actor, and a masterful comedian." Elsewhere, director John Huston said of Lorre: "He was so good as a menace that the movie moguls tended to waste him in horror films. He could do anything well — except play romantic leads."
Peter Lorre's chronic stomach pains led to drug abuse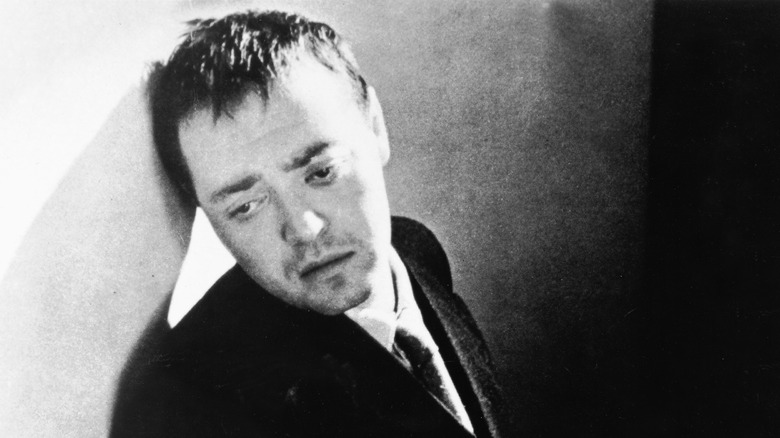 United Archives/Getty Images
What most people don't know about Peter Lorre is that he dealt with drug addiction throughout his life. The London Review of Books' review of the 2005 biography "The Lost One: A Life of Peter Lorre" by Stephen Youngkin, explained that at the age of 21, Lorre's appendix burst, which caused chronic stomach pains that doctors treated with copious amounts of highly addictive morphine. From here, Lorre started abusing opiates, and his addiction has been blamed in part for all three of his marriages failing (he was also allegedly an enthusiastic philanderer) and for the penniless state he was in at the time of his death from a stroke in 1964. 
When Lorre died, he was living in a tiny Hollywood apartment. As reported by the Los Angeles Times, he was also a half-hour away from a scheduled divorce hearing with his estranged wife, Anna Marie Stoldt. Per the London Review of Books, Lorre sought expensive "fast cures" for his addiction throughout his life, to no avail. Movie studios would put out stories about how he would injure himself while filming the action-packed "Mr. Moto" movies — he made eight between 1937 and 1939, per the IMDb — and need to recuperate at sanitariums once the films wrapped. But in reality, the sanitarium visits were attempts to get off drugs. At one point during the filming of the movie "All Through The Night," director Vincent Sherman asked Lorre, "How the hell did you make all those 'Mr. Motos'?" Lorre replied, "I took dope."
If you or anyone you know is struggling with addiction issues, help is available. Visit the Substance Abuse and Mental Health Services Administration website or contact SAMHSA's National Helpline at 1-800-662-HELP (4357).