The Truth About Carrie Fisher's Romance With Paul Simon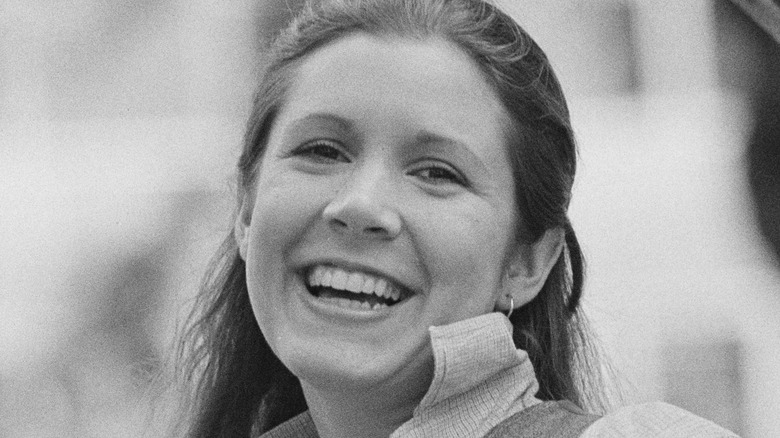 John Mitchell/Getty Images
Stormy relationships are nothing unusual among celebrities, but actress and writer Carrie Fisher and singer-songwriter Paul Simon took the concept of on-again, off-again to an entirely new level. Fisher was clearly a fan of Simon's before they met; there's a video available on YouTube of her singing his song "Bridge Over Troubled Water" at the age of 15 while guest starring in the Las Vegas stage show of her mother, Debbie Reynolds.
Fisher and Simon met in 1978 through a friend in common — per Vulture, it was Richard Dreyfuss, while People once claimed it was Simon's ex-girlfriend Shelley Duvall. At any rate, they fell in love; in her 2008 memoir "Wishful Drinking," Fisher wrote of Simon, "We understood each other perfectly. Obviously we didn't always agree, but we understood the terms of our disagreements." 
Simon was famous for his songwriting and his years as half of the legendary folk duo Simon and Garfunkel, while Fisher had just broken through with her role as the iconic Princess Leia, starting in 1977 with "Star Wars." As reported by Biography, Carrie soon moved into Simon's New York apartment on Central Park West. Things were stormy from the get-go, with Simon reportedly frustrated by Fisher's wildly fluctuating moods, thanks to drug use and bipolar disorder. At one point, per an interview with the Chicago Tribune, Fisher was actually planning on marrying Dan Aykroyd, her co-star from the 1980 comedy "The Blues Brothers": "We had rings, we got blood tests, the whole shot. But then I got back together with Paul Simon."
A short marriage, a long relationship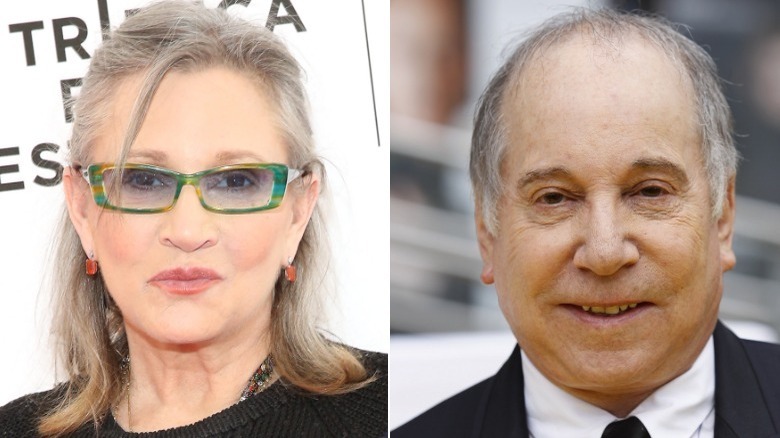 Robin Marchant ; Andreas Rentz/Getty Images
According to Biography, in 1983 Fisher, 26, and Simon, 41, decided it was too sad to break up and they instead decided to get married. As reported by People, the wedding took place at Simon's Central Park duplex. Guests included Randy Newman, Lorne Michaels, Christie Brinkley, and Billy Joel. Fisher reportedly said at the reception, "Let's just say we've had a stormy romance, and the storm's finally over." She was wrong about that. Fisher joined Simon on tour the next day and a literal storm caused by Hurricane Alicia rained out his Houston, Texas show. Shortly thereafter at the Oakland Coliseum, Fisher took to the stage and told the crowd, "I'd like to thank you all for joining us on our honeymoon. We couldn't have done it without you." 
She soon went back to California to film a role for "Shelley Duvall's Fairie Tale Theatre" while Simon continued touring. They split just 11 months later, but it wasn't the end of their relationship. As Fisher wrote in "Wishful Drinking," "Paul and I dated for six years, married for two, divorced for one, and then we had good memories of each other so what do you think we did? ... We dated again." They were together for a total of 12 years, off and on. When Fisher died in 2016, Simon joined the chorus of people paying tribute to his ex on Twitter. Per Variety, he wrote, "Yesterday was a horrible day. Carrie was a special, wonderful girl. It's too soon."