How Marquis De Lafayette Helped Create A New Dog Breed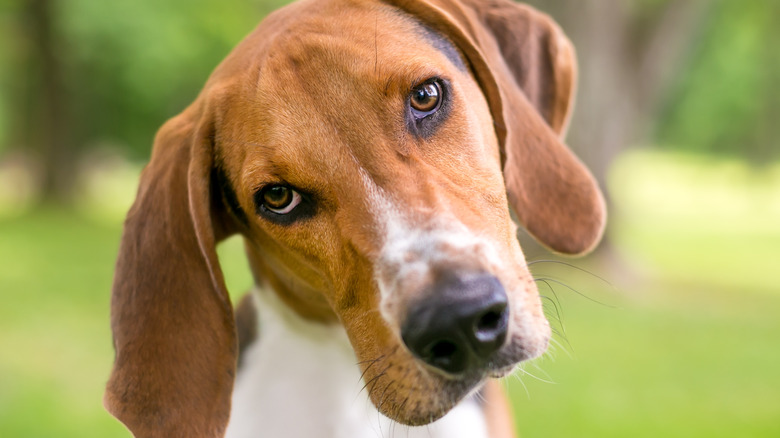 Mary Swift/Shutterstock
The Marquis de Lafayette's early life offered many challenges. His father, Michel, was killed while fighting in the Seven Years War before his son reached the age of 2. At 12, Lafayette inherited a fortune when his mother and grandfather died. By 14, he joined the Royal Army and, at 16, Lafayette became a husband to Marie Adrienne Francoise de Noailles, an heir to one of France's richest families (from Historic Valley Forge).
But Lafayette was only beginning his legacy. Some of his greatest achievements occurred after meeting George Washington, a general then and Lafayette's commander-in-chief as of 1777. When Lafayette heard about the brewing American Revolution he decided to join the cause, even though at 19 he had minimal battlefield expertise and France had forbidden its military officers from aiding the American patriots. Still, as a testament to his status, the Continental Congress appointed him a major general under the man who eventually oversaw the United States as its first president. The two worked alongside one another often, including the cold 1777-1778 winter at Valley Forge, and became devoted friends (via American Battlefield Trust).
After the war, Lafayette and Washington maintained their close relationship. When he visited his friend in 1784 at Mount Vernon, he described their meeting as "very tender and our satisfaction was mutual," according to Mount Vernon. Lafayette would send Washington gifts — one, which led to a new dog breed — and even named his son Georges Washington de Lafayette, in honor of his friend (per History).
A gift leads to the American Foxhound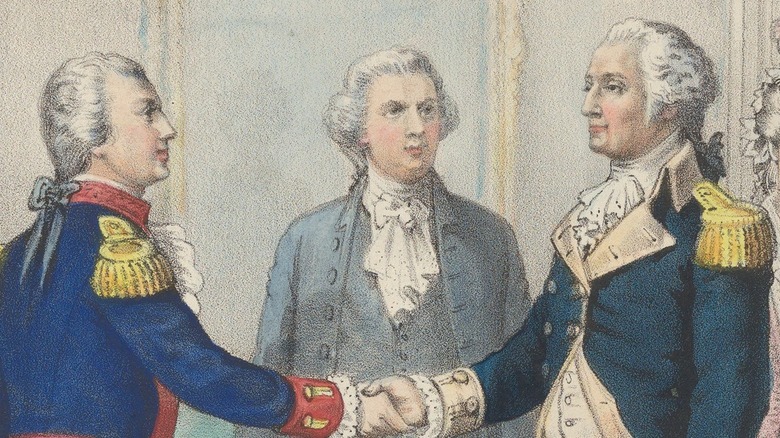 Heritage Images/Getty Images
A dog lover throughout his life, Lafayette (above, left, greeting Washington) owned 30 dogs, according to Notes of History. Seven were from his army buddy, Washington. He returned the favor in 1785 when the marquis sent Washington a gift of seven French hounds. Washington enjoyed fox hunting, and Lafayette wanted to please the man he spent so much time with during the Revolutionary War.
When Washington did his first hunt with the dogs a few months after they arrived, only two of the animals seemed appropriate for hunting. "The other French Dogs [showed] but little disposition to follow ... [they] got upon another Fox which was followed slow and indifferently by some & not at all by the rest until the [scent] became so cold that it [could] no be followed at all," noted Mount Vernon's blog, quoting Washington.
The gift did have an impact on dog breeds. Washington eventually bred these dogs with black-and-tan English foxhounds, a present from Lord Fairfax, Washington's patron. The goal was to produce bigger hunting dogs, and he did: the American Foxhound, a breed that the American Kennel Club put on their roster in 1886 (via History).