The Conspiracy Theory That Says Beyoncé Is Actually Solange's Mother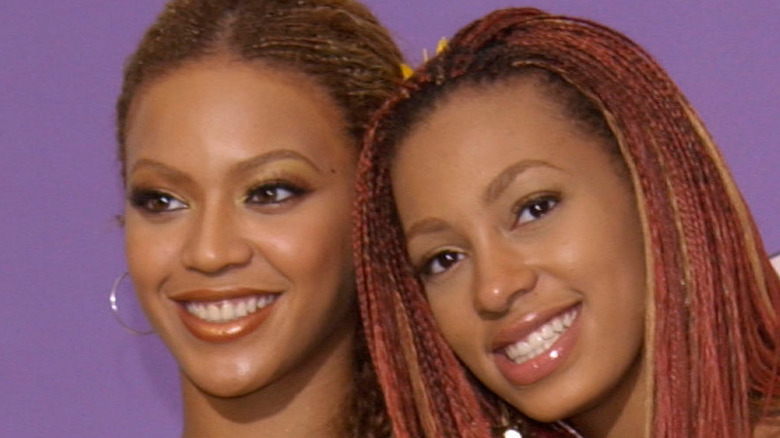 Featureflash Photo Agency/Shutterstock
Grammy Award-winning recording artist Beyoncé Knowles is close to her younger sister, Solange Knowles, both in age and in sibling camaraderie (via Biography). The two siblings are five years apart, born in 1981 and 1986 respectively. They have cheered each other on in their careers, thanks in part to the foresight of their mother, Tina Knowles Lawson, who (per a 2018 article in W Magazine) sent the girls to therapy just as Beyoncé's career was starting to take off. 
"I wanted Beyoncé to be sensitive to the fact that Solange had to deal with being a little bit in her shadow," Knowles Lawson told W Magazine. "And it made her way more sensitive and protective. And they're still fiercely protective of each other."
It's good the sisters had such a solid start to their relationship, because fame and success sometimes lead to unfounded rumors. Since about 2013, Beyoncé and Solange Knowles have been the subject of a conspiracy theory that persists to this day. 
One of 'the greatest celebrity conspiracy theories of all time'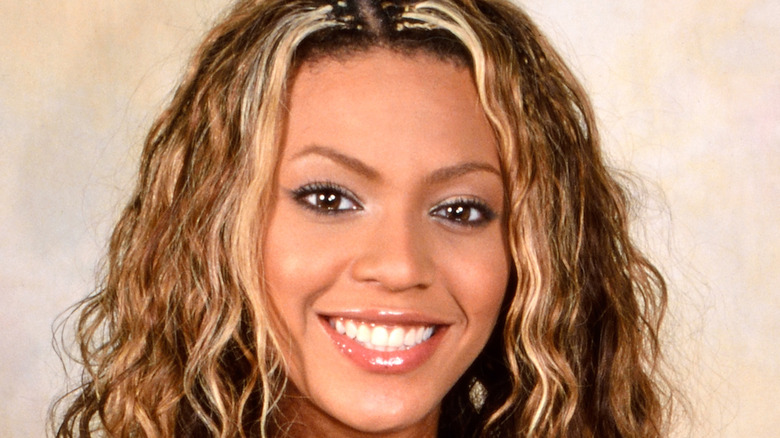 The conspiracy theory, which surfaced on the internet and was documented by Buzzfeed in 2013, states that  Beyoncé Knowles' sister, Solange Knowles, born in 1986, is actually her daughter. The fantastical claim goes on to state that Beyoncé Knowles is older than she claims to be, as "proven" by a birth certificate dating back to 1974, allegedly produced by a nameless Texas civil servant. Another detail brought up by conspiracy theorists as "proof" is a statement Beyoncé's friend Gabrielle Union made in 2008 (via Popdust): "Beyoncé and I have been friends since we were teenagers." Union was born in 1972.
"This is some straight-up 'Days of Our Lives' nonsense," declares Kevin Fallon, writing at The Daily Beast, "which is to say that it is fun to entertain, but only as pure ridiculousness." The rumor that Beyoncé is Solange's mother, that she not only hid that fact but lied about her age, was named by Esquire to be one of "the greatest celebrity conspiracy theories of all time."
Beyoncé's childhood is well-documented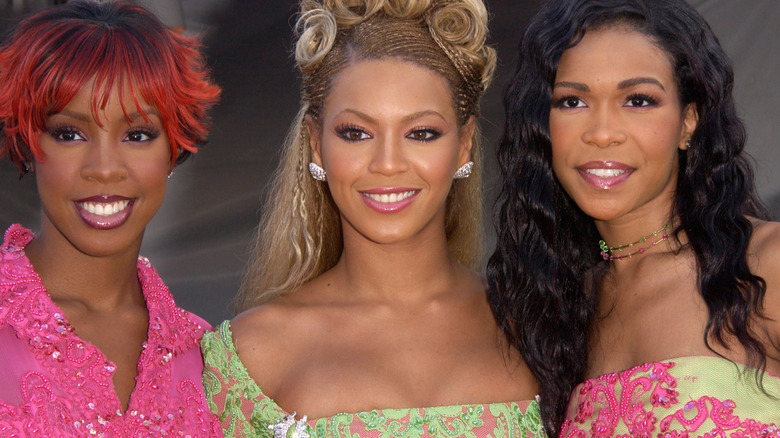 Featureflash Photo Agency/Shutterstock
The unfounded theory persists even though Beyoncé, who started singing at a young age, has a childhood that's well-documented. According to Metro, she performed onstage at the Sammy Awards in Houston, Texas in 1988, at the age of 7. Her song of choice was "Home" from the musical "The Wiz." In the early 1990s, the young singer formed a girl rap band with her cousin Kelly Rowland and friends, according to Biography. 
Initially, Beyoncé and friends performed under the name Girls Tyme, appearing on the televised competition "Star Search" in 1993 (posted on YouTube). Rowland shared with Insider later that she remembers the heartbreak of losing on that show. "We just cried so hard," she said. The budding musicians did not give up, however. Rebranding as Destiny's Child (above), as Biography reports, they landed their first recording contract in 1997. Beyoncé released her first solo album, five Grammy Award-winning "Dangerously in Love," in 2003.