The Reason A Record-Holding Former Baseball Star Gave Up The Game And Now Works An Unexpected Day Job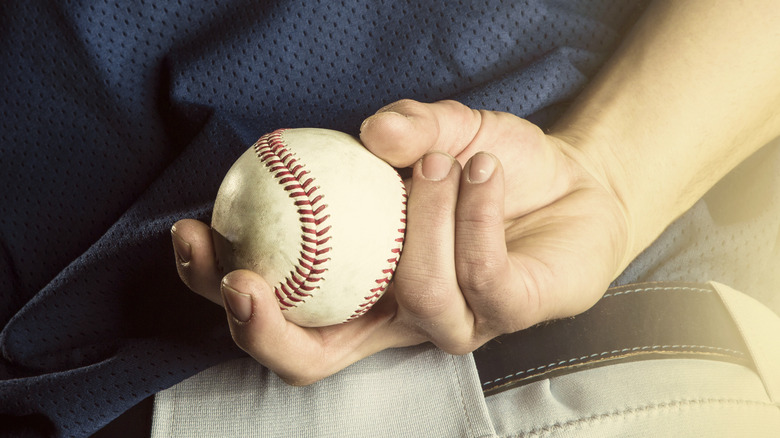 Brocreative/Shutterstock
Many take to the diamond, the hardwood, or the gridiron, with dreams to one day get paid to play the sport that they love. For still others the goal is to set a record or to win a championship, etching their name in the annals of athletic accomplishment. All that being said, going pro in any sport is really quite rare. Only some 2% of all college athletes, for example, go on to play-for-pay after they graduate, per the NCAA. It's hard to imagine, then, why any athlete who put in the work to go pro would simply call it quits with so many good years ahead of them.
In 2003, though, one record-setting MLB pitcher, drafted in 1988 in the eighth round, and most well known for his time spent playing with the Atlanta Braves, walked away from the game (via the Society for American Baseball Research). The reason this particular player chose to retire while still young goes to show that there's much more to the life of any pro athlete than what they show us out there on the field.
Mark Wohlers threw one of the fastest pitches ever in MLB history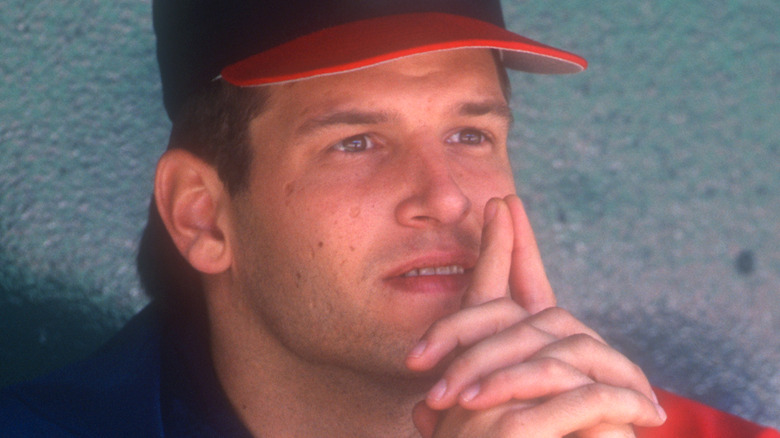 Mitchell Layton/Getty Images
Born in Holyoke, Massachusetts in 1970, Mark Wohlers grew up loving baseball and dreamed to one day prove his mettle in the Major Leagues. A star from a young age — and not just as a pitcher, he also had a .420 batting average while in high school — Wohlers never played in college. After the '88 draft, Wohlers made his professional debut three years later in 1991. At first, it seemed like that Atlanta draft pick was well spent.
In the '91 season alone, Wohlers earned several accolades, including Southern League Pitcher of the Year from Baseball America, and Minor League Player of the Year Award from USA Today, as SABR goes on to explain. He also won a World Series ring with the Atlanta braves in '95, based on reporting from Battery Power, an SBNation website. Wohlers' biggest accomplishment while an MLB pitcher, though, is an alleged 103 MPH fastball, among the fastest to ever be thrown.
No radar-gun proof exists of the accomplishment, although several eyewitness accounts confirm that it happened. Joel Zumaya of the Detroit Tigers bested Wohlers with a 104.8 MPH pitch in 2006.
Wohlers inexplicably lost his stuff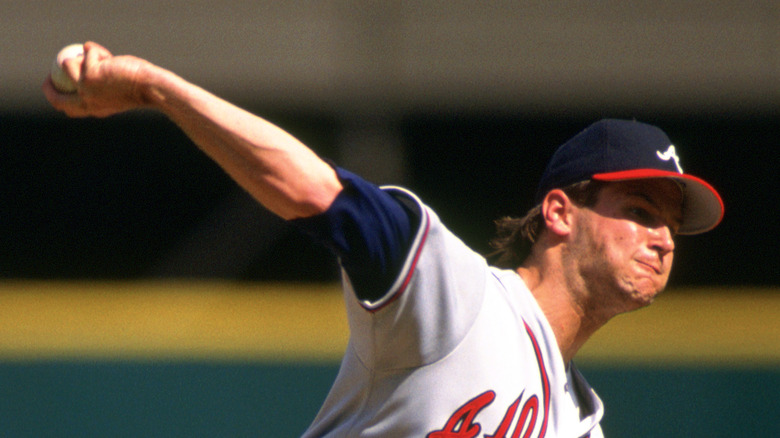 Ron Vesely/Getty Images
As Battery Power goes on to note, 1996 was a banner year in the career of Mark Wohlers, as he reached the century mark in strikeouts and made the All-Star team, among other accomplishments. For this reason, Wohlers is widely considered among the best Braves relievers of his era, as the Atlanta Journal-Constitution reports. Despite that success, though, by the '98 season something went wrong for Wohlers and he could no longer find the strike zone. Atlanta coaches and the front office took note, and despite time spent in the minors searching for his stuff, by '99 Wohlers was traded to the Cincinnati Reds.
After that point, Wohlers bounced around, spending time in the Yankees, Reds, and Cleveland Indians organizations (now the Cleveland Guardians). Despite his best efforts, and as his stock plummeted in MLB, Wohlers was never able to right the ship, seeming to have lost his command. After he underwent Tommy John Surgery in 2003, he retired. He was also officially diagnosed with an anxiety disorder (via SABR). 
Fans of the game and MLB insiders had long speculated Wohlers was afflicted with so-called "Steve Blass disease," a '70s-era Pittsburgh Pirates pitcher, who in similar fashion also lost his stuff in what otherwise seemed to be his athletic prime. As of this report, Wohlers remains in the Atlanta area running a successful insurance business, proving there is life after baseball after all.