The Ghislaine Maxwell Prison Sentence Explained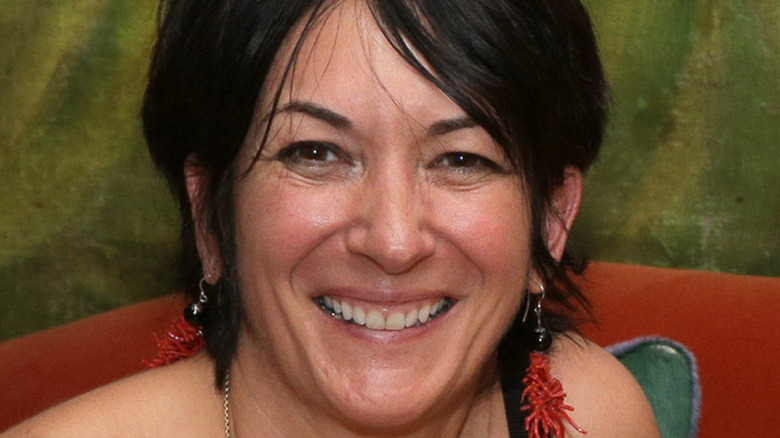 Andrew Toth/Getty Images
On June 28, 2022, Ghislaine Maxwell, the long-time partner of convicted sexual predator Jeffrey Epstein was sentenced to 20 years in prison. According to CNN, the 60-year-old Maxwell was convicted on five charges in late 2021. Those charges included sex trafficking of a minor and transporting a minor with intent to engage in criminal sexual activity, as well as three counts of conspiracy for her role in what was revealed to be a large-scale human trafficking and child sexual abuse ring. According to the New York Post, Maxwell was also ordered to pay a $750,000 fine, though her lawyers tried to argue that she was unable to pay the fine.
The former socialite turned accomplice in hundreds of crimes against women and children, per the Associated Press, opted not to testify in her defense, but did speak at her sentencing, where she seemingly tried to pass the buck to Epstein, who was found dead in his prison cell in 2019 while awaiting trial, per The New York Times. "Jeffrey Epstein should have been here before all of you," Maxwell said in the courtroom. "It is not about Epstein, ultimately. It is for me to be sentenced."
"I believe that Jeffrey Epstein was a manipulative, cunning and controlling man who lived a profoundly compartmentalized life and filled all of those in his orbit," she said, per Fox News. "It is the greatest regret of my life that I met Jeffrey Epstein."
Ghislaine Maxwell's lawyers fought for a more lenient sentence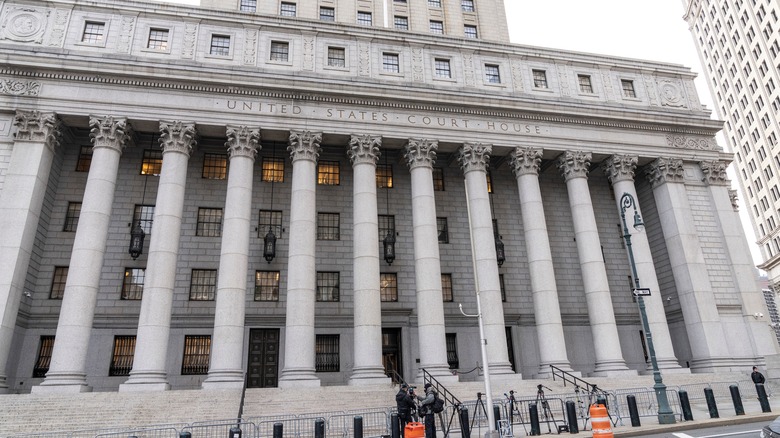 lev radin/Shutterstock
U.S. District Judge Alison J. Nathan, who handed down Maxwell's sentence "a very significant sentence is necessary" for Maxwell given the severity of her crimes and that handing her a hefty sentence would help send an "unmistakable message" (via the Associated Press). However, Judge Nathan decided against giving Maxwell a 30 to 55-year sentence, the length of sentence the prosecution was asking for, and reminded the court that Maxwell wasn't being punished in place of Epstein, Miss Maxwell is being punished for the role that she played.
Instead, she chose to go with 20 years. This was a middle ground of sorts between what the prosecution was asking for and what Maxwell's defense team was asking for. Maxwell's defense was hoping to see their client receive a much more lenient five-year sentence. While that wasn't the case, it was still not quite as severe as what the prosecution had asked for.
After her sentence was handed down, Maxwell addressed some of her and Epstein's victims seated in the courtroom gallery, eight of whom read victim impact statements, according to Fox News.
How and where will Ghislaine Maxwell serve her sentence?
Ghislaine Maxwell received prison sentences on three charges with the length of each sentence ranging from five to 20 years, according to the New York Post. However, she will be permitted to serve those sentences concurrently meaning that the maximum amount of time she will be in prison (on these charges) will be 20 years. At that point, she will be eligible for supervised release.
The New York Post reported that Judge Nathan stated she would recommend that Maxwell be placed in the Federal Correctional Facility in Danbury, Connecticut. That low-security prison was the basis for the prison in the Netflix series "Orange Is the New Black."
United States Attorney for the Southern District of New York, Damian Williams, appeared to be pleased with the court's decision. In a statement after the sentencing, Williams said "Today's sentence holds Ghislaine Maxwell accountable for perpetrating heinous crimes against children This sentence sends a strong message that no one is above the law and it is never too late for justice."
If you or someone you know may be the victim of child abuse, please contact the Childhelp National Child Abuse Hotline at 1-800-4-A-Child (1-800-422-4453) or contact their live chat services.