Why Suzanne Somers Was Only In 5 Seasons Of Three's Company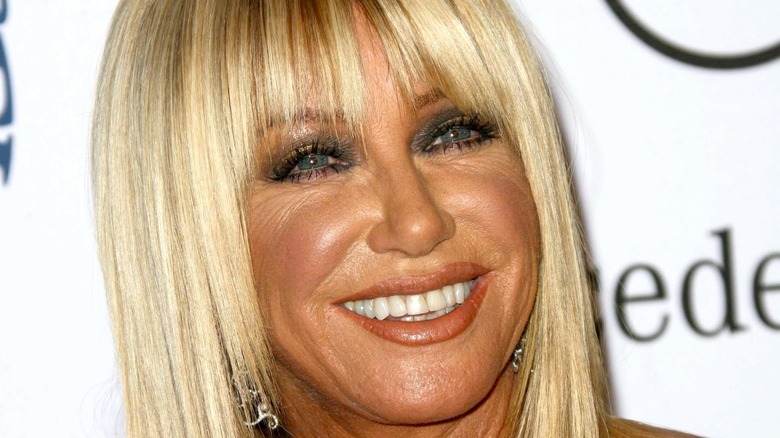 s_bukley/Shutterstock
Suzanne Somers is perhaps still best known for her career-making role on the television show "Three's Company," a slightly racy, always uproarious sitcom that revolved around three roommates, two women and a man, who shared an apartment in Santa Monica, California. The show premiered in 1977 on ABC and featured comical misunderstandings, slapstick-heavy pitfalls, and suggestive innuendos — per the Three's Company website, it was an instant hit with audiences. 
Suzanne Somers played the blonde and bubbly Chrissy Snow and became a breakout star. According to the IMDb, she won the 1978 People's Choice Award for Favorite Female Performer in a New TV Program and a year later was nominated for both a Golden Globe for Best Actress in a Television Series, Comedy or Musical and a Photoplay Awards Gold Medal for Favorite Female Sex Symbol. The problems started for Somers a year later during the fifth season of the show when she asked for a pay raise that would make her salary equal to that of male television stars of the era, including John Ritter, who played the male roommate, Jack Tripper, on "Three's Company" (per Biography).
A 2015 article in The Hollywood Reporter reported that in 1980, Somers asked her salary of $30,000 per episode be raised to $150,000 per episode, which matched her male costar John Ritter's pay as well as those of Alan Alda of "M*A*S*H" and Caroll O'Connor of "All In The Family," both of whom were starring on television shows that were at that point not as high in the ratings as "Three's Company." 
A demand for equal pay got Suzanne Somers fired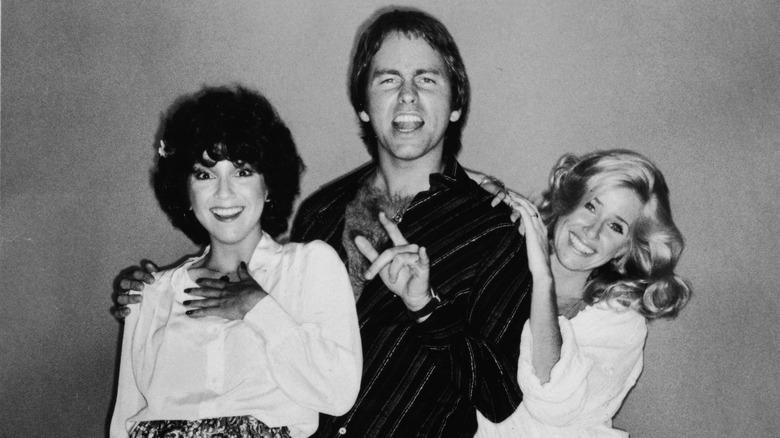 Hulton Archive/Getty Images
According to The Hollywood Reporter, the network responded to Suzanne Somers' demands by offering her a $5,000 raise per episode, which still left her making $115,000 less than John Ritter. Things got really tense when Somers missed taping two episodes of the show, claiming the flare-up of an old back injury. Somers' husband and manager Alan Hamel recalled that he received a phone call from someone who knew of what ABC had planned for Somers, who told him "They're going to hang a nun in the marketplace and the nun is Suzanne." 
Hamel went on to note that Penny Marshall and Cindy Williams, the stars of the hit television show "Laverne & Shirley," had recently successfully lobbied for higher salaries: "The network was will­ing to do this because earlier that year the women on "Laverne & Shirley" had gotten what they asked for and they wanted to put a stop to it. They'd destroy the chemistry on "Company" to make a point." 
Somers was fired and replaced by Jennilee Harrison, who was introduced as Chrissy's cousin, Cindy Snow. In a May 2022 interview with Fox News, Somers recalled getting the news from Hamel: "He looked at me, shook his head, and said, 'You're out. You were gone within the first five minutes when I walked into the meeting.' — Now, I was out of work and labeled 'trouble' only because I wanted to be paid fairly for doing my job."
Somers went on to a different kind of success
Paul Archuleta/Getty Images
Suzanne Somers never found the same sitcom fame that she'd enjoyed during her "Three's Company" stint, but as reported by Fox News, she soon started a Las Vegas residency that paid better than ABC and remained sold out for over 15 years. In 1990, she became the spokesperson for the ThighMaster fitness device via a series of television infomercials, which nearly replaced Chrissy Snow as Somers' most recognizable role. She became a top performer on the Home Shopping Network and told Fox she'd stopped counting the number of ThighMasters sold "after 10 million." To top it all off, she is a best-selling author and has lent her name to a wide range of products, noting "Would I have wanted to do it this way? No, but I allowed it to take me and us where it wanted to go. My biggest complaint today is that I work too much."
Somers is a trailblazer when it comes to women asking for equal pay for equal work who brought to light television's unfair habit of paying women less than men, even if she wasn't able to convince her bosses at ABC to match her salary to that of her male co-star. Alan Hamel, who is still Somers' husband and manager, laid it out for People: "It worked because for years, no woman asked to be paid what men were making, until Roseanne [Barr]. But Suzanne was the first feminist to ask to be paid what the men were making."