The Number Of Times Mike Tyson Claims He's Been Arrested Is Even Worse Than You Thought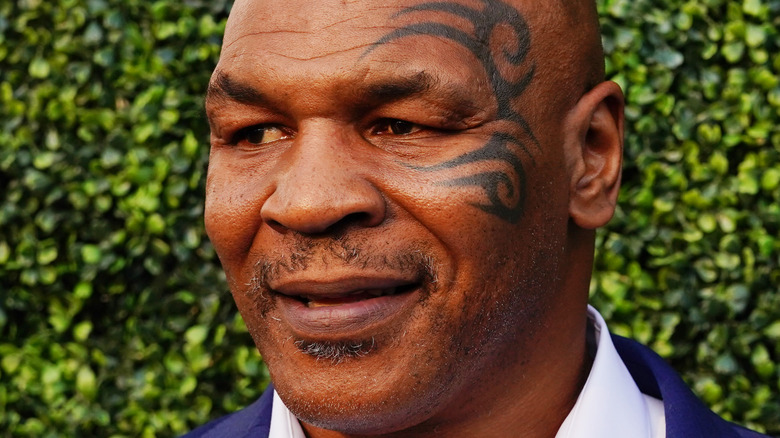 Leonard Zhukovsky/Shutterstock
According to a Harris Poll conducted last year (via Boxing Junkie at USA Today), the sport is the fourth most popular in America, beating out such endeavors as MMA, golf, hockey, and tennis. (Most popular sport? Football.) And it's easy to see why this is the case. For fans, there's the exhilarating rush of two seasoned professionals throwing punch after punch at each other. And one of the most popular boxers to ever step into the ring is Mike Tyson.
Tyson's legacy cannot be understated. As Britannica says, he's considered to be one of the greatest boxers of all time. On top of that, Tyson is also a businessman, having launched a cannabis venture called Tyson 2.0 in 2021 (via Forbes). Unfortunately, along with boxing, Tyson had led a life of crime, involved with street gangs from an early age and convicted of rape in 1992. This was brought to media attention again when Mike Tyson recently talked about how many times he's been arrested. 
Who is Mike Tyson?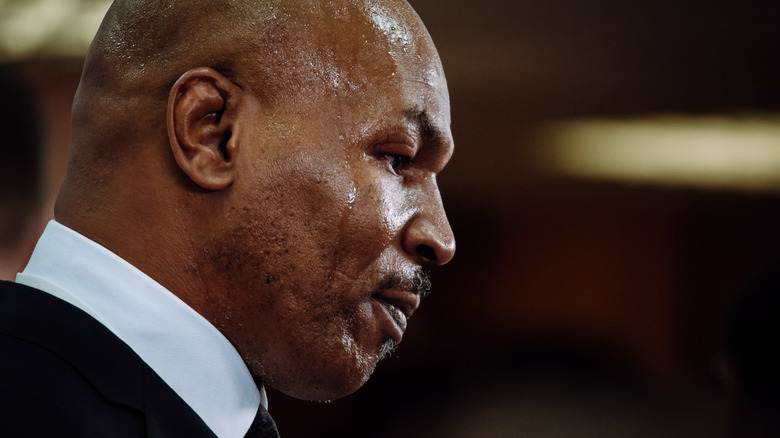 Photo_Doc/Shutterstock
As Britannica says, Tyson was born on June 30, 1966, in Brooklyn, New York. Tyson led a hard life, resorting to multiple street crimes and breaking the law at every turn. As Heavy explains, Tyson would be arrested multiple times in his youth, being sent to juvenile detention centers to help set him straight. He got interested in boxing at an early age in reform school, where he was discovered by boxing enthusiast Bobby Stewart. He had a 24-3 record as an amateur before turning professional in 1985.
Tyson eventually was trained under Cus D'Amato, and he became a boxing force to be reckoned with. He was the youngest heavyweight champion of all time, a feat accomplished at the age of 20, as Britannica notes. Tyson became a professional boxer in 1985 and reigned as heavyweight king for a long time. It was in 1990, against boxer James Douglas, that Tyson lost his championship. 
Tyson has been incarcerated more than once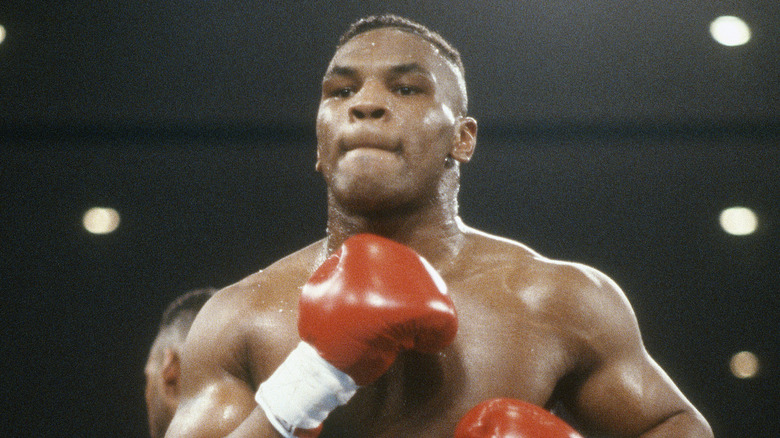 Focus On Sport/Getty Images
Tyson's career would come to a temporary halt, however, after he was charged and convicted of raping a beauty pageant contestant. As Britannica says, Tyson received a 10-year prison sentence, which was eventually shortened to just three on account of good behavior, along with four years of probation. He continues to maintain his innocence of that charge; he's also required to register as a sex offender. Tyson would return to boxing, securing a few wins over the next two years, but this would eventually lead to one of his most controversial career moments. In a match against Evander Holyfield on June 28, 1997, Tyson bit off part of Holyfield's ear during the fight, resulting in Tyson's disqualification and temporary loss of his boxing license.
Heavy reports that Tyson has claimed to have been arrested 40 times before the age of 12. He would pickpocket, burglarize homes, and engage in street fighting. The crime conflicted with what he said was his desire to make his mother proud, a woman he said was "so humble and proud and I was arrogant." She died when he was 16.
Another one of Tyson's arrests apparently involved him crashing a Ferrari through a glass window, an arrest Heavy says he calls his favorite. In addition, Britannica reports he was incarcerated for 24 hours in 2007 after pleading guilty to drug possession and driving under the influence in 2006. Five years later, in 2011, Tyson was inducted into the International Boxing Hall of Fame.