What Mike Tyson And Evander Holyfield's Relationship Was Like After The Infamous Ear Bite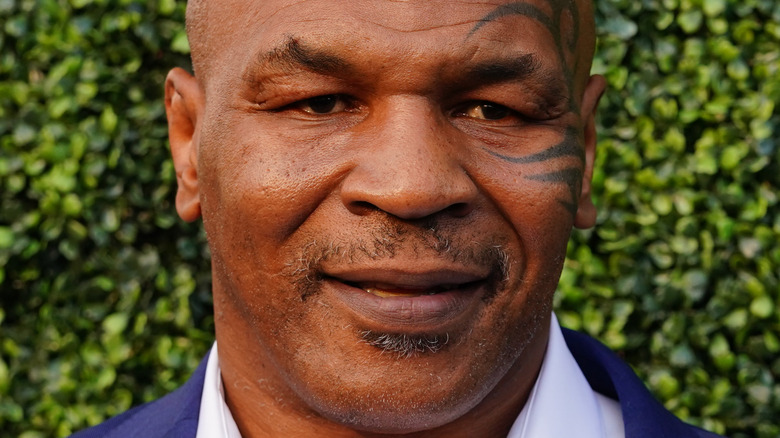 Leonard Zhukovsky/Shutterstock
There have been plenty of impossibly strange moments in the history of sports, and that's only since we've been broadcasting them on TV. For example, in baseball, pitcher Randy Johnson threw a fastball right into the body of a bird, which caused an explosion of sinew and feathers above the field as the crowd groaned in disgust. Over in college football, the Stanford band took the field in the waning seconds of a game, failing to realize that there was a live play taking place on the field, and a California player ran headlong into the trombonist. And in soccer, there was the time a team's owner took exception to a call and confronted the ref — with a gun holstered on his hip.
One of the strangest moments in sports history happened in boxing, during a 1997 boxing match between Mike Tyson and Evander Holyfield. In the third round, Tyson bit a chunk out of Holyfield's ear and spit it to the floor (via ESPN). Though it was an illegal and vicious assault that (temporarily anyway) cost Tyson his right to fight, the two men made peace and became friends, remaining so for decades.
The Bite Fight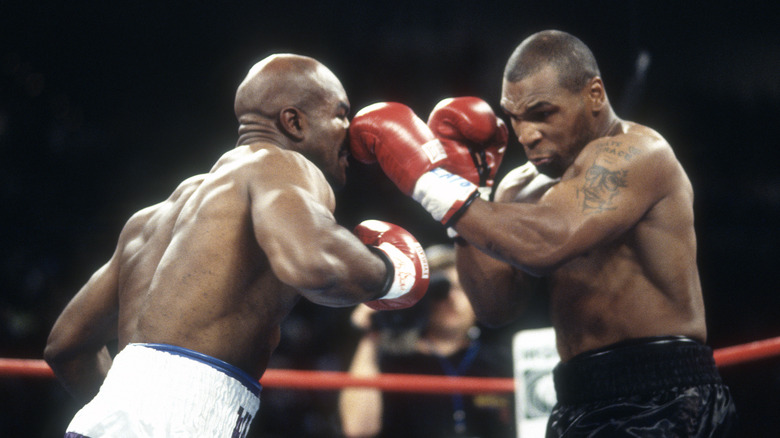 Focus On Sport/Getty Images
Mike Tyson and Evander Holyfield first met in 1996, according to ESPN. At the time, Holyfield was making a lackluster attempt at a comeback following a brief retirement, while Tyson was, by all rights, at the top of his game. In a stunning upset, Holyfield, a 25-1 underdog (per The Sportsman), defeated Tyson by a technical knockout in the 11th round, and Tyson's management demanded a rematch.
Tyson-Holyfield II, as it's come to be called, started off with Holyfield utterly dominating Tyson for the first two rounds. By the third round, Tyson was frustrated by the ref's calls and losing badly but came on strong in the opening seconds, only to be rebuffed by the implacable Holyfield. Eventually, Tyson managed to get control of Holyfield's head and then spit out his mouthpiece and proceeded to bite a chunk out of his ear cartilage, spitting it onto the floor afterward.
Referee Mills Lane stopped the fight, even as the two boxers continued to tear into each other, and then it resumed. A few more exchanges later, and Tyson got another chunk of Holyfield's other ear. Chaos erupted at the MGM Grand Garden Arena, and Holyfield was awarded the win after Tyson was disqualified.
Tyson and Holyfield Became Friends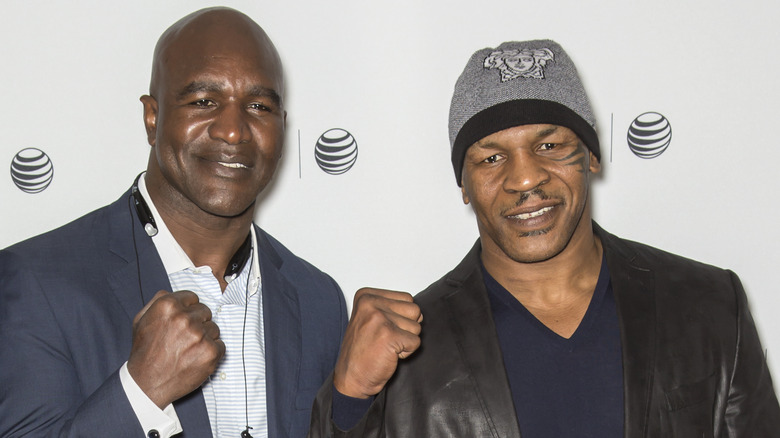 Ovidiu Hrubaru/Shutterstock
In an interview with Oprah Winfrey (via YouTube), Tyson admitted that his actions that night were born largely out of frustration with Holyfield getting the better of him. "I was just pissed off that he was such a great fighter," he said. Tyson later "apologized," but he admitted to Oprah that it "wasn't sincere," and Oprah herself said that she noticed Tyson wasn't feeling it when he said the words. A while later, both men appeared on Oprah's show together, and it was clear at the time that there was no bad blood between the two retired boxers; Tyson even offered his hand to Holyfield, to which the older man responded with a firm handshake. As the audience applauded, the two men continued to exchange affectionate gestures.
The two boxers got some career mileage out of the incident, too. In 2013, they filmed a Foot Locker commercial (via YouTube) that poked fun at the biting incident. And in 2014, Holyfield introduced Tyson into the Nevada Boxing Hall of Fame, as Bleacher Report reported.