The Tangled Life Of Chevy Chase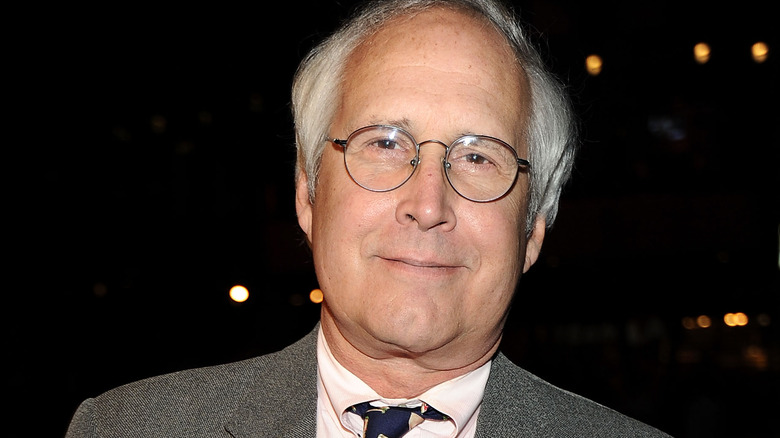 Frazer Harrison/Getty Images
While he'd ultimately prove to be a controversial figure and dark entertainment world presence, things seemed sunny for Chevy Chase five decades ago. One of the most popular, bankable, and influential comic actors of the 1970s and '80s, the name "Chevy Chase" is synonymous with a whole generation of TV and film humor. After vaulting to stardom as the original "Weekend Update" anchor on the very first season of "Saturday Night Live," Chase took his smug, sarcastic, wisecracking character to the big screen. He dominated the scene and generated huge laughs as the star of classics like "Caddyshack," the "National Lampoon's Vacation" trilogy, "Foul Play," "Fletch," and "Three Amigos." His career fell off a bit in the 1990s, but he'd re-emerge in the 2000s as part of the cast of the cult beloved comedy series "Community."
Through it all, Chase had a hard time not letting costars, critics, collaborators, and the world know what he thought about them. He's responsible for numerous scandals and reports of unprofessional and nasty behavior, as well as opening up about many more unseemly, confusing, and unfortunate acts. Here's a look into the life of Chevy Chase — the many good times but a whole lot of the bad times, too.
Chevy Chase lost out on a plumbing fortune but his family made a lot on coffee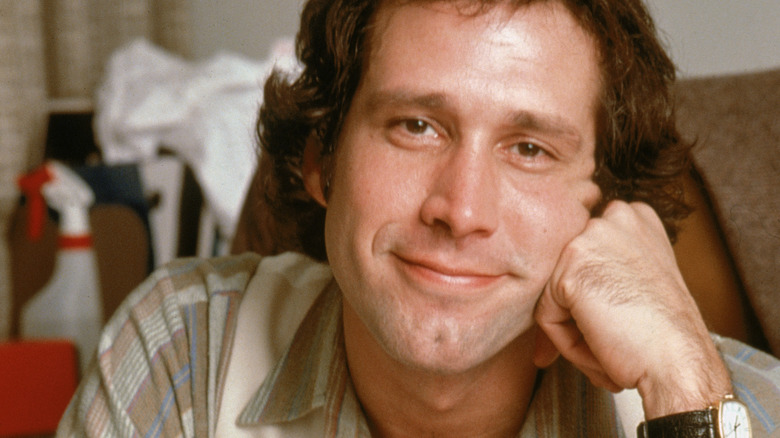 Nancy R. Schiff/Getty Images
The actor and comedian known as Chevy Chase was not born with that name, but it's not exactly a stage name, either. His real name is Cornelius Crane Chase. He picked up "Chevy" from his grandmother on his father's side, likely inspired by Chevy Chase, a suburb of Washington, D.C. Chase's middle name of Crane is a family name. His mother, Cathalene, was the adopted daughter of Cornelius Crane, an heir to the Crane bathroom fixture and plumbing fortune. Chase's grandfather "was worth something like $120 million in the fifties," Chase told New York Magazine in 1993.
While Chase was once listed in the "Social Register," a catalog of American aristocrats, he didn't inherit much of his maternal side's wealth. Those grandparents divorced, and Cornelius Crane remarried and reportedly bequeathed his money to various Buddhist charities. However, Chase would experience adjacent, lavish wealth after all. After his parents divorced, his father, prominent editor Ned Chase, got married again, to Lyn Atha, a member of the Folger family who stood to inherit a fortune in coffee earnings.
He was physically abused as a child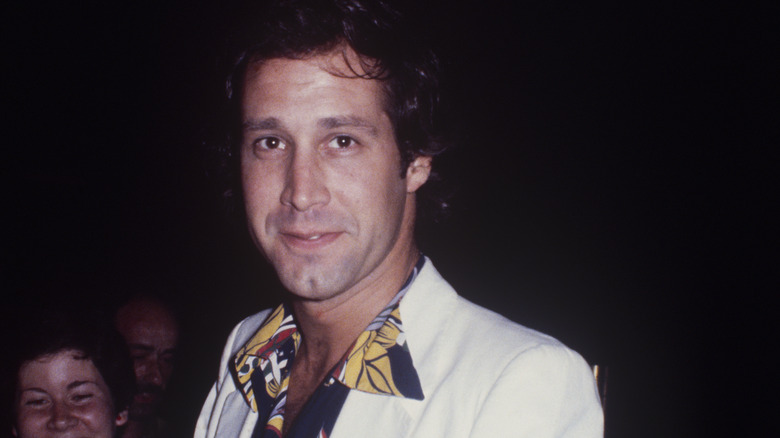 Art Zelin/Getty Images
Following his parents' divorce when he was a young child, Chevy Chase lived primarily with his mother, Cathalene. In a 2018 interview with The Washington Post, Chase recounted the routine physical abuse he suffered at his mother's hand. He alleged that she'd awaken him at odd hours and then slap him in the face over and over. "I don't remember what it was for, or what I had done," Chase recalled in Rena Fruchter's 2007 biography "I'm Chevy Chase... and You're Not." "I lived in fear all the time, deathly fear." Chase's mother would repeatedly lock him in a closet for little reason, and following a reprimand at school, he was stuck in a basement for many days and given a water pitcher to use for a toilet. The actor also recalled a time when his mother scheduled daily abuse. "She would say to me, 'Ten lashes on the backs of your legs every day for a week at 5 p.m.' How can you hold on to that kind of anger against your kid?"
A teacher at Chase's school noticed the lash marks on the child's legs, but no meaningful action was taken. Also enduring violence from his stepfather, John Cederquist, Chase said the abuse from both parental figures ended when, at the age of 15, he and his older brother confronted Cederquist and stared him down.
Any major dude will tell you he was almost in Steely Dan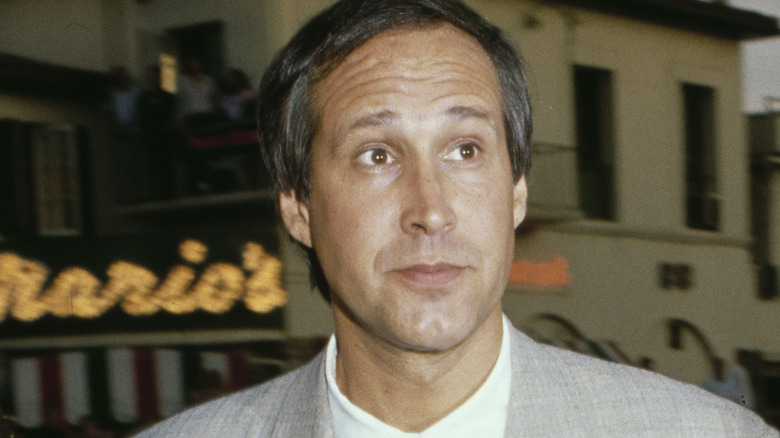 Vinnie Zuffante/Getty Images
Chevy Chase is not just an actor; he's also a musician. In 1980, he released his one and only solo album, a self-titled effort that includes mostly humorous covers and silly novelty songs. But years before his comedy stardom afforded him the opportunity to record the rap spoof "Rapper's Plight" and a parodic riff on Randy Newman's "Short People," Chase was part of a musical collective that would find major success without him. While attending Bard College in upstate New York in the mid-1960s, Chase, a drummer, befriended fellow students Donald Fagan and Walter Becker, later the core of the Grammy-winning, hit-making jazz-rock group Steely Dan. "We started Steely Dan basically," he said on "WTF with Marc Maron." "And we called ourselves the Very Bad Jazz Band." 
Chase ultimately quit the band before Fagan and Becker went on to bigger and better things with Steely Dan. "I didn't want to be a rock 'n' roll drummer kind of guy, you know?" Nevertheless, later in the '60s, Chase was a member of the progressive rock band Chamaeleon Church, which released one self-titled album in 1968. Chase called the record "hideous."
Live from New York, it's not Chevy Chase anymore
Later retitled "Saturday Night Live," the late-night sketch comedy show "NBC's Saturday Night" debuted in October 1975. Starring a cast of performers credited together as the "Not Ready for Prime Time Players," Chevy Chase became a breakout star and a household name — thanks in part to his weekly showcase as the host of the "Weekend Update" satirical news segment. He introduced and indelibly identified himself with the catchphrase, "I'm Chevy Chase, and you're not." With other memorable sketch performances, like playing then-President Gerald Ford as a bumbling, pratfall-prone fool, Chase became a huge TV star because of "SNL," but he departed the series just a few episodes into the second season of the burgeoning institution. While Chase would go on to star in a string of hit comedy films like "Foul Play," "Caddyshack," "Seems Like Old Times," and "National Lampoon's Vacation," he denied leaving his New York TV gig to chase movie stardom, insisting he'd done it to chase romance instead. "I left for a girl that I was in love with," Chase told "Today" in 2007. "I was very much in love with a girl who just would not leave California."
In 2015, Chase admitted that his departure wasn't necessarily for personal reasons. He told NBC's Carson Daly (via The Washington Post) that he left "SNL" so quickly because he "thought this [show] isn't going anywhere."
When Chevy Chase got himself sued by a Hollywood legend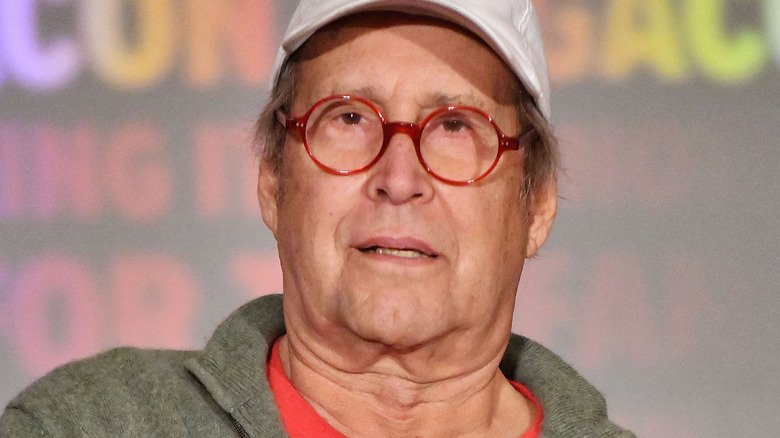 Gerardo Mora/Getty Images
Chevy Chase was a guest on Tom Snyder's late-night talk show "Tomorrow" in 1980, a time when he was emerging as a major movie star with leading roles in "Oh! Heavenly Dog," "Caddyshack," and "Seems Like Old Times." Snyder brought up how some pop culture pundits had compared Chase's screen persona to that of Hollywood legend Cary Grant. "And I said, 'That's crazy, there's nobody like Cary Grant and there will never be another Cary Grant," the actor recalled on Bill Maher's "Club Random" podcast. Chase then mentioned that he'd heard rumors that Grant was secretly homosexual and quipped, "What a gal!"
Chase would later defend his remarks as just joking around, but Grant didn't see the humor in it. The star sued Chase for slander, and sought $10 million in damages. The parties reached an agreement outside of the courtroom in 1982, with Chase reportedly paying Grant around $1 million. "It was one of the stupidest things I've ever said," Chase told "Club Random."
He's no Vacation to work with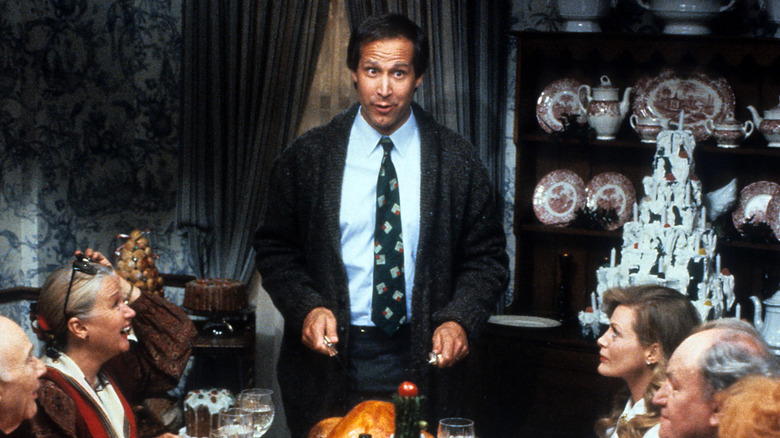 Archive Photos/Getty Images
Following the success of two "Vacation" movies starring Chevy Chase as beleaguered, disaster-attracting dad Clark Griswold, writer-director John Hughes penned a third film in the series, the holiday-themed "National Lampoon's Christmas Vacation." Hughes didn't want to direct, so he offered the job to "Adventures in Babysitting" helmer Chris Columbus, with whom he shared an agent. Columbus liked the script and was eager to direct. "It was funny and I have an affinity for Christmas movies," Columbus said in Kirk Honeycutt's 2015 book "John Hughes: A Life in Film." One of the first orders of business: connecting with Chase via a couple of pre-production meetings. Immediately, the actor and director didn't mesh. "It was fraught with pain and tension with Chevy Chase, but I needed the job desperately," Columbus told Insider. "So it took everything in my power to convince myself to resign from 'Christmas Vacation' because I couldn't make the movie with Chevy Chase."
"I was in the awful position of having to back out. I told John, 'I can't work with this guy.'" Hughes allowed Columbus to quit and gave him the screenplay for "Home Alone" to direct instead. Jeremiah Chechik, a veteran of music videos and beer commercials, directed "Christmas Vacation."
The good and the bad of Christmas Vacation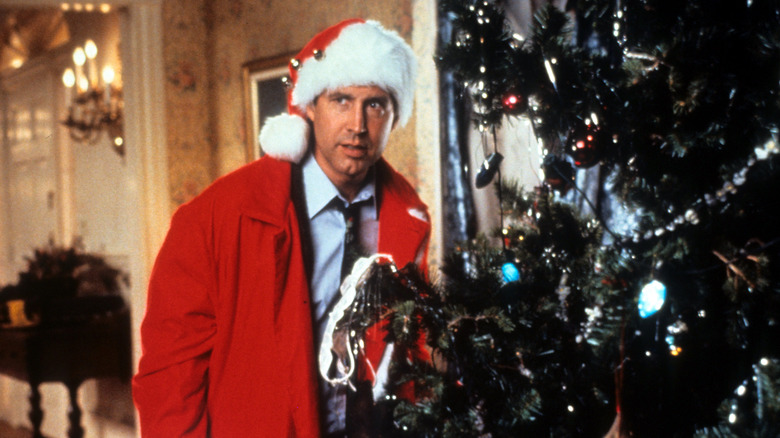 Archive Photos/Getty Images
Chris Columbus would bail on "National Lampoon's Christmas Vacation" before production really got underway, citing personal difficulties with star Chevy Chase. But the actor didn't leave everyone associated with the movie with bad feelings. Johnny Galecki, who played Rusty Griswold, son of Chase's character Clark Griswold, enjoyed a formative professional experience on the set of the film. "The Rusty role was kind of iconic at that point and did have some heavy lifting comedically, and my timing wasn't on-point. Chevy would help me out, especially with the timing, and tell me some ad-libs to say. He was very patient and giving of his time," Galecki told Variety. "I was 13 on that movie, and he would take his lunch hours and — without telling any of the production assistants or anyone — we'd just get in his car and disappear and go to film lots and visit the sets of 'Ghostbusters 2' and 'Harlem Nights.'"
However, Chase also suffered for his art. During the scene in which Clark has a meltdown over faulty Christmas lights, he punches a plastic Santa Claus lawn decoration. "That wasn't in the script, but I was so angry I did it," Chase told the Asbury Park Press. The impact broke a finger. "Oh boy did that hurt. I thought it might melt or something, but no, it was a good, hard plastic."
The Chevy Chase Show was a legendary flop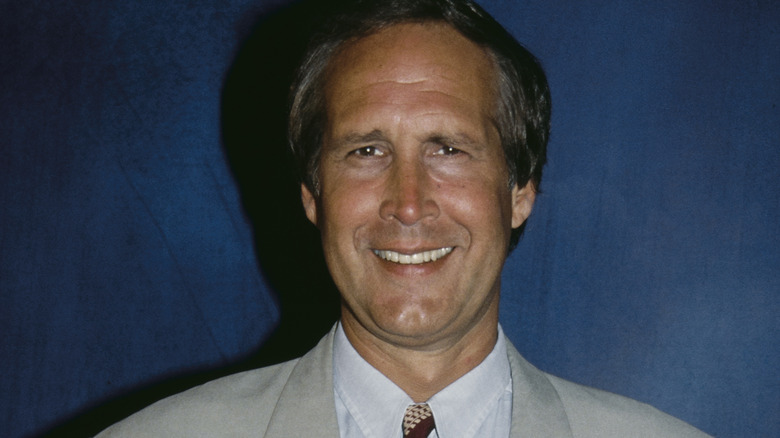 Vinnie Zuffante/Getty Images
Following the departure of Johnny Carson from "The Tonight Show," the late-night talk show sector was suddenly wide open. Jay Leno took over "The Tonight Show," David Letterman left "Late Night" on NBC for "The Late Show" at CBS to go head-to-head with Leno, and Fox got into the game in a high-profile way with the fall 1993 launch of "The Chevy Chase Show." Fox spent $1 million to renovate a Los Angeles theater for the show, paid the host millions, and spent the summer promoting what would soon earn a critical drubbing, low ratings, and a swift cancellation.
"Vomit, nose-picking, belches, gerbil-filled underpants — does Chevy Chase have your attention yet? Using at various times every one of these time-honored devices in search of a decent cheap laugh, 'The Chevy Chase Show' has managed only to give vulgarity a bad name," Ken Tucker wrote in Entertainment Weekly. After re-running segments in its second week on the air, and earning criticism for Chase's fawning over early guest Goldie Hawn, show staffers had to fill its studio audience by bussing in retirement home residents; the fish in an onstage aquarium died.
After less than six weeks on the air, Fox canceled "The Chevy Chase Show." Viewership levels reached about half of what Fox had promised advertisers, forcing the network to pay off Chase's contract (somewhere in the multi-million dollar range) and run free ads for the companies it had financially offended.
He was told he couldn't return to Saturday Night Live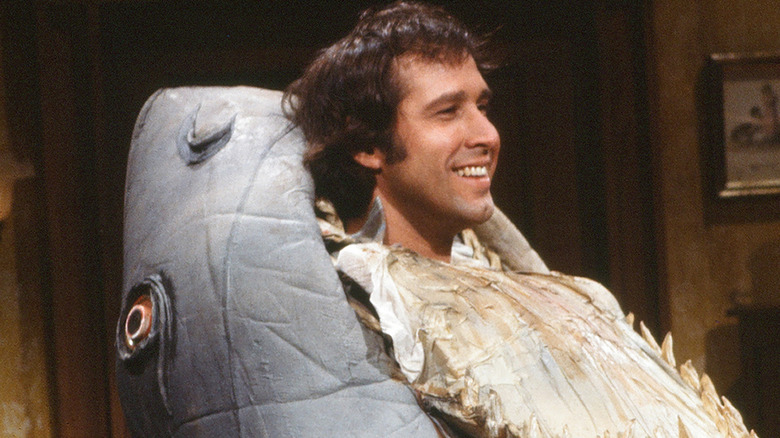 Robert R. Mcelroy/Getty Images
Chevy Chase got his big break as an original cast member of "Saturday Night Live," but several times when he returned to the show, he was at the center of major behind-the-scenes trouble. When he hosted a 1978 episode, he and cast member Bill Murray got into a fistfight just before airtime. Chase met the cast before a 1985 hosting gig, and in addition to sexually harassing cast member Terry Sweeney, he pitched an ongoing sketch in which the openly gay actor would be presented as an AIDS patient and weighed on air each week. "He was really furious that he had to apologize to me," Sweeney recalled in "Live From New York: The Complete Uncensored History of 'Saturday Night Live.'" The same week, Chase asked player Robert Downey Jr. whatever became of his father, a still-living director, and that "he sure went to hell." Chase returned to host again in 1995, and screamed at staffers and harassed a female writer. Will Ferrell said Chase was the single worst host he dealt with in his tenure on the show.
Wanting bygones to be bygones, Chase asked "SNL" creator and producer Lorne Michaels in 2012 if he could have another shot at hosting. Michaels said no.
He felt utterly roasted by his Comedy Central roast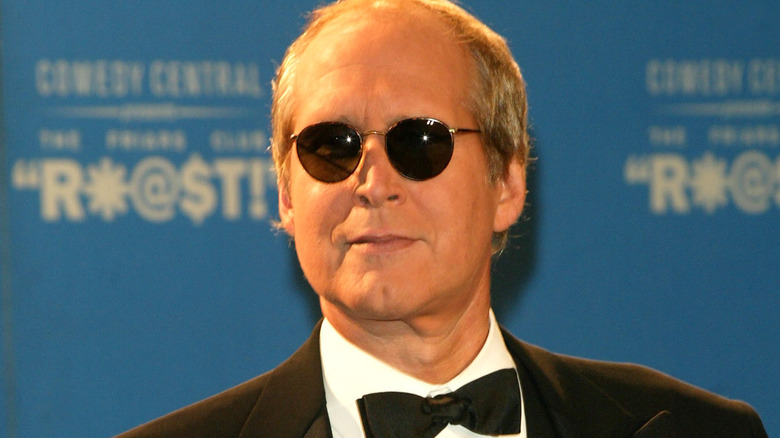 Evan Agostini/Getty Images
Chevy Chase was comically roasted by his entertainment industry friends for the first time in 1990, a non-televised event sponsored by the Friars Club. When Comedy Central extended an offer for another roast in 2002, to air on cable TV and with a $100,000 appearance fee attached, Chase readily agreed. That experience left Chase humiliated. With very few of his showbiz friends and collaborators in attendance, Chase sat on stage as stand-up comedians he didn't know and hadn't heard of said horrible things about him — not the good-natured ribbing he endured and enjoyed at his first roast and had expected. Most of the jokes concerned his critically assailed 1993 late-night attempt "The Chevy Chase Show," his string of flop movies in the 1990s and 2000s, and his addiction to prescription painkillers.
At the end of "The Comedy Central Roast of Chevy Chase," the star gave his customary remarks teasing back his roasters and ended his monologue with a non-joking "That hurt." Following the show, Chase went immediately to his hotel room. Emcee and Chase friend Paul Shaffer knew something was amiss and joined him and consoled him into the night as the comedian lamented the wrong turns in his life and couldn't understand how he'd once been so loved and was now so hated.
Chevy Chase isn't a big fan of Chevy Chase projects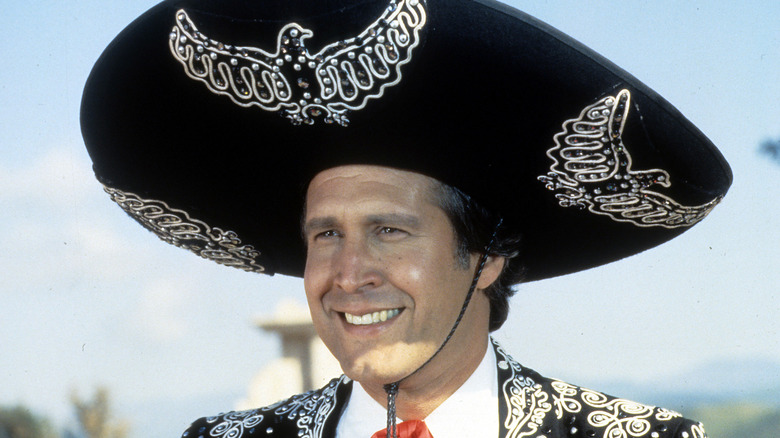 Archive Photos/Getty Images
On the set of the 1986 comedy "Three Amigos!" star Chevy Chase got himself on the bad side of the film's director, John Landis. Having just worked together on 1985's "Spies Like Us," Chase repeatedly took Landis to task for what he felt was poor editing on the previous collaboration. One day, while standing near a cliff while the crew set up a shot, Chase, forgetting or not caring that he was wearing a live microphone, quipped that he figured Landis would exercise more caution — not long after an accident on the set of "Twilight Zone: The Movie" left three people dead under the director's watch. Landis and Chase narrowly avoided a physical confrontation.
Chase promoted "Three Amigos!" with an appearance on "The Tonight Show" in December 1986. Film critic and fellow guest Roger Ebert, when prompted by host Johnny Carson, ribbed Chase by saying his "least favorite Christmas picture" in release was "Three Amigos!" Following the taping, Chase popped into Ebert's dressing room and said, "I don't think it's so hot either."
In 2018, Chase told The Washington Post that he doesn't care for "Saturday Night Live," the show that made him famous in the 1970s. "I had to watch a little of it, and I just couldn't f***ing believe it," Chase said. "After the first two years, it went downhill."
He long struggled with addiction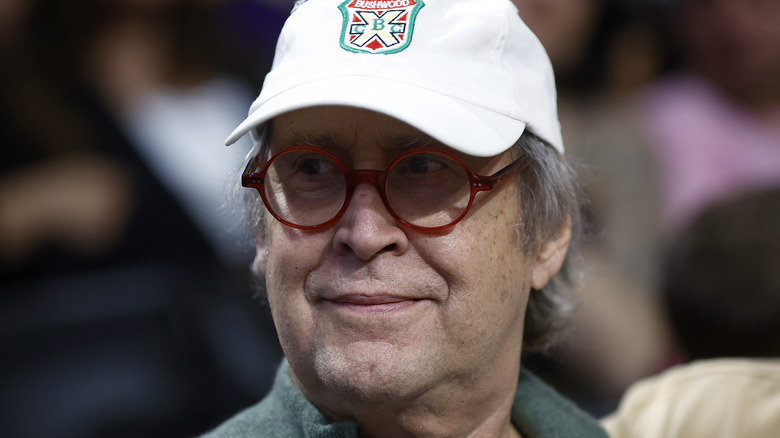 Ronald Martinez/Getty Images
Multiple times throughout his adult life spent in the spotlight, Chevy Chase has sought out professional treatment for dependencies on different substances, publicly announcing his issues and being frank about his journey to lasting sobriety. In 1986, Chase's agent, Pat Kingsley, told UPI (via The New York Times) that her client had checked himself into a drug rehabilitation program at the Betty Ford Center. At the time, Chase was reportedly suffering from an addiction to prescription-grade painkillers, which he began taking to alleviate enduring back issues stemming from his frequent acts of physical comedy, which he'd been performing since his sole season at "Saturday Night Live" in the mid-1970s. 
Three decades later, Chase once more voluntarily entered into a rehab plan, this time the Hazelden Addiction Treatment Center, a Minnesota facility, in order to reduce his use of alcohol. This rehab stint followed his departure from the sitcom "Community." Chase started drinking heavily in the years that followed, to the point where doctors diagnosed him with cardiomyopathy — a weakening of the heart muscles — and linked it to years of unhealthy alcohol use. Chase relapsed after emerging from rehab but then quit again on his own. In 2018, he told The Washington Post that he's sober.
His tumultuous time on Community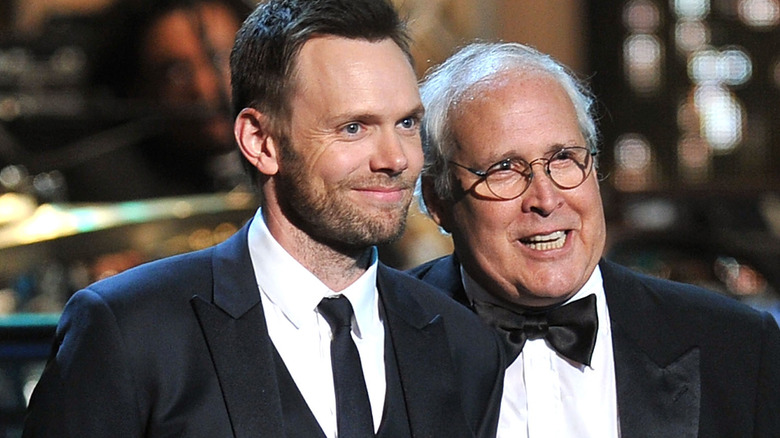 Theo Wargo/Getty Images
After co-starring on the show since its 2009 premiere, Chevy Chase vacated the role of obnoxious elderly millionaire Pierce Hawthorne on NBC's "Community" in 2012. His exit was a mutual decision, and telegraphed somewhat. "It was a big mistake! I just sort of hung around because I have three daughters and a wife, and I figured out I might as well make some bread," Chase told HuffPost UK. "The hours are hideous, and it's still a sitcom on television, which is probably the lowest form of television."
Chase and showrunner Dan Harmon also frequently clashed over the show's content, and the actor would leave angry, screaming, profanity-laced voice mails for his boss, which Harmon publicly played during a live taping of his podcast "Harmontown." More than a decade later, Chase weighed in on "Community" during an interview on "WTF with Marc Maron." "I honestly felt the show wasn't funny enough for me, ultimately. I felt a little bit constrained," he said. "It just wasn't hard-hitting enough for me."
If you or anyone you know needs help with addiction issues or may be the victim of child abuse, contact the relevant resources below: