The Tragic Real-Life Story Of The Andrews Sisters
Hulton Archive/Getty Images
You might not be familiar with The Andrews Sisters, but you should be if you're at all interested in entertainment history. Sisters Patty, LaVerne, and Maxene broke onto the popular song charts back in 1937 with a version of a Yiddish musical theater tune, "Bei Mir Bistu Shein" ("To Me, You Are Beautiful"). By the time they were done selling records, they'd moved some 100 million units, and racked up a whopping 46 Top 10 hits.
MinnPost explains that the sisters' unique song stylings contrasted sharply with the prevailing winds of popular singers at the time, particularly women. Instead of crooning gently and sweetly, the Andrews Sisters "had a powerhouse sound, like a trio of blasting trumpets, and a unique close harmony." As the BBC relates, LaVerne, the oldest, sang contralto; Maxene, soprano; and Patty — youngest, though positioned in the middle during performances — provided the mezzo-soprano. They quickly personified a new kind of swing and Big Band vocal performance: exceptional harmonic structures, soaring above their active, dynamic stage presence. As music biographer Michael Freedland said, "The Andrews Sisters were swing personified. They were the Benny Goodman and the Glenn Miller and the Artie Shaw bands combined into vocal harmony."
The harmonies ended up being closer than the Andrews Sisters were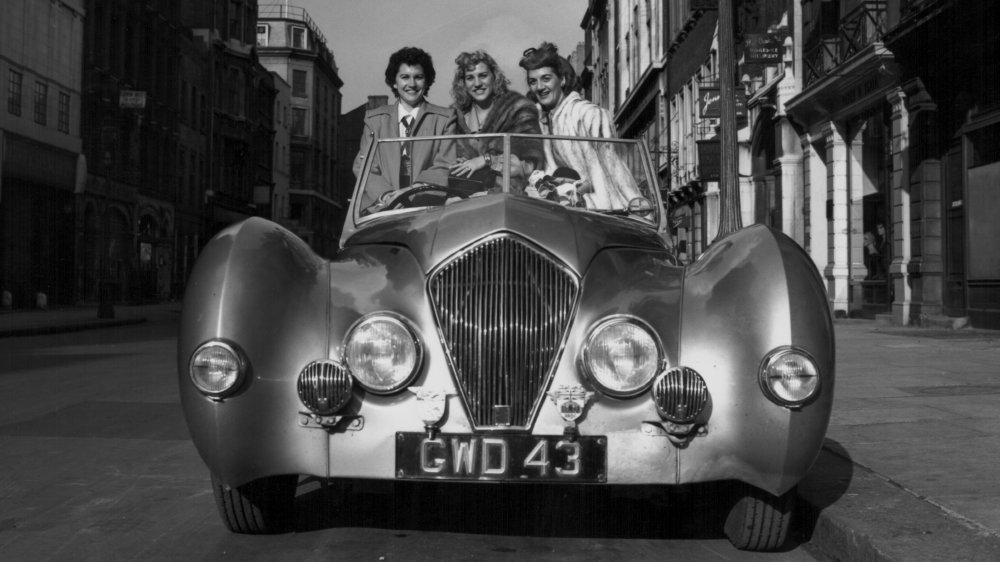 Keystone Features/Getty Images
The sisters grew up singing together in Minnesota. After winning a Minneapolis talent contest when they were still children, they went on to tour vaudeville, too.
During World War II, the sisters were a staple of popular culture, recording with Glenn Miller and Bing Crosby, appearing in films with Abbott and Costello, and performing live around the country. Like many popular entertainers, they hit the road to tour military bases and installations, says NPR, not only in the United States, but in Africa and Italy as well. They were doing a show near Naples, Italy, for servicemen preparing to ship out for the South Pacific when they were given a note to read from the commanding officer. Patty announced that the war with Japan was over. As recounted in The Andrews Sisters: A Biography and Career Record, Patty said, "No, fellas, this is from the CO ... the war is over, so you don't have to go." "With that," Maxene said, Patty "started to cry.... All of a sudden, all hell broke loose."
Unfortunately, the close harmony on songs like "Boogie Woogie Bugle Boy" didn't reflect their family dynamic. Patty decided to go solo, a decision the other two learned, not from her, but from newspapers. Patty later sued her sisters over the apportionment of their late parents' estate. Maxene and LaVerne performed as a duo, and there were attempts over the years to reunite the trio, with varying levels of success. Cancer took LaVerne in 1967, and within a year Maxene was teaching college in the Lake Tahoe area. Patty and Maxene never did fully reconcile. Maxene died from a heart attack in 1995, and Patty passed on January 30, 2013.