What The Final 12 Months Of Cass Elliot's Life Looked Like
Donaldson Collection/Getty Images
Cass Elliot is best known for her role as the fourth member of the 1960s folk-rock group The Mamas and the Papas. Her stellar singing voice and vivacious personality earned her the respect of fellow musicians and fans, even as her life-long struggle with obesity never waned in her 32 years. 
Elliot was driven and ambitious, and her daughter Owen Elliot-Kugell, would later attribute Cass's can-do attitude regarding being an overweight female entertainer to opening the doors for other plus-size stars like Adele, and Aidy Bryant of "Saturday Night Live," per NextTribe. 
After the Mamas and the Papas broke up in 1968, Elliot was determined to make it on her own as a singer, and in the last year of her life, she seemed to be well on her way. In June 1973 Elliot signed a three-year contract (posted at History for Sale) with William Morris agency to act as her agent and manager. That same year, her hometown, Baltimore, declared August 15 Cass Elliot day and presented her with a high school diploma from her alma matter, which she never earned because she dropped out of high school in her senior year, Retro Baltimore reported. 
According to Rolling Stone, Elliot played Las Vegas' Riviera in August 1973 and continued on the night club circuit, headlining at the Fairmont Hotel in San Francisco and other swanky joints in Miami and Puerto Rico. Her swan song, though, would be in the same month of her untimely death, in July 1974.
Cass Elliot died while in the midst of an upswing in her career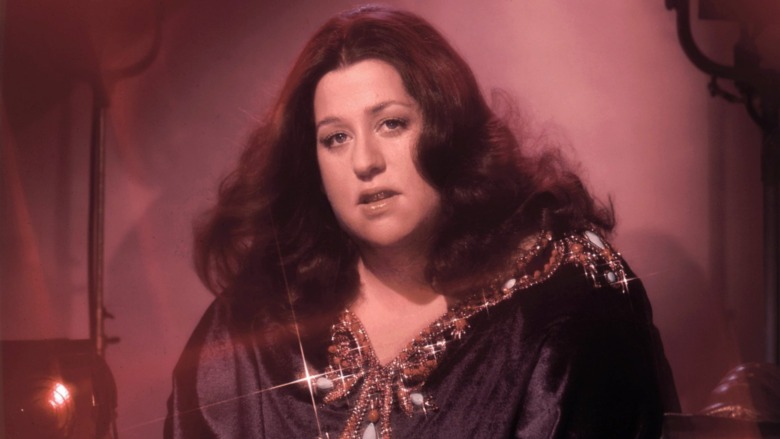 Donaldson Collection/Getty Images
In Elliot's subsequent years after The Mamas and the Papas she was working to shake the nickname "Mama Cass." Her last album, released in September 1973, was titled "Don't Call me Mama Anymore" (via Second Hand Songs).
Elliot was a guest on "The Tonight Show" that month (posted on YouTube), chatting up host Johnny Carson before performing. Elliot was slated to return to the show on April of 1974 but collapsed during rehearsals, according to the website Cass Elliot. But a couple of weeks later in May she returned, joking with Carson about the collapse — "I had the vapors" — and blamed the incident on low blood sugar (also per YouTube, at about the 44 minute mark). 
She told talk show host Mike Douglas (via YouTube) the same thing about why she collapsed in what was possibly her last TV appearance on July 15, 1974 ahead of a two-week engagement at London's Palladium Theatre.
The Palladium shows sold out, with multiple ovations, per the Cass Elliot website. But just two weeks after Elliot appeared on "The Mike Douglas Show," and just two days after completing her very well-received stint at the Palladium, Elliot was found dead in the bed of her London flat. While rumors swirled that she'd died from choking on a ham sandwich, an autopsy showed her cause of death to be a heart attack. As related by the Cass Elliot website, the pathologist listed the fatal incident as "heart failure due to fatty myocardial degeneration due to obesity."