Merv Griffin's Storied Talk Show Career Literally Followed Him To His Grave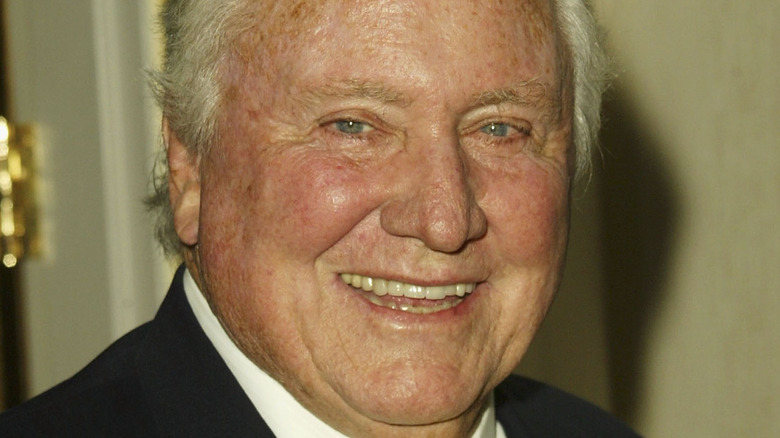 Chris Hatcher/Getty Images
On September 23, 1980, Merv Griffin, the media mogul and entertainer who had a long-running talk show from the 1960s to the 1980s, appeared on "The David Letterman Show" to promote a new book. During the interview, Griffin, in an aside, mentioned what he planned to have written on his tombstone. "I got it figured out," he told Letterman (via YouTube). 27 years later, in September 2007, when Griffin died of prostate cancer at age 82, according to The New York Times, he stayed true to the promise he made on Letterman and followed in the tradition of many other celebrities with unique epitaphs on their headstones.
Like actor Leslie Nielsen ("Let 'er rip") and comedian Rodney Dangerfield, whose headstone reads, "There goes the neighborhood," Griffin bucked the trend of somber sayings for something a bit more lighthearted (per Reader's Digest). His epitaph, while droll, is also heartfelt. While Griffin had success as a television creator, producer, singer, actor, and hotel and casino mogul, his abiding love had always been for the talk show.
Merv Griffin was much more than a talk-show host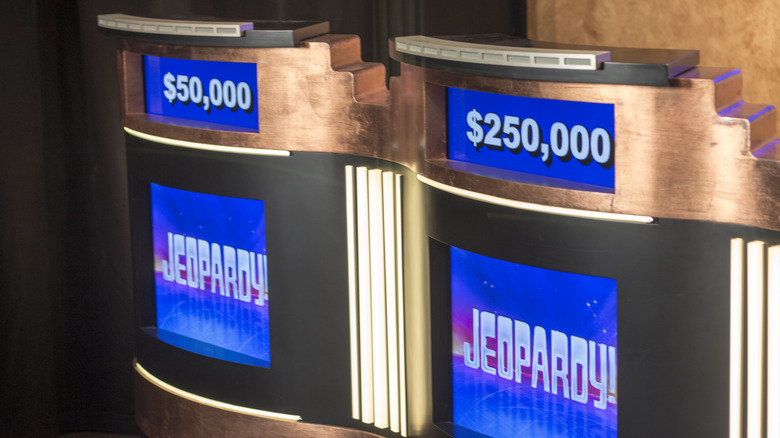 Ryan J. Thompson/Shutterstock
Mervyn Edward Griffin Jr., was born in San Mateo, California, on July 6, 1925, and started out in show business while still a teenager performing on a nationally syndicated San Francisco radio program before making it as a big band singer who had a hit with "I've Got a Lovely Bunch of Coconuts" in 1950, per TCM and The New York Times. Griffin tried his hand at acting in Hollywood, but after a handful of supporting roles in mediocre movies, he moved over to the burgeoning television industry as a game show host, according to Variety.
In 1963, he and his then-wife, Julann Griffin, came up with the idea for the game show "Jeopardy!" during a flight from Michigan to New York City, per Smithsonian. Griffin later wrote the short but memorable tune played on the show during the Final Jeopardy section, according to TCM. He also created "Wheel of Fortune," the longest-running syndicated game show in history, per The New York Times. The entertainment world was only part of his wide-ranging business empire that included casinos, hotels, and media companies, per the newspaper. 
The Merv Griffin Show
Merv Griffin's vast media and real estate empire was estimated at more than a billion dollars at the time of his death, per The New York Times. But it was getting to interview a variety of interesting guests on his daily talk show, "The Merv Griffin Show" — which aired almost continuously from 1962 to 1986, first on NBC, then CBS, then in syndication (per TCM) — that he relished the most. "I never anticipated ever being a talk show host in my life," Griffin told PBS. "Every day of it, every day of my career, I've cherished. I love it."
When David Letterman asked Griffin how he handled situations in which an interview goes sideways, Griffin answered, "You let it happen. And then you sit back... then you say 'we'll be right back'." He then turned to Letterman with an impish grin and told him, "That's my tombstone," per YouTube. "I will not be right back after this message." You can visit Merv Griffin's grave at the Pierce Brothers Westwood Village Memorial Park & Mortuary in Los Angeles and read his epitaph for yourself.