The Real The Reason The Mamas And The Papas Broke Up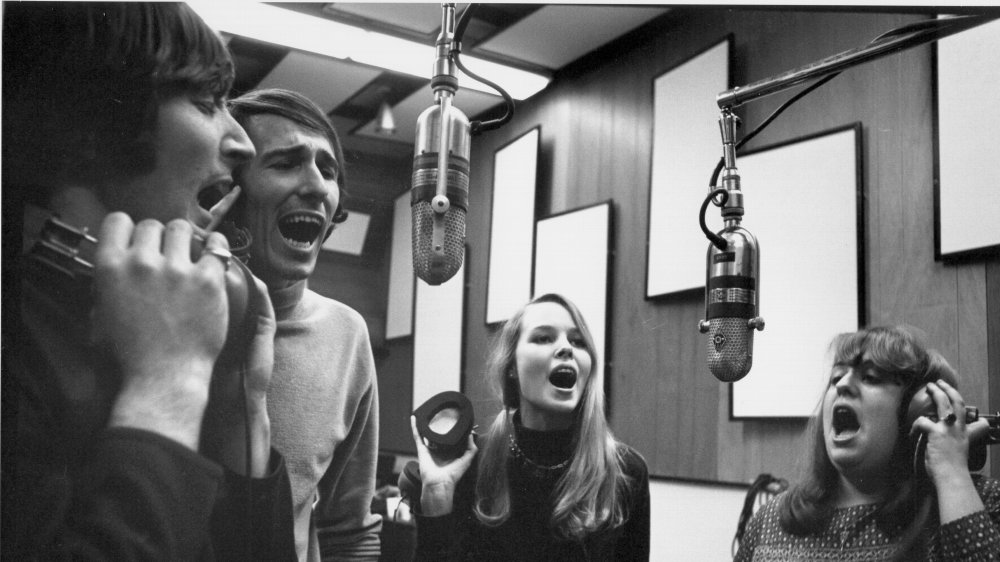 Michael Ochs Archives/Getty Images
The Mamas and the Papas was a genuine flash across pop music in the 1960s. The band came together through connections, as bands tended to do in those days (and maybe still do; we haven't kept track): John and Michelle Phillips, freshly married, began working with Denny Doherty, says Rolling Stone, in a band called The New Journeymen. They were joined later by Denny's best friend, Cass Elliot — the foursome known as The Mamas and the Papas. Theirs was usually classified as "folk rock" — Phillips supposedly shot for a knockoff of Peter, Paul and Mary before their unique delivery gelled — a gentle attention to lyrics and the delightful, rich harmonies John provided, along with the songs he wrote — "their haunting and sumptuous harmony singing," as The Hollywood Reporter phrased it.
They hit, and hit big, with their first album. "California Dreamin'" hit #4 on the Billboard charts in early 1966, says Biography, and four months later they scored their first #1 with "Monday, Monday." They were friends, but then became more than friends. Personalities started to interfere with the work, in a muddied soap opera of "who's with who this morning?" Cass was in love with Denny, but Denny saw her as a friend. Michelle was married to John, but before long she became romantically entangled with Denny. In 2007, Michelle told Vanity Fair the band's heyday "was two and a half years of total melodrama."
They started as friends, and then it got way complicated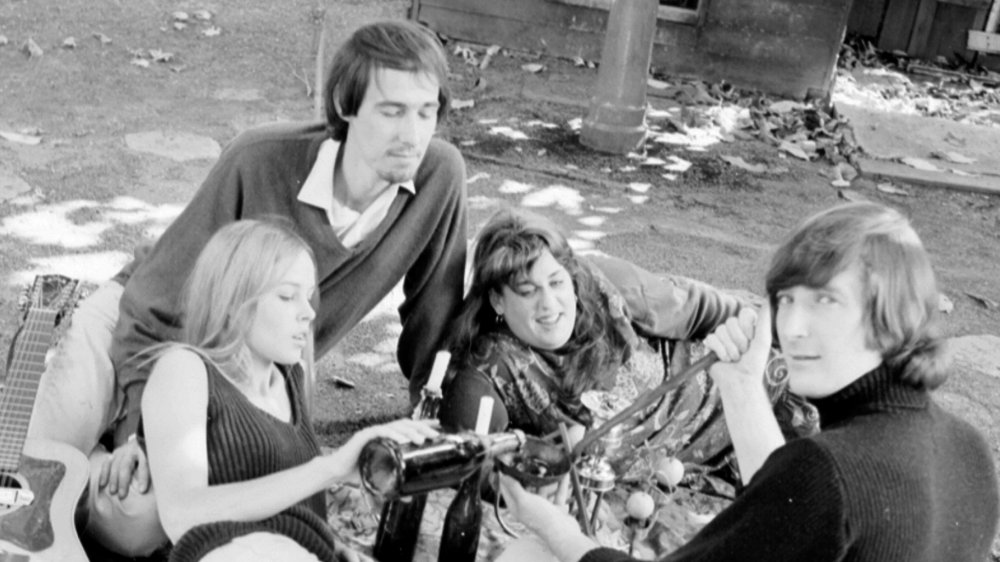 Michael Ochs Archives/Getty Images
It wasn't so much a matter of artistic disagreement that led to the group's dissolution in 1968. They had a reunion of sorts in 1971, driven, Michelle told Rolling Stone, by money — "I think the money is a big incentive for all of us ... I really do." She also told the magazine that the band's breakup was due to a kind of creative exhaustion: "We broke up when there wasn't anything left in the pitcher. I think that in the two and a half years that we were together, there was so much created, that there just wasn't anything left." But back in 1968 Cass had told Rolling Stone, "I didn't just want to be part of a group. I wanted to be able to do television, and a movie ... came up, to sort of diversify myself, to extend myself. Within the framework of a group, that freedom is not possible." It was also the year Cass had the first in a string of top-selling singles as a solo artist.
As of this writing, Michelle, 76, is the only surviving member. Cass Elliot died of heart failure in 1971 at 32. John Phillips died in 2001 at the age of 65. Denny Doherty died, age 66, of kidney failure in 2007.