This Is How Tupac Predicted His Own Death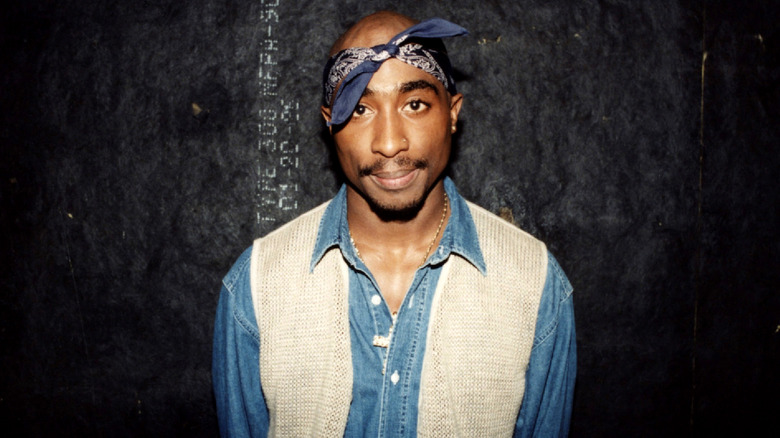 Raymond Boyd/Getty Images
On September 13, 1996, 25-year-old rapper Tupac Shakur died from gunshot wounds inflicted six days prior. On the night of September 7, the rapper was out in Las Vegas with Marion "Suge" Knight — co-founder of Death Row Records — to watch a Mike Tyson boxing match at Las Vegas' MGM Grand hotel. After the match, Shakur and Knight left the premises in a black BMW when a white Cadillac pulled up beside the vehicle at a stoplight and fired 13 shots into their car, per Biography. Tupac Shakur was hit in the chest, hand, and pelvic area and was brought to the hospital for immediate medical attention. At the time of his death, Tupac's lawyer, Shawn S. Chapman, denounced depictions of violence in rap and followed up such statements by saying of the artist (via The New York Times), "There was this wonderful, charming, bright, talented, funny person that no one is going to get to know; they are just going to know this other side."
Tupac's death was a surprise to many, but the rapper seemed to know that his murder was coming sooner rather than later. Two years prior, he was involved in another shooting that was supposedly a mugging, but he was convinced it was an attempt to end his life. Following this first shooting, Tupac told award-winning journalist AJ Benza — who was at the rapper's hospital bed afterward — that "he was going to die young," per The Sun. "Not this time," Tupac said, "but it's coming."
His art foreshadowed his death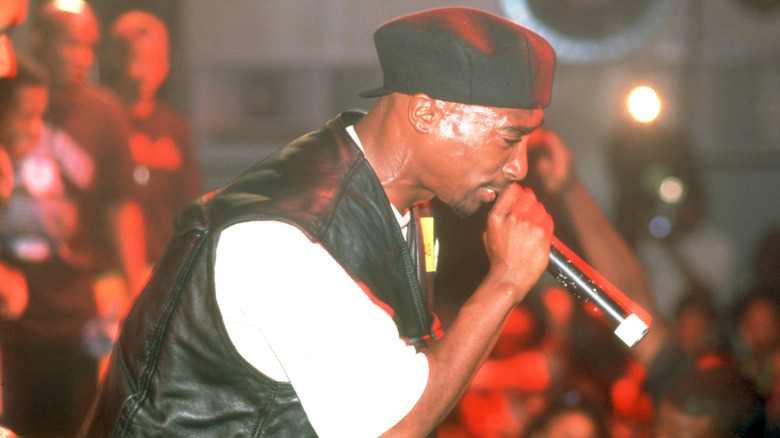 Al Pereira/Getty Images
Though many of Tupac's songs talk about death, some of the lyrics sound more like direct foreshadowing of the rapper's demise than others. In "If I Die 2Nite" he raps, "I hope they bury me and send me to my rest / Headlines reading 'Murdered to death' / My last breath." In another song by Richie Rich featuring Tupac — titled "N***** Done Changed" — Tupac says, "I been shot and murdered, can't tell you how it happened word for word."
The closest foreshadowing of Tupac's murder was the last music video he made — "I Ain't Mad At Cha" — about a month before his death. In it, he gets shot several times after leaving an event, a scenario that eerily reflects what happened in real life. Tupac eventually dies in an ambulance, and the scene transitions to heaven, where he arrives in a white suit. The place has white clouds and artists in the likeness of Billie Holiday, Jimi Hendrix, Louis Armstrong, and Miles Davis, who are all having an eternal jam session together.
The video was released two days after Tupac Shakur's death. Speaking to the New York Post (via the Las Vegas Sun), the late George Pryce of Death Row Records said, "It is ironic — definitely a case of life imitating art. It's almost as if Tupac had a sense of foreboding." Until the 2023 arrest of Duane Keith Davis, aka "Keffe D," all leads linked to Tupac's murder led to nothing but dead ends.
A rough upbringing and an inevitable murder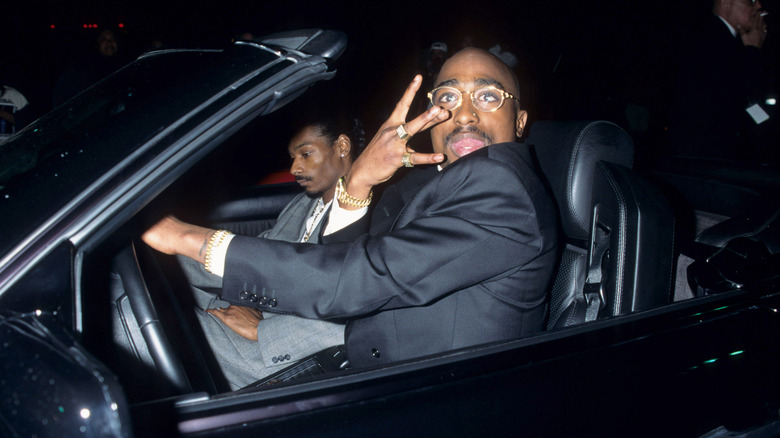 Kevin.mazur/Getty Images
Plenty of theories about the motivation behind Tupac Shakur's murder have percolated in the decades since his death. Retribution and revenge stand high on the list, as well as jealousy of Tupac's success, or the much-discussed East-West boom bap vs. g-funk rap rivalry of the '90s. On that last note, Andscape describes the common go-to theory of interplay between the murders of Tupac and the Notorious B.I.G. six months later. High Snobiety goes further and outlines the ridiculous "Tupac Lives" conspiracy, which claims that the rapper faked his own death. But as Andscape also discusses, Tupac's death wasn't any kind of mystery, least of all to Tupac. It was tragically natural for him to assume that death lurked everywhere given the harsh realities of his upbringing, which he often discussed in his lyrics.
On this point, Westworld outlines Tupac lyrics that reference his upbringing and its connection to his inevitable murder. In "Changes" he talks about revenge, saying, "And I never get to lay back / Cause I always got to worry 'bout the payback / Some buck that I roughed up way back / Comin' back after all these years." In the gun-centric "Open Fire" he raps, "Word to God I've been ready to die since I was born," and, "They take a shot and hit my f****** tires / Now, jump out the car then I open fire, sucka!" Finally, "I Wonder if Heaven Got a Ghetto" talks of heaven, same as the video for "If I Die 2Nite" depicts.