This Is How Tupac Predicted His Own Death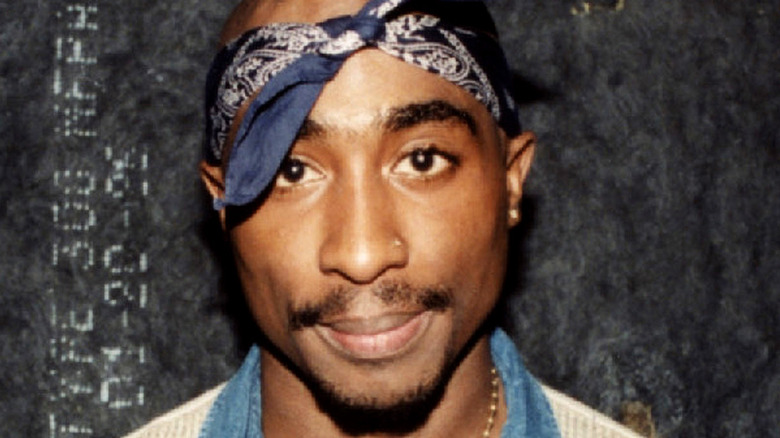 Raymond Boyd/Getty Images
On September 13, 1996, 25-year-old rapper Tupac Shakur was declared dead after suffering gunshot wounds six days prior. On the night of September 7, Tupac was out in Las Vegas with Suge Knight, the founder of Death Row Records, to watch a Mike Tyson boxing match at the MGM Grand hotel. After the match, Shakur and Knight left the premises in a black BMW when a white Cadillac pulled up beside the vehicle at a stoplight and fired 13 shots into Shakur and Knight's car (via Biography). Tupac Shakur was hit in the chest, hand, and pelvis area and was brought to the hospital for immediate medical attention, but died of his wounds six days later.
Tupac Shakur's death was a surprise to many, but the rapper somehow knew that he would die young. Two years prior to his death, Tupac was also involved in another shooting incident that was supposedly a mugging but Tupac was convinced was an attempt to end his life. AJ Benza, an award-winning journalist, was at Tupac's hospital bedside after the first shooting where he recalled being told by Tupac that "he was going to die young," as reported by The Sun.
Songs and a music video foreshadowed his death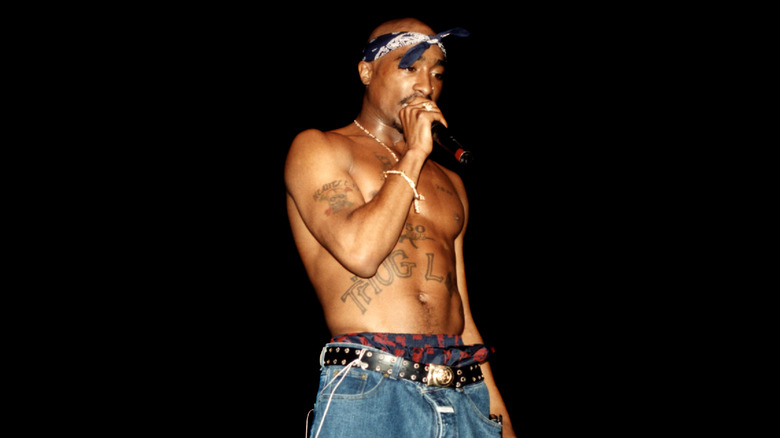 Raymond Boyd/Getty Images
Many of Tupac's songs talk about death, but some of the lyrics may be perceived as a foreshadowing of the rapper's demise. In one of his songs, "If I Die Tonight," Tupac raps, "I hope they bury me and send me to my rest/Headlines readin 'Murdered to death'/My last breath," (via West Word). Another song by Richie Rich featuring Tupac titled "N***as Done Changed," Tupac raps the lines "I been shot and murdered, can tell you how it happened word for word."
The closest foreshadowing of Tupac's murder was the final music video he made a month before his death for the song "I Ain't Mad At Cha." In it, Tupac gets shot several times after leaving an event, which is eerily similar to what happened in real life. In the video, Tupac dies in an ambulance and the scene transitions to heaven where Tupac arrives donning a white suit. The place has white clouds and artists in the likeness of Billie Holiday, Jimi Hendrix, Louis Armstrong, and Miles Davis are having a jam session.
The video was released three days after Tupac Shakur's death and George Pryce from Death Row Records said, "It is ironic — definitely a case of life imitating art. It's almost as if Tupac had a sense of foreboding," (via Las Vegas Sun). And if Tupac's prediction is correct, then he may indeed be jamming with musical greats up in heaven.