The Tragic Murder Of The Notorious B.I.G. Explained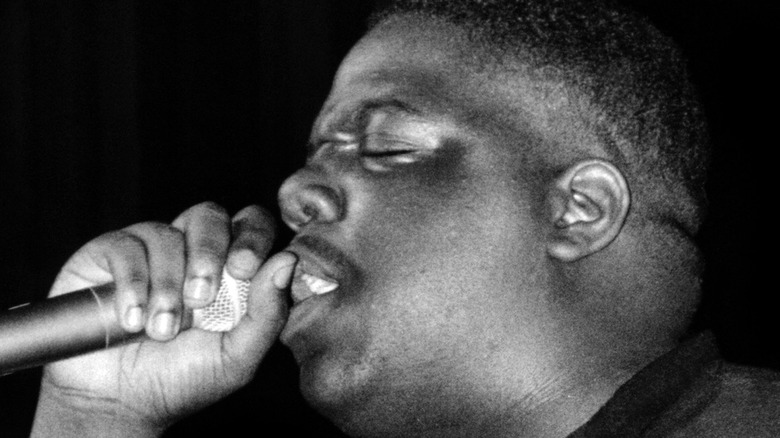 Raymond Boyd/Getty Images
The Notorious B.I.G. and Tupac Shakur. These two titans of rap are forever intertwined in the genre's lore. They both hit the scene in the early 1990s, with Shakur getting more experience at first. They were from opposite sides of the country. B.I.G. (above) was from New York, while Shakur was from California, though he had been born in New York and spent time in Baltimore. The two of them actually were friends at first, according to Medium.
Then the bottom fell out. First Shakur ignored a warning about a woman and wound up in court; she accused him of rape. He then survived an assassination attempt, one that he felt B.I.G. knew about beforehand. Shakur spent time in prison as a result of the rape case, and that is when B.I.G. became popular. When he was released, the California rapper then put out a diss track about the shooting. B.I.G. put out one of his own — and the feud was off and running. They would be constantly insulting each other in their music and their interviews, even going as far as to threaten each other in their verses. 
Eventually, the rivalry turned deadly for both of them. Shakur was killed in Las Vegas on September 13, 1996 (per History), and B.I.G. was not that far behind, shot to death in a vehicle on March 9, 1997 (per Biography). 
Notorious B.I.G. apparently was not the actual target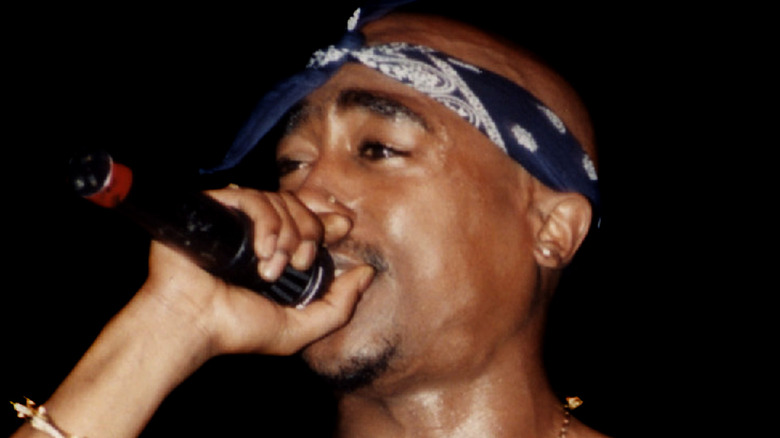 Raymond Boyd/Getty Images
It seems, according to Local12, that the intended target for assassination was actually Sean "Diddy" Combs. The massive rapper was in the wrong place at the wrong time, sitting in the same vehicle as Combs. The reason? Suge Knight, who was the head of Death Row Records, supposedly hired an assassin to kill Combs in revenge for the killing of Tupac Shakur (above). A second layer of the beef was that B.I.G. was part of Combs' record label, which was a direct rival to Knight's Death Row Records. This was when the East Coast/West Coast rap rivalry was at its highest peak. 
To add even more intrigue, the Local12 piece indicated that the Los Angeles police department may have covered up the whole thing. It all had enough intrigue for three movies. The police got the shooter, who has since served his sentence. Knight is in prison for a different crime. Combs did a tribute to B.I.G. that also featured Sting, via SongFacts. 
People still remember B.I.G. to this day. The image of him wearing a crown has appeared on shows like Netflix's Luke Cage (per CBR). Even in death, he looms over the rap landscape.