The Odd Book Written By The Gainesville Ripper
Danny Rolling, otherwise known as the Gainesville Ripper, went on a three-day murder spree in Gainesville, Florida, in 1990. Before he committed the crimes, he was in the Air Force but was let go due to drug possession. After his return to civilian life, Rolling eventually married and had a daughter, and for a while, his life seemed normal. However, the marriage soon led to divorce as Rolling's wife claimed that her husband was abusive. It was after the divorce when Rolling's violent behavior escalated and he was eventually imprisoned in 1979 for armed robbery (via Biography).
In 1990, Rolling decided to target college students. He set up a campsite in a wooded area behind the University of Florida and went on a rampage. The first two victims — freshmen students — were raped and ruthlessly stabbed to death in their home. The third victim was also killed in her home, and Rolling left the scene with the woman's severed head placed on a shelf. The next two murder victims, just like the previous three, were attacked inside their house. It wasn't until two years later when the Gainesville Ripper would be charged for the five murders. Rolling was already in prison for robbery when his DNA was matched to the pieces of evidence in the Gainesville murders. Rolling claims, as reported by the Orlando Sentinel, that he murdered the women as a form of revenge for the verbal and physical abuse he experienced as a child from his parents. He was also linked to the murder of three others — Julie Grissom, her father Tom, and her nephew Sean — bringing Rolling's victims to 8.
Danny Rolling details his crimes in a book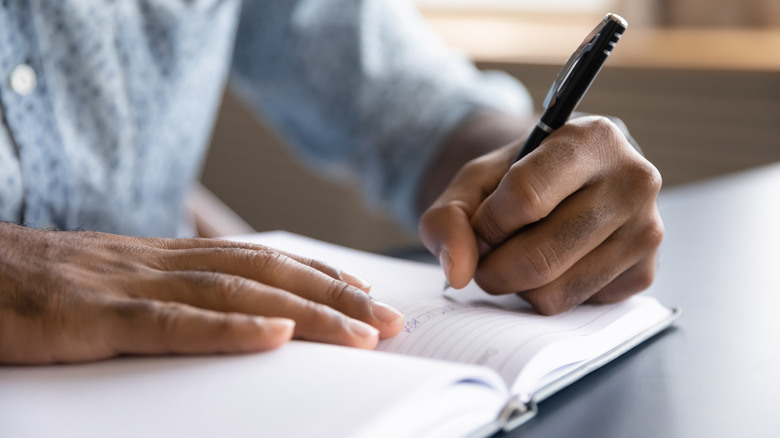 fizkes/Shutterstock
Danny Rolling was serving multiple life sentences for armed robbery and was sentenced to death for the murders of the five women. During his time in prison, he started a relationship with Sondra London, a freelance crime journalist who would eventually become his fiancée. The two met in 1992 through letters, and after several correspondences, they met in person for the first time when London visited Rolling in prison. They immediately gravitated toward each other and started a romantic relationship soon after their meeting. In an interview with The Washington Post, London recalled seeing Rolling for the first time. "I approached my meeting with Danny thinking I was prepared for anything. But there was one thing I was not prepared for. I had no idea what a fine-looking man he is today. Instead of the broken and dejected loser I'd seen on TV ... standing before my hungry eyes was one gorgeous hunk of man," she said.
It was London who helped the convicted murderer write a book about his crimes titled "The Making of a Serial Killer: The Real Story of the Gainesville Murders in the Killer's Own Words," which was released in 1996. In the book, Rolling described the grisly details of the murders as well as his reasons for killing, saying that he was possessed by a demon named Gemini. The book contains his motivations for the murders as well as the reflections on how he became a serial killer.
Danny Rolling sued by Florida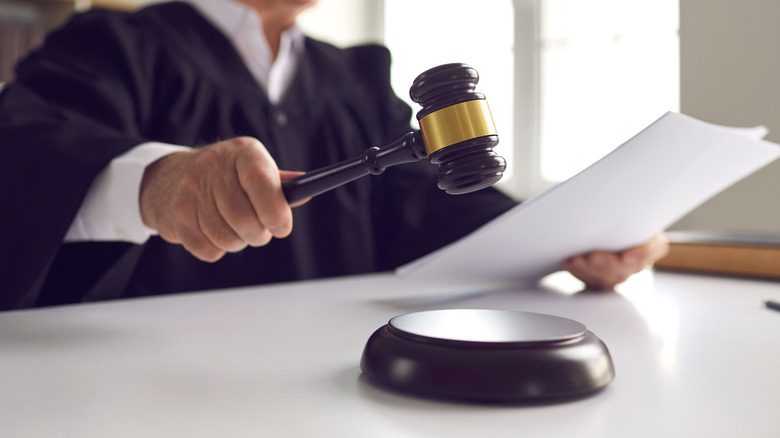 Studio Romantic/Shutterstock
According to Biography, psychiatrists who treated Danny Rolling found that he suffered from a severe form of personality disorder. However, they also said that he was well aware that his actions were wrong. Ultimately, Rolling was deemed sane and had an average IQ. However, his defense psychologist, Elizabeth McMahon, said Rolling was a complicated person who does not fall under a specific diagnosis, according to the Orlando Sentinel.
Danny Rolling and Sondra London were sued by the state of Florida after the release of the book. Per the Son of Sam Laws, criminals are prohibited from gaining profit from works about the crimes they committed. London was ordered to submit an account of all the receipts of the money she obtained by selling Rolling's artwork, autographs, letters, and books. A judge ordered all profits from the sales of the book and other items related to the murders to go to the families of the victims (via Tampa Bay Times). However, the mother of one of the murdered women said that her family didn't want to accept "blood money." A judge then ordered the funds to be donated to the Crime Victims Compensation Fund instead.
Rolling was executed via lethal injection at the Florida State Prison on October 25, 2006. As a final statement, he sang a gospel song for a few minutes. Some of the victims' family members were present to witness Rolling's death and showed little reaction when Danny was officially declared dead at 6:13 p.m.