Jimi Hendrix's 15-Minute Long Masterpiece Was Recorded In Just Three Takes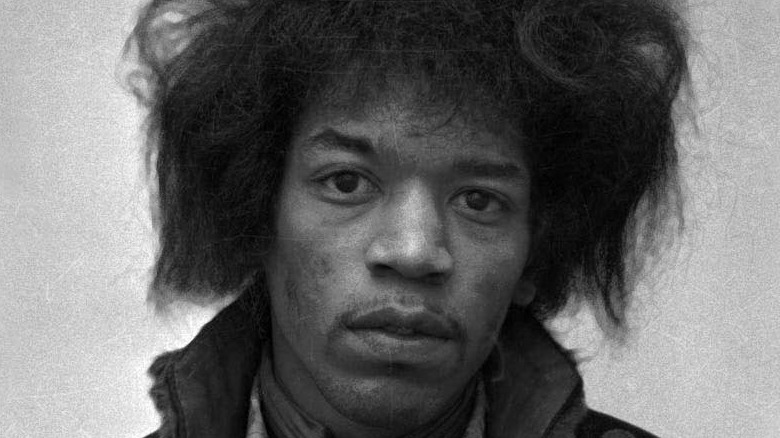 Avalon/Getty Images
The fourth track on Jimi Hendrix's third and final studio album is one we all know well. The swift, icy hot riff that seems to drift through the air and cut like a knife all at once is unmistakable: "Voodoo Chile" (via Discogs). It's one of those songs that is so multi-layered and captivating, you forget how remarkably long it is. Still, leave it to Hendrix to make a 15 minute song feel like a five minute one. It's like voodoo magic in and of itself. 
If you've never heard the story of how "Voodoo Chile" was recorded, who else was involved, or the circumstances surrounding the session, you might want to keep reading, because it's actually a pretty remarkable tale. As Far Out Magazine reports, there were some fellow music legends contributing to the process who you'd probably never guess would have been involved. Also, the fact that "Voodoo Chile" was recorded in a matter of three takes is astounding from both a logistical and artistic point of view (per Showbiz Cheat Sheet). 
Voodoo Chile was recorded in three takes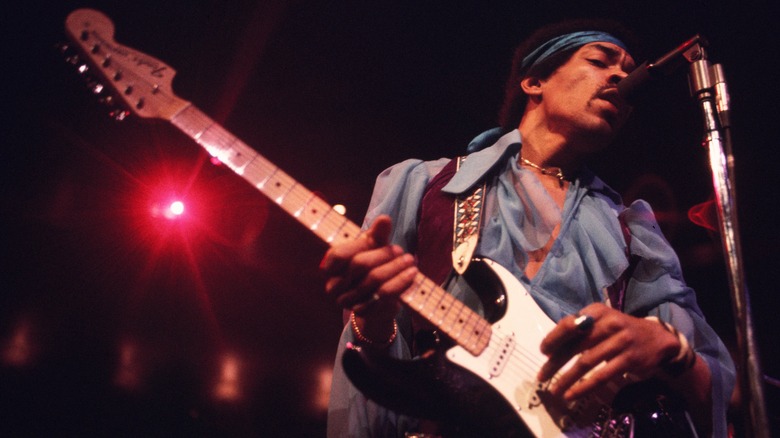 Walter Iooss Jr/Getty Images
If you know anything about the recording process or what really goes into producing a single song, you're fully aware of how tedious, particular, and downright frustrating things can get. It's enough to send even the most proficient sound engineer or musical mastermind into a tizzy. All the same, Jimi Hendrix and his team of melodic mercenaries somehow managed to nail down "Voodoo Chile" in no more or less than three takes, as Showbiz Cheat Sheet reports. Take a second to think about the intricacies and bold experimentalism of that song. It's an anomaly that any artist – even one so well-seasoned as Jimi Hendrix — could execute such leaps and bounds in such a short amount of time. 
Maybe it was the ambience of the environment that alleviated some of the pressure. According to Far Out Magazine, there was a different kind of social energy in the studio that day that emulated a strong sense of camaraderie and celebration amongst the attendees (who were plentiful in number). "There were tons of people in the studio, you couldn't move. It was a party, not a session," bassist Noel Redding shared later on. 
Steve Winwood played keys on Voodoo Chile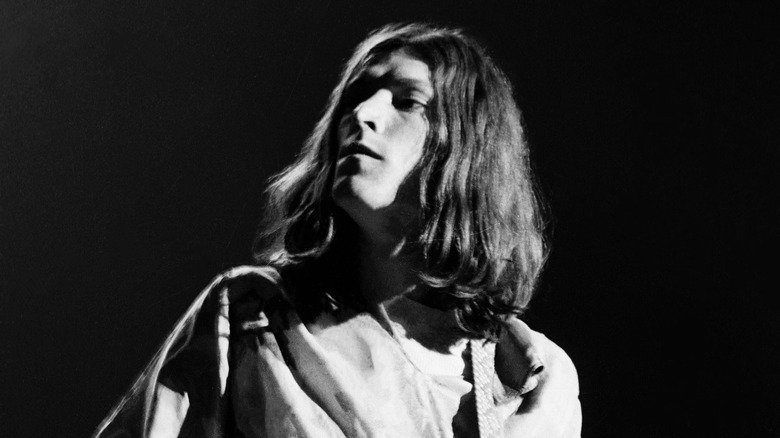 Larry Hulst/Getty Images
"Jimi went up the scene one night, and wouldn't you know Steve Winwood is there, Jack Cassidy is there, and Jimi is sitting there listening thinking, 'yeah, I think I can get these guys to play this track,'" sound engineer Eddie Kramer recalled years later. Apparently, Jimi Hendrix was a devout fan of Steve Winwood's work, so when the chance to get the Traffic founder's musical signature on one of his own songs presented itself, he leapt for it (per Far Out Magazine). 
As it turned out, Winwood and Jack Cassidy were performing just around the corner from where Hendrix and his crew were recording "Electric Ladyland," and when "Voodoo Chile" was next up on the list, he decided to peek his head into The Scene (the venue they were playing at) and offer them a slot on the record. They graciously accepted, and you can still hear Winwood's keyboard skills woven into the fabric of "Voodoo Chile" today. ""[Winwood] is so much in the head of Jimi Hendrix. In the sense that they complimented each other," Kramer went on. "When they play off of each other, it's just a magnificent thing. It's a conversation of two musical giants" (via Far Out Magazine).