Why This Legendary Guitarist Scared Jimi Hendrix To 'Death'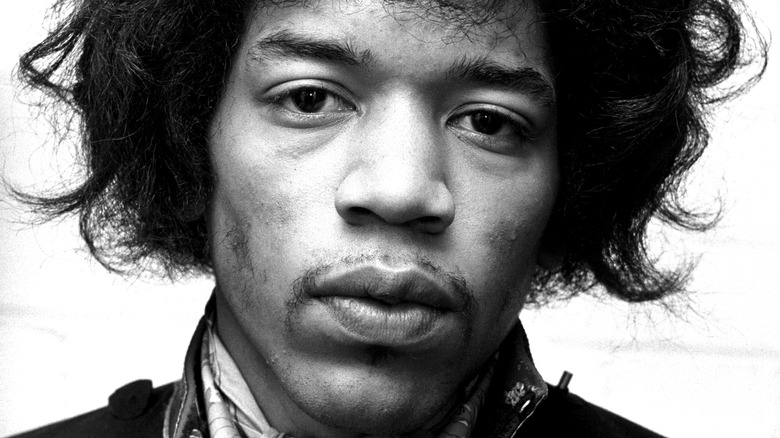 Avalon/Getty ImagesMonitor Picture Library/Avalon/Getty Images
"You never told me he was that f****** good," Eric Clapton exclaimed after watching the legendary Jimi Hendrix illuminate the stage with his unparalleled talent for the first time ever (via Whizz Past). Among others, Clapton reveres the late guitarist as one of the "finest musicians ... on the Western scene," as Rolling Stone reports. Hendrix, in his short 27 years on earth, set the bar higher than most others and became the muse for hundreds of other rockers to follow in his massive footsteps. However, every muse has a muse of their own, and when Hendrix was asked to reveal his, he credited multiple predecessors
Naturally, it's hard to narrow a list like that down to one singular name. Buddy Holly, Eddie Cochran, Elmore James, and B.B. King were at the top of his roster (per Mental Floss). However, Hendrix heralded one particular individual as his magnum opus of inspiration. "The first guitarist I was aware of was Muddy Waters. I heard one of his old records when I was a little boy and it scared me to death because I heard all these sounds" he told Rolling Stone in 1968.
Muddy Waters scared Jimi Hendrix to 'death'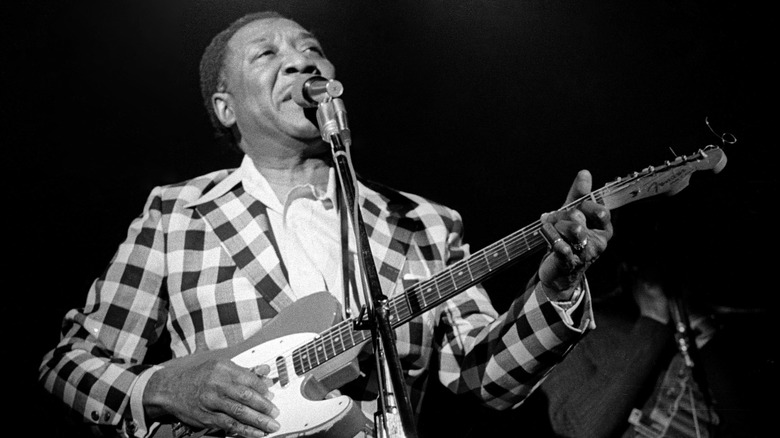 Larry Hulst/Getty Images
Muddy Waters reached the trembling eardrums of the young Jimi Hendrix early on. The barrage of different sounds that enraptured him as he stood before the record player was enough to almost make him give up the ghost. Never before had he beheld such a cataclysm of melody and twang, and as a young boy, it rather overwhelmed him. Filled with an injection of sensation that admittedly "scared him to death," Hendrix resolved to devote his life to music then and there (via Far Out).
Waters was a major emulator of the blues, which predominated Hendrix's aesthetic along with his own trademark conception of music as a whole, and at the heart of it all was the timeless vibrations of an electric guitar. The first electric guitar he ever strapped across his shoulders was a Supro Ozark, though he later became well-known for wielding a Fender Stratocaster, particularly the white-bodied one that he appeared on stage with at Woodstock in 1969, (according to Boost Guitar Pedals and Reverb). One of his most momentous live performances was when he paid homage to Muddy Waters with a rendition of his classic track, "Mannish Boy."
Other guitarists who inspired Jimi Hendrix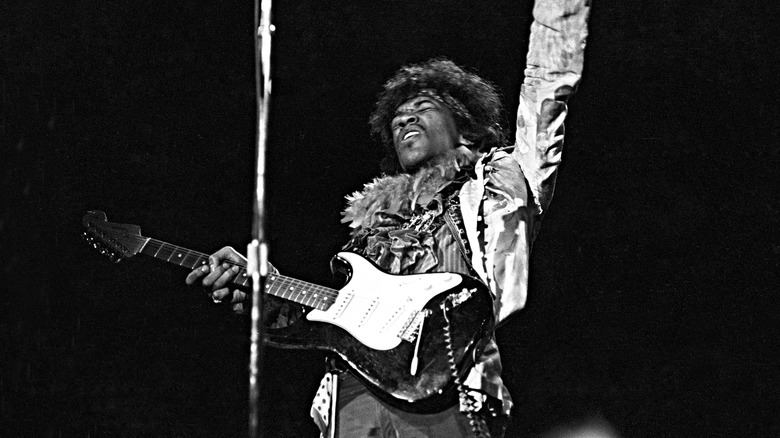 Michael Ochs Archives/Getty Images
Jimi Hendrix's top 10 guitar heroes were: Albert King, Muddy Waters, B.B. King, Elmore James, Albert Collins, Eric Clapton, Steve Cropper, Otis Rush, Rory Gallagher, and Billy Gibbons, according to a list by Far Out. When Mike Douglas once asked the musician what it was like to be the greatest guitarist in the world, he humbly replied, "I don't know. You'll have to ask Rory Gallagher."
Additionally, Eric Clapton's supreme veneration for Hendrix happened to be mutual. Hendrix credited the English rock star with being one of his own personal heroes, and after moving to London in 1966, he attended a concert near his apartment where Clapton was performing with Cream. Upon seeing Hendrix in the crowd, Animals bassist Chas Chandler remarked to Clapton that he had "this friend who would love to jam with you." It was the first time the two met, and it serendipitously happened to be on a stage where their titanic abilities would coincide in a legendary convergence of rock 'n' roll majesty (via Far Out).