The Unique Way Tony Bennett Has Given Some Fans Autographs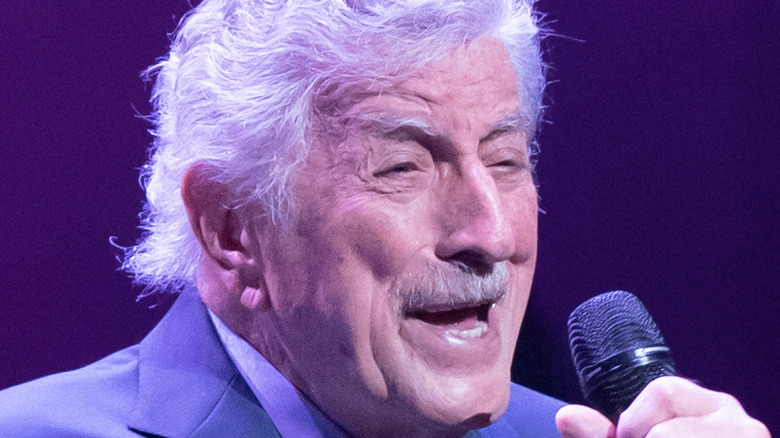 lev radin/Shutterstock
One of the longest careers in music is coming to a close as Tony Bennett retired from performing in 2021 at the age of 95. The jazz, big band, and show tune crooner became a household name in the 1950s after serving in the United States military during World War II. By 1951, he had a No. 1 hit with the song "Because of You." He performed the song on the Ed Sullivan Show, where he reappeared throughout the 1950s and '60s and then performed on MTV in the 1980s, proving the timelessness of his music.
His career continued into the 21st century with jazz standards performed with Lady Gaga in 2015 and again in 2022. Both collaborative albums earned Grammy awards as part of his massive total of 19 Grammy wins. Apart from singing, Bennett is an avid painter and sells his artwork as part of his company Benedetto Arts, named after his original family name. He originally wanted to be a painter as a child.
Some fans have received autographs with a personalized touch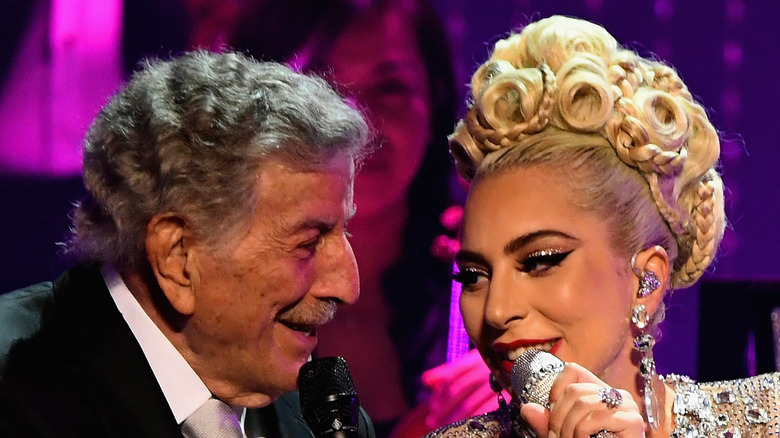 Kevin Mazur/Getty Images
Throughout his life, Tony Bennett's passions for music and art have crossed paths. An example of this is Lady Gaga's trumpet tattoo that she got inked onto her left arm in 2014. Bennett drew the trumpet that she used for the tattoo, complete with the Benedetto signature that he uses for his artwork. He sketched a portrait of her to use for the cover of their 2021 album "Love for Sale," moving her to tears (via Entertainment Weekly).
Bennett has put his art skills to work for non-famous fans as well, sketching portraits of some of them when they ask for his autograph (via Best Life). On Imgur, a fan posted a sketch that Bennett made of his brother in 1994. This personal touch that Bennett has given to fan interactions suggests that the common phrase "Never meet your heroes" does not apply to Bennett.
Tony Bennett is diagnosed with Alzheimer's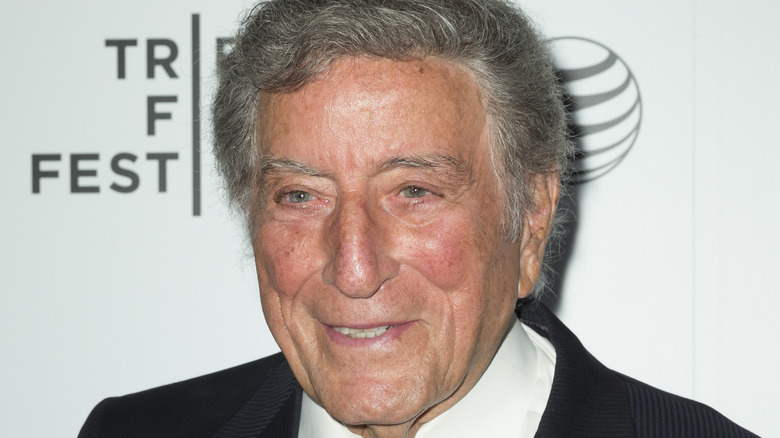 lev radin/Shutterstock
Tony Bennett is part of a long list of people in show business who double as visual artists, including Paul McCartney, Johnny Depp, and Jane Seymour (via Best Life). Perhaps it is commonplace for those who create art through music or film in showbiz to also enjoy creating physical works of art. Other than portrait sketches, Bennett paints still lifes, natural landscapes, and city landscapes from his native New York City. His painting collection is on his official site.
In 2021, Bennett went public with his Alzheimer's diagnosis. At the time, he had been dealing with the disease for five years, but continued to perform until making the public announcement (via NPR). In doing so, he has helped bring attention to the disease, particularly the benefits of music for those suffering. Often as other memories fade, Alzheimer's and Dementia patients still remember music from their past.
As Bennett continues to grapple with Alzheimer's, the fans who received autographs in the form of personal portraits from Bennett serve as testaments to the talent and character of the legendary singer. Bennett's artwork, music, and legacy will live on even long after he is gone.