Why A Back Injury Might Have Been The Best Thing To Happen To Gregory Peck's Acting Career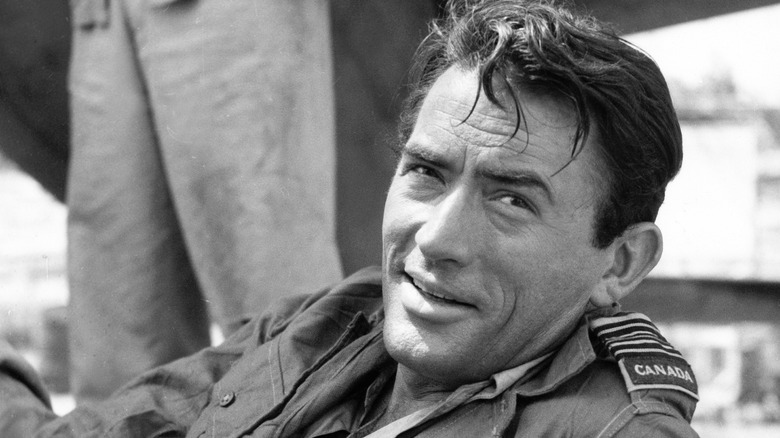 United Archives/Getty Images
Before Gregory Peck became the Hollywood icon that he is today, he had a humble, even difficult, beginning. According to the Sunday Post, he was born on April 5, 1916. His parents split when he was only 5 years old, and he spent much of his childhood being raised by his grandmother. However, she's probably the one who instilled in him the idea of going into show business, as one of their habitual pastimes was going to the movies on a weekly basis.
As stated in SF Gate, Peck enrolled at UC Berkeley to study pre-med before making the switch to English. However, he developed an interest in theater when he participated in some productions on campus. The experience changed Peck's life, and it wasn't long before he moved to New York to develop his dramatic chops. But his life didn't get much easier, as chronicled in the Sunday Post. He had little money to pay for his education and because he couldn't afford a place to live, he made Central Park his temporary home. It was a rough time for Peck, but his perseverance would soon pay off.
His Fateful Back Injury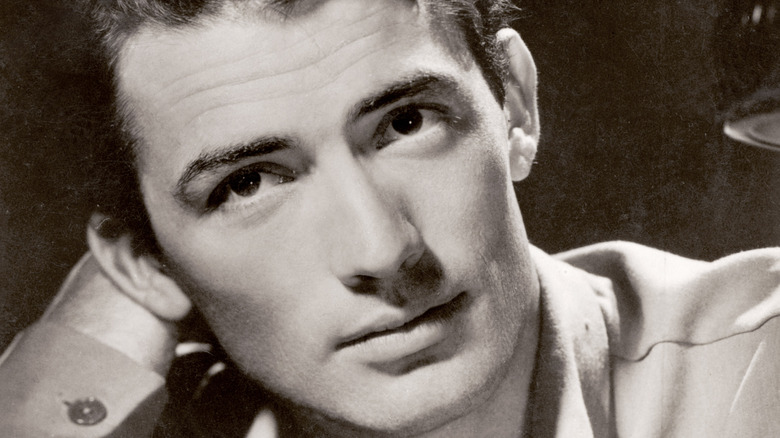 Culture Club/Getty Images
Gregory Peck's acting career had a rocky start in 1941, according to the Sunday Post. While he was cast in a production of George Bernard Shaw's "The Doctor's Dilemma," which also starred Raymond Massey (best known for his Oscar-nominated portrayal of Abraham Lincoln), the play's run kicked off a week prior to the attack on Pearl Harbor and didn't last long as the U.S. entered World War II. Luckily for Peck, he was able to rebound after this inauspicious debut when he scored the leading role in the Broadway production, "The Morning Star," which greatly boosted his career as an actor.
While Peck's talent, stage presence, and commanding voice certainly factored into why he was such an in-demand actor in the early 1940s, there's another big–and surprising–reason for his success at this time: his back injury. The Sunday Post states that, because he had injured his back during a dance lesson (taught by the immortal Martha Graham, no less) Peck was able to avoid being drafted into the military, which made him all the more attractive to many theater productions. Interestingly, 20th Century Studios -– the studio that produced many of his films–publicly stated that the back injury came from his years of rowing in college. Peck was on the rowing team while at Berkeley, as stated in the Berkeleyan, but he never suffered any back injury from it. "In Hollywood, they didn't think a dance class was macho enough, I guess," Peck once stated. "I've been trying to straighten out that story for years."
A Successful Career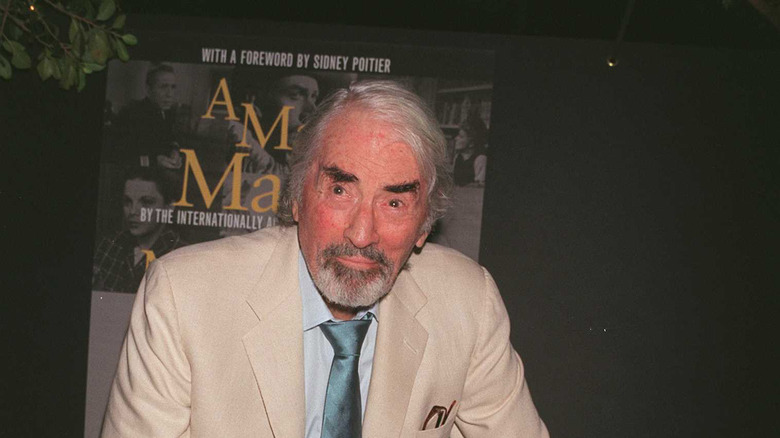 Denny Keeler/Getty Images
Gregory Peck may have been a bit frustrated about 20th Century Studios basically lying about his back injury, but there's no doubt that the injury itself played a role in his career. During a time when many men were drafted into the war effort, he was able to develop his acting talent and land bigger and bigger roles, eventually making his way to film. 
He found success quickly when he got to Hollywood, as his role as Father Francis Chisholm in 1944's "The Keys of the Kingdom"– only his second film credit — led to him being nominated for an Academy Award, per IMDb. Peck went on to star in a string of films that are still beloved today, including Alfred Hitchcock's 1945 thriller "Spellbound," William Wyler's 1953 romantic comedy "Roman Holiday," John Huston's 1956 adaptation of "Moby Dick," and more. However, it was Peck's role as Atticus Finch in the classic "To Kill a Mockingbird," for which he won his only Oscar.
Some of Peck's more notable later works include the 1976 horror hit, "The Omen," 1978's "The Boys from Brazil," and 1991's "Cape Fear" (a remake of a film in which he starred in 1962). "Cape Fear" was his last film role, but he did appear in various television projects throughout the 1990s. As per the Sunday Post, Peck passed away from bronchopneumonia on June 12, 2003. He left behind a long and acclaimed film career that may not have happened if not for an accident in a dance lesson.