What Happened To Gregory Peck's Children?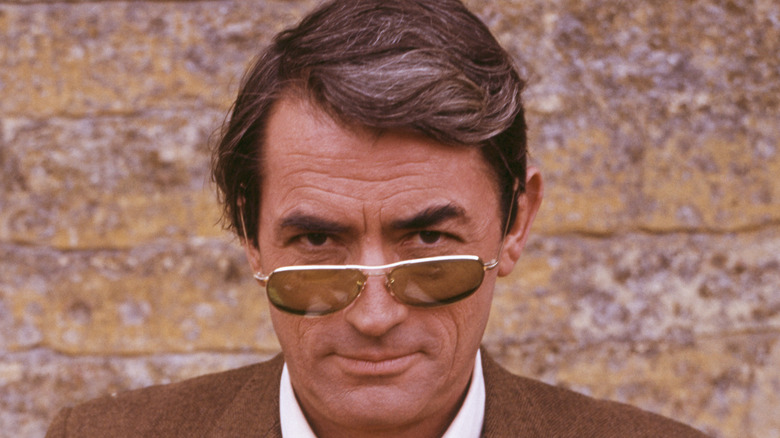 Hulton Archive/Getty Images
Gregory Peck, one of old Hollywood's top leading men, starred in such films as "Roman Holiday" (1954), "To Kill a Mockingbird" (1962), and "The Omen" (1976) (via Internet Movie Database). His deep voice and stoic persona made him a natural for playing the hero. Off-screen, Peck married twice and had five children. Sons Jonathan, Stephen, and Carey Peck came from his first marriage to Greta Kukkonen, a Finnish makeup artist (via the official Gregory Peck website). The couple were married from 1942 to 1955 (via Closer Weekly).
Shortly after his divorce from Greta, Peck wed French journalist Veronique Passani in 1955. She was only 23 years old when they tied the knot, and their union lasted until Peck's death in 2003. The couple had two children together, son Anthony and daughter Cecilia. So what paths in life did the Peck children take, having grown up in the shadow of such a famous star?
Gregory Peck lost his oldest son to suicide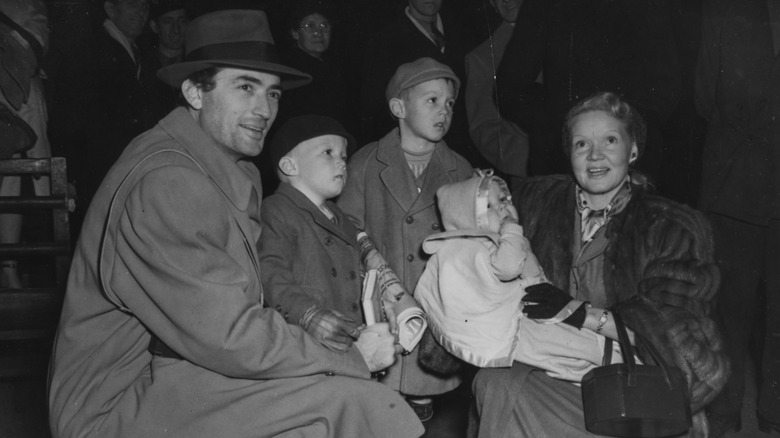 J. Wilds/Getty Images
Gregory Peck's oldest son, Jonathan Gregory Peck, was born on July 20, 1944, in Los Angeles (via Find a Grave). Like his father, he was involved in the media, but he picked his own path, working as a television journalist. Peck had been working for a Santa Maria television station in 1975 before he decided to take his own life. He was found in his Santa Barbara home with a self-inflicted gunshot wound to the head (via The New York Times). Peck didn't leave a note to explain his actions, and his father Gregory Peck is said to have been so devastated from the loss of his son that he didn't work for two years (via The Life and Times of Hollywood).
Stephen Peck, born on August 16, 1946, graduated from Northwestern University and then was drafted into the military in 1968 (via Internet Movie Database). His time in the Marines during the Vietnam War left a lasting impression on Peck. He became a documentary filmmaker after completing graduate school when he returned home (via Phi Delta Theta). After making a film about homeless vets, he soon changed his life's direction to help fellow veterans in need. Peck now runs U.S. Vets, an organization that provides support to homeless and at-risk veterans. His son, Ethan, has taken after his grandfather and has become an actor.
If you or anyone you know is having suicidal thoughts, please call the National Suicide Prevention Lifeline​ at​ 1-800-273-TALK (8255)​.
Peck's two youngest kids followed in his footsteps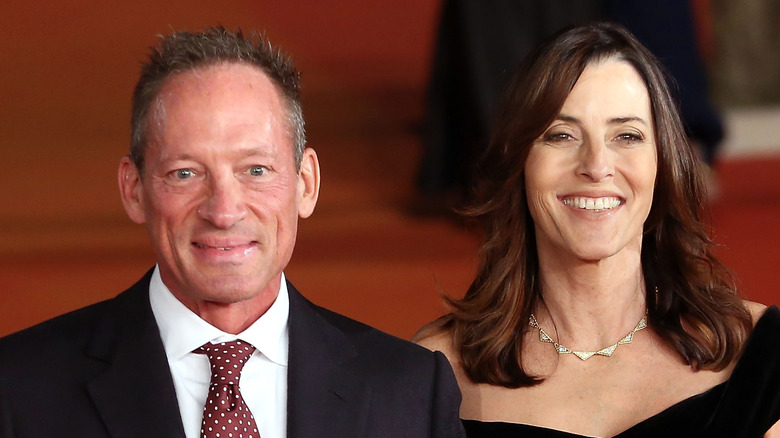 Franco Origlia/Getty Images
Other than a cameo or two in his father's films, Carey Paul Peck, born in 1949, stayed away from the big screen (via Internet Movie Database). He has focused much of his attention on the field of education, according to the official Gregory Peck website. Peck helped establish such after-school programs as CyberPatriots, which aims to encourage girls and disadvantaged students to pursue STEM education. He is a principal analyst for the Los Angeles United School District.
Anthony Peck, also known as Tony, is Gregory Peck's son with his second wife Veronique. Born in 1956, he graduated from Amherst College and the Juilliard School. Peck hasn't shied away from the spotlight in his career as an actor, writer, and producer. He appeared in the 1989 comic strip adaptation "Brenda Starr" with Brooke Shields and the 1993 thriller "Sliver" with Sharon Stone (via Internet Movie Database).
His sister, Cecilia Peck Voll, started out working in front of the camera. She studied theater at Princeton University, graduating in 1980 (via Princeton University). Voll appeared in such films as "Wall Street" and "Torn Apart." In 1993, she received a Golden Globe nomination for her work on the TV movie "The Portrait." Switching to documentary filmmaking, she started with a subject close to home, creating "A Conversation with Gregory Peck." More recently, Voll wrote, produced, and directed the 2020 series "Seduced: Inside the NXIUM Cult."