You Probably Didn't Know About Venus And Serena Williams' Connection To The NFL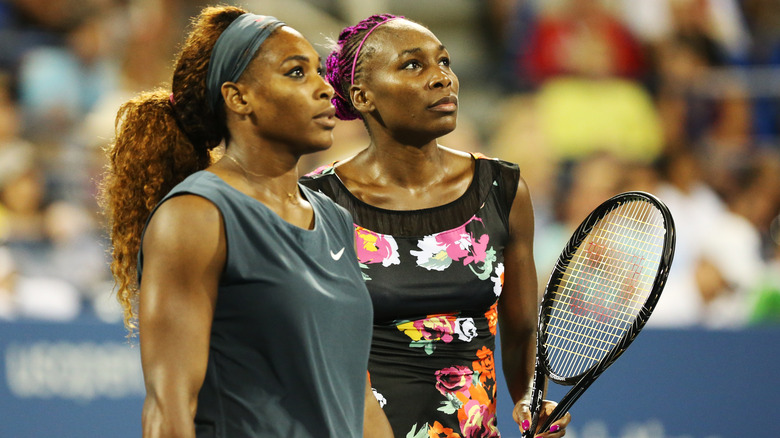 Leonard Zhukovsky/Shutterstock
Every sport has its elite personalities. Its true superstars. Argentinian soccer player Lionel Messi, as Celebrity Net Worth reports, is often regarded as one of the sport's greatest talents ever. That kind of cache comes with enormous wages, sponsorship deals and fame. According to the outlet, Messi is worth an extraordinary $600 million.
Tennis is, perhaps, a sport that's a little more low-key than the likes of soccer, basketball and football. Nevertheless, it too has its legends. The phenomenal Billie Jean King, for instance, who claimed victory at a total of 39 major championships (per Britannica) over the course of her electrifying career.
By so doing, per Britannica, she also took women's tennis to spectacular heights. It's thanks to King that a whole generation of tennis talents emerged. Venus and Serena Williams, of course, are some of the most prominent stars of the sport, but they also have a curious link to the NFL. Let's take a look.
Serena and Venus Williams' NFL ambition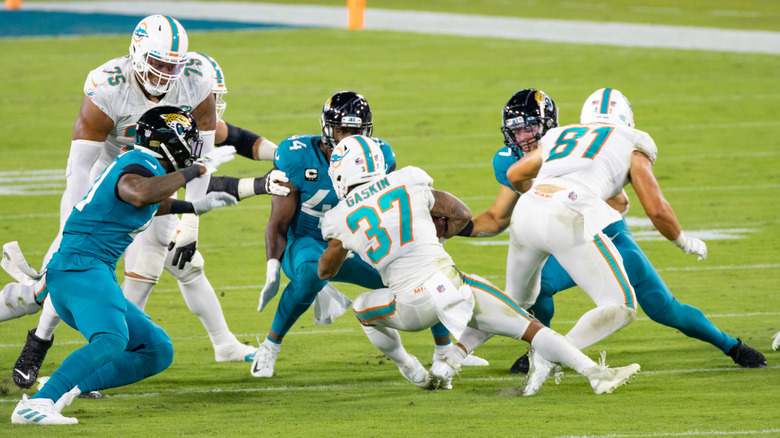 April Visuals/Shutterstock
The Williams sisters, for many fans, are some of the most enduring figures in tennis history. The siblings, per the New York Post, triumphed as a doubles duo in U.S. Open championships in 1999, before repeating the feat a decade later. As a partnership, they have won 14 titles together, putting them in joint second place for championship doubles victories in the so-called Open Era. Only the legendary team of Pam Shriver and Martina Navratilova have more wins under their belt, with 20.
In a heartfelt piece for Vogue in August 2022, Serena Williams stated that she felt it was time for her retirement. Her beloved daughter Olympia, she writes, has been saying that she wants to be a big sister, and her mother shares the sentiment. "I never wanted to have to choose between tennis and a family," she wrote, stating that, were she a man, she wouldn't have to do so. As it is, though, per Serena herself, "I'm turning 41 this month, and something's got to give."
If this is indeed the end of the younger Williams' career, it has certainly been an incredible one. The sisters achieved so much in tennis, in fact, that they were reportedly able to buy into an NFL team.
The Williams sisters make history again, with the Miami Dolphins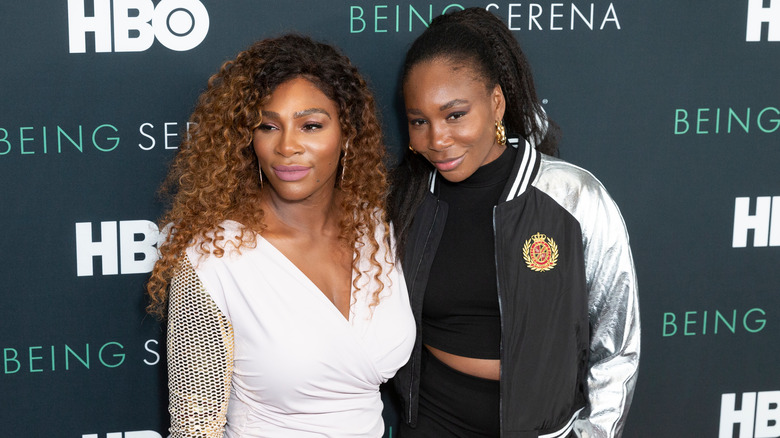 lev radin/Shutterstock
As ESPN reported in August of 2009, the superstar siblings purchased a stake in the Miami Dolphins. While they didn't claim to be ardent fans of the sport (Venus stated that the pair had only attended a couple of games), they did state that they were Dolphins supporters. Or, as Serena put it, "... just 'Go Fins!'-type people."
Stephen Ross, who owns the team, was reportedly delighted to have the sisters on board. Gushing about the Williams' tremendous influence and how they have advanced the course of tennis, he said, per ESPN, "Their addition to our ownership group further reflects our commitment to connect with aggressively [sic] and embrace the great diversity that makes South Florida a multicultural gem." The team's own Ronnie Brown, meanwhile, expressed a hope that "we get some of [Venus and Serena's] fans to be Dolphins fans."
Per People, the deal made an important piece of history: No female African-Americans owned a stake in an NFL team until Venus and Serena Williams came along.