The Only Time The First Four Stooges Were Seen On-Screen Together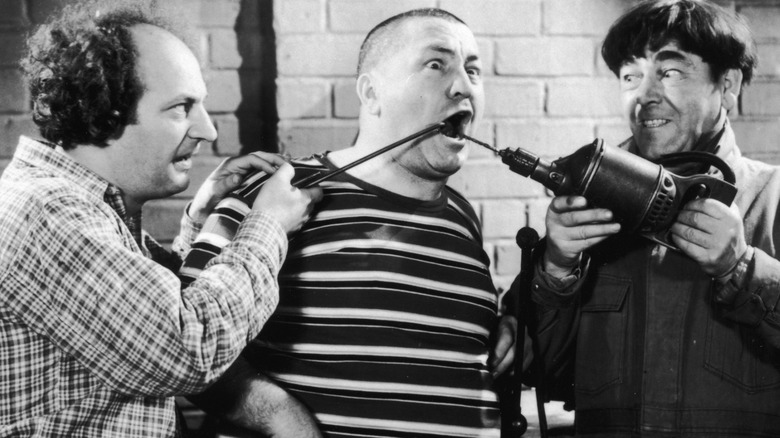 Hulton Archive/Getty Images
The comedic trio known as The Three Stooges have made audiences laugh for more than a century. With deep showbiz roots that began in vaudeville as an act known as "Ted Healy and His Stooges," the combination of physical comedy and brilliant one-liners vaulted the act beyond the stage and onto the silver screen with their antics shown in a series of shorts (per Britannica). Their big break came in 1934 after they parted ways with Healy and signed with Columbia Pictures. The studio produced scores of short films featuring the Stooges, as they were widely known. Beginning with their first short in 1934, "Woman Haters," these quick films left audiences in stitches from coast to coast, making Moe, Larry, and Curly household names (per IMDb).
Those who have watched these shorts and their subsequent feature films will have noticed several lineup changes over the years. From their first short until their last film, there were a total of six players who claimed the title of a "Stooge." Though Moe and Larry were present throughout the entirety of the Stooges' film catalog, health issues made replacing Curly necessary in 1947. 
Replacing a character so long into their run wouldn't be easy, as Curly was a favorite among many fans. Thankfully, the studio was able to reach out to a man who played the role of a Stooge with Moe and Larry during their vaudeville days. And if you look carefully in his debut as a Stooge on the big screen, you can see all four men who claimed the title of Stooge on frame at the same time.
Look for the sleeping passenger
Curly wasn't part of the act to start with. Samuel Horowitz, who went by the stage name Shemp Howard, was part of that original lineup with Moe and Larry, but was so put off by Healy's drinking and foul temper that he left the group to seek out a solo career (per MeTV). This left his brother, Moses (aka Moe Howard), and Louis Feinberg (Larry Fine) one man short. To fill that role, they selected another Horowitz brother. Jerome had a big beard and long red hair. He shaved it all, and adopted the stage name Curly Howard, keeping the act going beyond vaudeville and onto theater screens.
With Curly's health setbacks, bringing Shemp back happened immediately, and the newly reunited Horowitz brothers set out to star in their first film together. The 1947 short was titled "Hold That Lion," which followed the misadventures of the Stooges as they board a train on the trail of the crooked lawyer who swindled them out of their inheritance. It's not a Stooges film without a disaster, and this short contains one of the best: Hilarity ensues after the bumbling brothers accidentally set a circus lion loose on the train from its cage.
If you watch carefully, there is one scene where the Stooges are in a passenger car next to a sleeping man. That sleeping man is none other than Curly Howard, who recovered enough from his stroke to make a brief cameo. (The whole short is posted on YouTube.) Curly isn't credited, however.
There were more Stooges later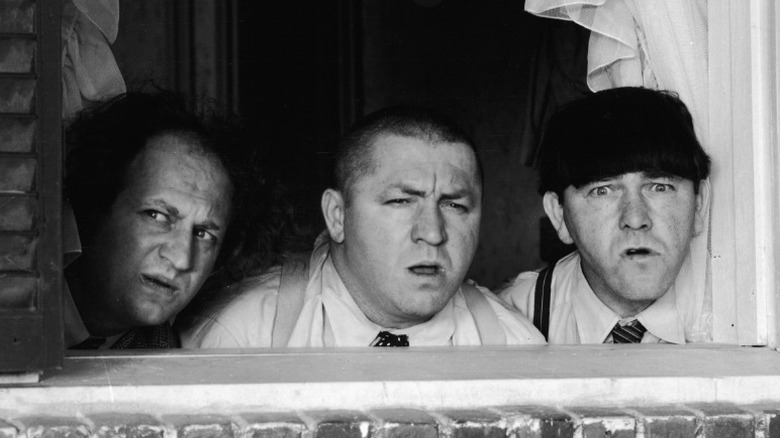 Hulton Archive/Getty Images
Unfortunately, Shemp's health prevented him from staying a Stooge beyond a decade. The Three Stooges tells of how Shemp was heading to a friend's home in a taxi when he suffered a massive heart attack and died. After using a stand-in to fill Shemp's part for several shorts, the need for his replacement was imminent. But who for the part?
The studio settled on Joe Besser, who had been building up a comedic reputation of his own in Columbia Pictures-produced shorts. He was also known for his role as Stinky Davis in the 1950s TV series "The Abbot and Costello Show" (via IMDb). He entered the domain of the Stooges in 1957 but wasn't well-received as Shemp's replacement. Adding to the issue was Columbia Pictures beginning to rapidly phase out their film shorts department. In the end, Besser only appeared in 16 Stooges shorts. The final one, "The Sappy Bullfighters," was released in 1959 as the trio was released from their studio contract (per IMDb).
Besser briefly left the business to care for his sick wife, opening up the opportunity for a new Stooge to fill the vacancy for live tours and eventual film contracts with Columbia and Universal. Joe DeRita was chosen to be the sixth man to have the title of Stooge, known as Curly-Joe. He held up his end for six films and voiced the part in the 1960s animated show "The New Three Stooges" with Moe and Larry (via IMDb).