The Dark Reason The Royal Family Took So Many Cars For The Queen's Procession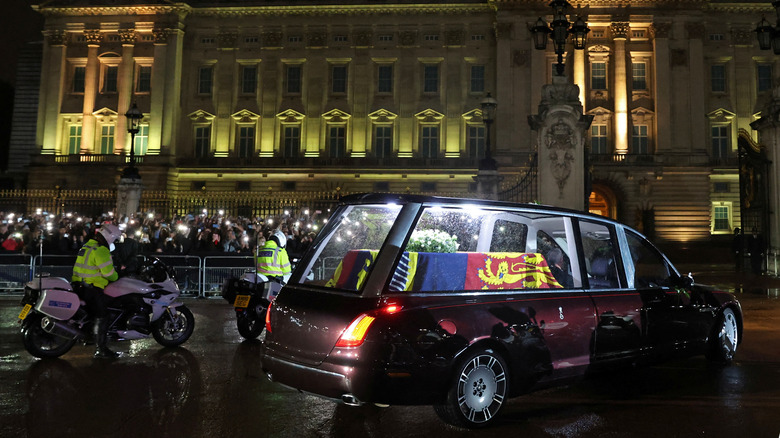 Wpa Pool/Getty Images
According to CNN, after some 24 hours at rest at St. Giles Cathedral in Scotland, the coffin of Queen Elizabeth II arrived at Buckingham Palace in London on Tuesday, September 13. After the C-17 aircraft that carried the queen's coffin from Scotland arrived at RAF Northolt air base, the late sovereign's casket then traveled by car to Buckingham Palace, followed by a procession of royal family members, each in their own vehicle. 
Once she arrived, the queen was expected to remain at Buckingham Palace for a day before her coffin will be moved once again to the Palace of Westminster and, finally, Westminster Abbey. Once there, the queen is expected to lay in state for five days, as CNBC explains. The reason that each royal family member took their own car in the procession dates to the earliest days of mass travel; a safety practice adhered to in England that's similar to what also happens in the U.S. when a president delivers the State of the Union address, according to Reader's Digest.
Royal family members travel in different cars in case there's an accident
Wpa Pool/Getty Images
As Reader's Digest goes on to note, members of the British royal family tend to travel in different vehicles so as to prevent one single accident or attack from killing or injuring all of them. Like much else related to the royal family, traveling in separate cars and planes is not a hard-and-fast rule but rather a recommended safety practice. However, Prince William, now the Prince of Wales, his wife, Catherine, the Princess of Wales, and their family are known to break it.
The practice of royal family members traveling separately is also much like what happens when an American president delivers the State of the Union address to Congress. With so many high-ranking government officials in the same spot for the event, should a catastrophe happen, one presidential cabinet member remains in an otherwise undisclosed location to keep the presidential line of succession intact. As CNN reports, the funeral of Queen Elizabeth is set to take place on September 19, 2022 in St. George's Chapel at Windsor Castle.