The Queen's Coffin Flight From Scotland To London Set A Morbid Record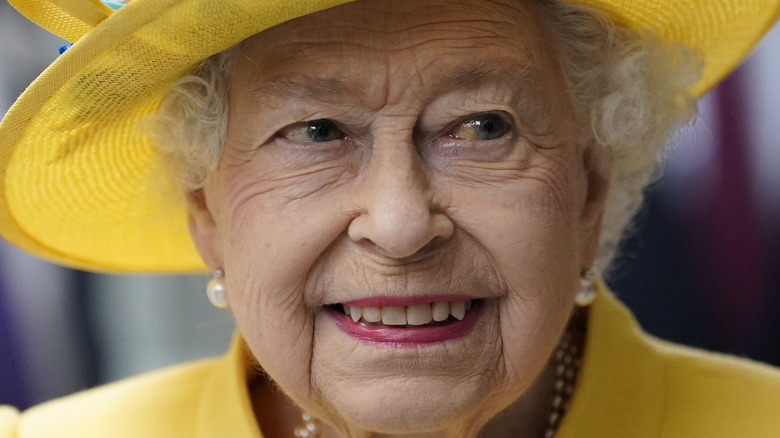 Wpa Pool/Getty Images
The death of Queen Elizabeth II was a monumental moment. As countless newsreaders have stated, many people have never known a world without her. Whatever your thoughts may be about the monarch, there's no denying that her death was incredibly impactful.
As these somber events always do, Her Majesty's death has thrust her even further into the spotlight than she was in life. She died at her beloved estate of Balmoral and reached Westminster Hall in London (where she will lay in state ahead of her funeral) in the afternoon of Wednesday, September 14, 2022 (via BBC News). Along the way, crowds watched her every move in person, as well as on television and smart devices around the world.
Needless to say, the coffin's flight from Scotland to London was watched with tremendous interest for every moment of its journey. So much so, in fact, that it broke a record for just that.
All eyes on Queen Elizabeth II's last ever airplane journey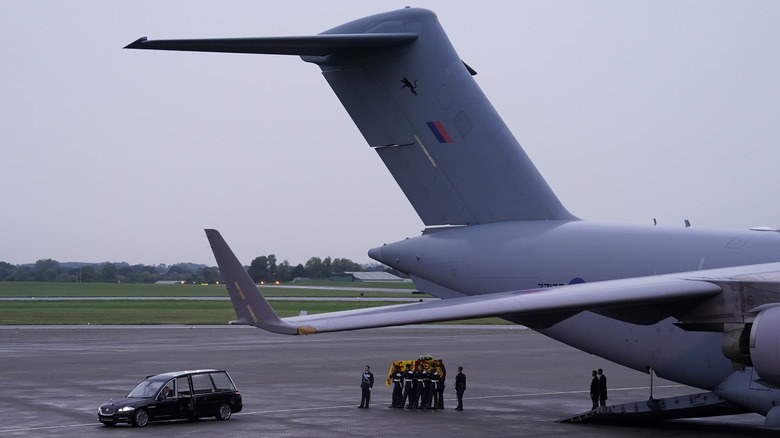 Wpa Pool/Getty Images
Thanks to modern technology, those left on the ground now have the capacity to track flights. This is a great comfort for nervous friends and family members of those traveling, and it also allows us to keep an intrigued eye on the comings and goings of celebrities. Metro reported in August 2022 that Kylie Jenner had faced a backlash after reports that her private jet had taken a 12-minute flight and other short-distance hops.
The scrutiny surrounding Queen Elizabeth II's final flight, however, is just astounding. Per Flightradar24, the Royal Air Force aircraft's journey from Edinburgh to RAF Northolt was a very modest one: one hour and 12 minutes. Nonetheless, the outlet reports, it caused overwhelming interest on the platform. About 76.2 million hits relating to it (searches, opening details, and so on) were recorded in total, with 6 million people trying to log in and track the flight from the outset. This was, the report goes on, by far the platform's most-tracked flight ever. Perhaps it will remain so.
Prior to this, Flightradar24 stated in August 2022 that the record was held by SPAR19. This was the flight that took Nancy Pelosi, Speaker of the U.S. House of Representatives, from Kuala Lumpur to Taipei. Approximately 2.92 million people watched this flight (at least, part of it), a short-lived record that was quickly eclipsed by the queen's final flight.