The True Story Behind Larry Bird And Julius Erving's Infamous Fight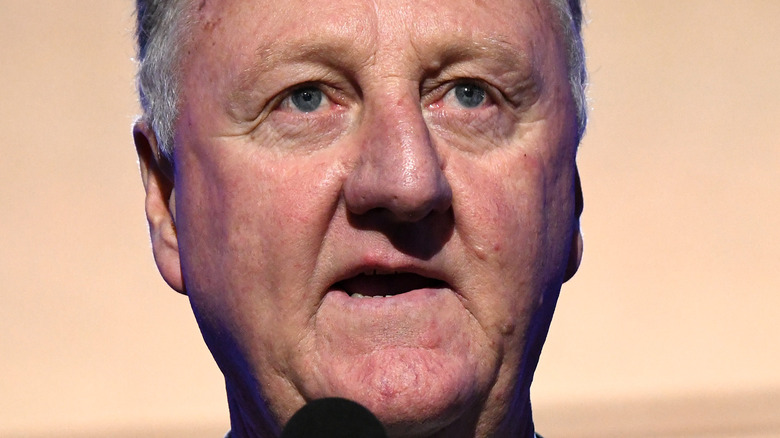 Michael Kovac/Getty Images
Basketball has its share of trash talkers. Players who just live to get under their opponent's skin. Think Allen Iverson, Shaq, Rasheed Wallace, Charles Barkley, and Kevin Garnett, to name a few. Every one of them throws insults as adeptly as they throw the ball. But then there's the Boston Celtics' Larry Bird, a player in a league of his own when it comes to talking trash. According to Bleacher Report, there may never be another player as good at trash talking as Larry Bird.
Perhaps that's why so many people suspected Bird's famous mouth had something to do with the much talked about dust-up between Julius Irwing (aka Dr. J) and Bird as the Boston Celtics played the Philadelphia 76ers on November 9, 1984. Turns out, there are different versions of the story that sparked that infamous brawl. The referee who was officiating the game that night and both players each saw things a little differently.
What the ref saw
Larry Bird ended up scoring 42 points that night and was having a good game. Julius Erving was not. He made just three of his 13 shots and ended the game with six points (via Sportscasting). Dick Bavetta, who was refereeing, saw Bird taunting Erving, bragging about the good game he was having (via Fadeaway World). Bavetta gave the Basketball Hall of Fame his view on the infamous fight and what he witnessed on the court between the two basketball legends. "As every shot went in that Larry took, he went further back and he kept on saying to Erving, 'Aren't you gonna guard me?'," Bavetta told the museum, per FadeAway World. "Finally it got too much and I see them choking each other, and a melee ensues."
The fight was over quickly and no one was injured, but both players were ejected from the game. Interestingly, Bird and Erving, who had an even closer view of the action, have different takes.
What the players said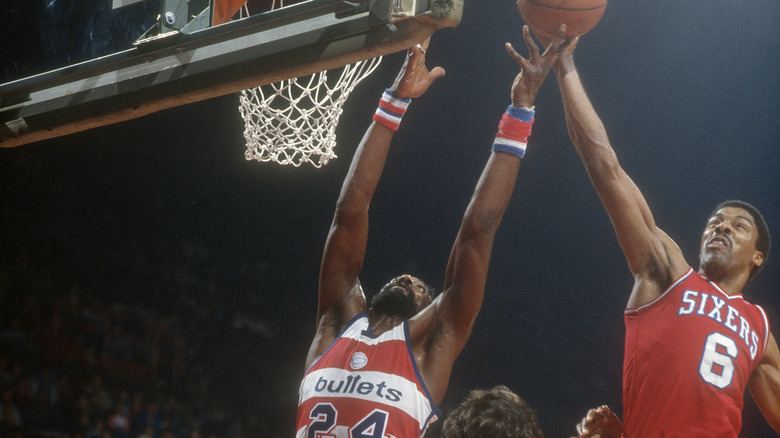 Focus On Sport/Getty Images
Julius Irving talked to ESPN about the incident in May 2018. He explained the referee had called an offensive foul against Larry Bird and that the Boston forward was fuming about the call. Irving went on to tell ESPN he was trying to hold Bird back when things got out of hand. "So it was really inadvertent. I didn't really mean to grab him by the neck but it was kinda inadvertent, you know, I pushed him in the chest, hand slid up, got to his neck, he reaches for my neck. The next thing I know it's a melee," Erving said.
No matter how it started, it ended with both players being fined $7500 each. That might not seem like much now, but back then, they were the second-largest fines for player misconduct in the history of the NBA, according to The New York Times. According to the outlet, Scotty Stirling, the league's vice president of operations, called Bird "clearly the aggressor and the instigator of the melee." For his part, Larry Bird says he never said anything to Julius Irving that night (per Fadeaway World).