The Queen's Funeral Planning Was A Bigger Undertaking Than This Huge Sporting Event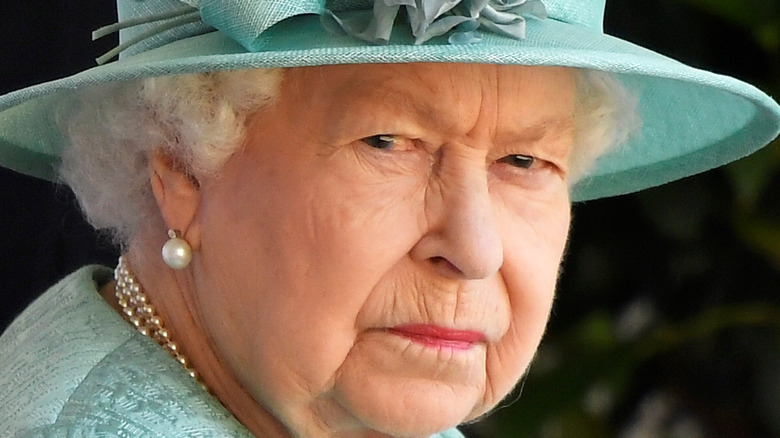 Wpa Pool/Getty Images
As the longest reigning monarch in the history of the United Kingdom, Queen Elizabeth II's death on September 8, 2022, was felt around the world. When she was crowned queen in 1953, the world's population was 2.6 billion. This number has grown to almost 8 billion in 2022. This shows just how many people in the world have only known the British monarch to be Elizabeth II. With the exception of Lyndon Johnson, The Guardian states that she met all U.S. presidents who have come and gone over the course of her 70 years on the throne — from Harry Truman to Joe Biden.
Queen Elizabeth II reigned through tumultuous times that were first marked by a decrease in the territories held by The British Empire. Since 1953, countries like Eswatini, Sudan, and Uganda have since become independent nations. She was queen during Prince Charles and Princess Diana's wedding, divorce, and Diana's shocking death. The queen even made a special address to her country at the beginning of the COVID-19 pandemic. It's no wonder why her funeral is a colossal event.
The crowd sizes for the services were unpredictable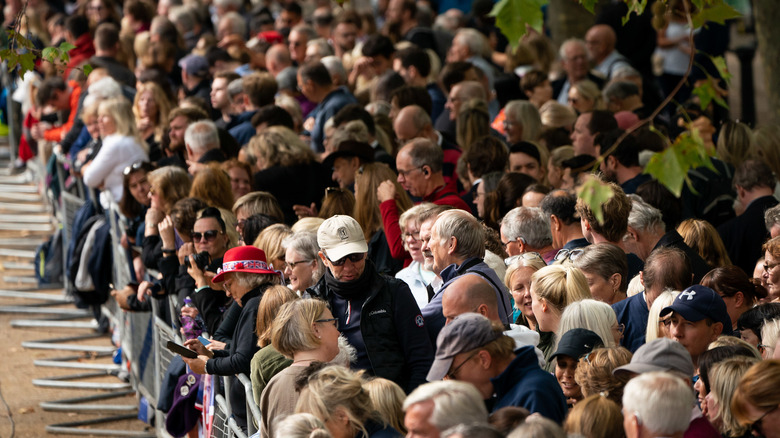 Wpa Pool/Getty Images
The United Kingdom hosted the 2012 Olympic Games in its capital of London. The city saw around 180,000 fans flock to the stadiums each day (per Olympics). Yet, as described by the Transport for London (TfL) commissioner Andy Byford (per Sky News), accommodating the influx of mourners to London is "the biggest event and challenge that TfL has faced in its history." At least the TfL knew what to expect for the Olympics. Crowds for Queen Elizabeth's funeral (which includes multiple events over 10 days) were "impossible" to predict. Byford expected around 750,000 people to arrive for the lying in state, which was the part of the memorial processions when the queen's coffin was placed at Westminster Hall after the procession carried it from Buckingham Palace. Trains changed their hours to run all night and keep traffic flowing.
On September 14, 2022, Westminster Hall opened to allow the public to pay their respects to the late queen. The line of people was 2.8 miles long (per The Guardian). Some even camped out overnight to see the queen's coffin adorned with her crown and white flowers.