The Line To See The Queen's Coffin Is Much Longer Than You Think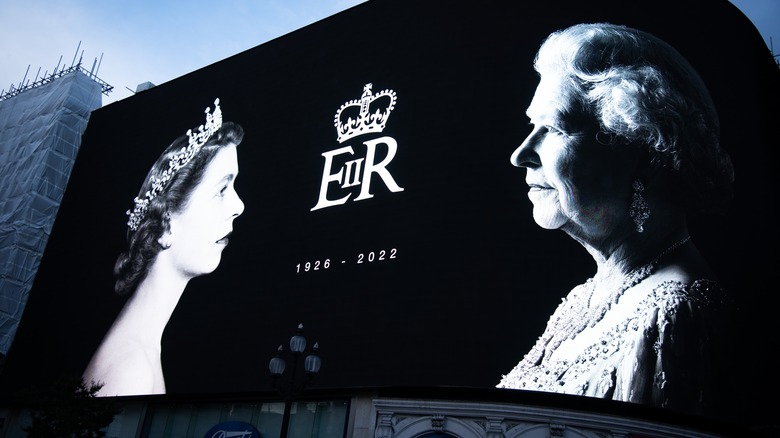 Loredana Sangiuliano/Shutterstock
After her death on September 8th, 2022, the body of Queen Elizabeth II has been moved several times in accordance with Operation London Bridge, a very detailed plan coordinating what happens following the queen's death. After spending time at Balmoral Castle, the coffin was taken to the Palace of Holyroodhouse in Edinburgh before arriving at Buckingham Palace on September 14th. Following a day of privacy for the king and the royal family, the doors of Westminster Hall opened on Wednesday for mourners willing to wait in line to pay their respects.
Those wishing to enter the Hall are required to wait in line along the River Thames, with the number of people waiting getting longer by the hour. On Wednesday evening, The Guardian reported the line was 2.4 miles long and grew to 2.9 miles just a few hours later. Per the outlet, about a million people are expected to visit Westminster Hall over the next few days, and authorities have set up public toilets for those spending the night guarding their place in line. 
The lines to see the queen's lying-in-state were always expected to be long – and a system has been put in place to make the process of queuing as stress-free as possible. For starters, there's a constantly updating live YouTube feed that shows the current length of the line, the estimated waiting time, and the nearest landmark to the end of the line.
The line will only get longer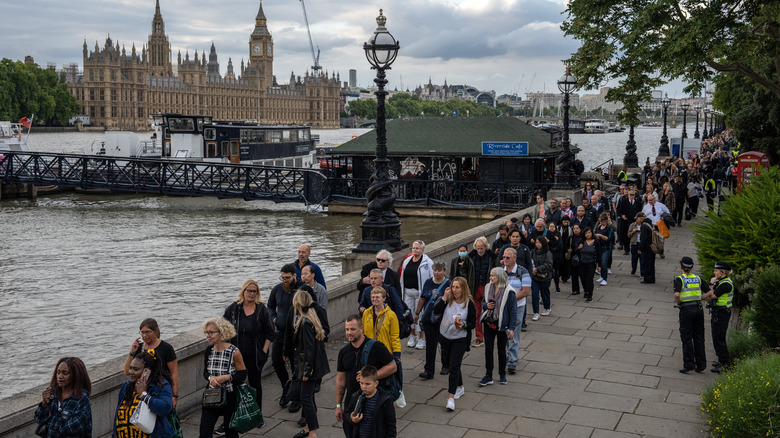 Carl Court/Getty Images
As of Thursday evening, the live feed shows the line is 4.9 miles long with a waiting time of nine hours before reaching Westminster Hall. Metro UK estimates the waiting time might reach up to 30 hours over the next few days, leading up to the queen's funeral on Monday, September 19. 
According to The Washington Post, the line starts near Lambeth Bridge, weaving past famous landmarks like the London Eye, along the Thames River, over the London Bridge, and potentially all the way to Southwark Park. By mid-day on Wednesday, the line was already stretching about 25% of the planned route, with people pitching tents, using foldable pushchairs for some comfort, and taking turns leaving the line to grab a bite or a cup of coffee (via Metro UK). 
Barriers have been set up around the route of the line, and several roads around have been closed to traffic to facilitate the movement of people safely, reports ITV.  Since Westminster Hall will remain open 24 hours a day until Monday morning, mourners waiting in line are likely to get little sleep as the line continues to move forward non-stop.
Those waiting to pay their respects reported feeling "part of history" as they walked to thank the beloved monarch for her "unrelenting service." Others had memories of meeting the queen in person throughout the years and wanted to say a proper goodbye, as reported by Metro UK.