The Only Christmas Broadcast Queen Elizabeth Ever Missed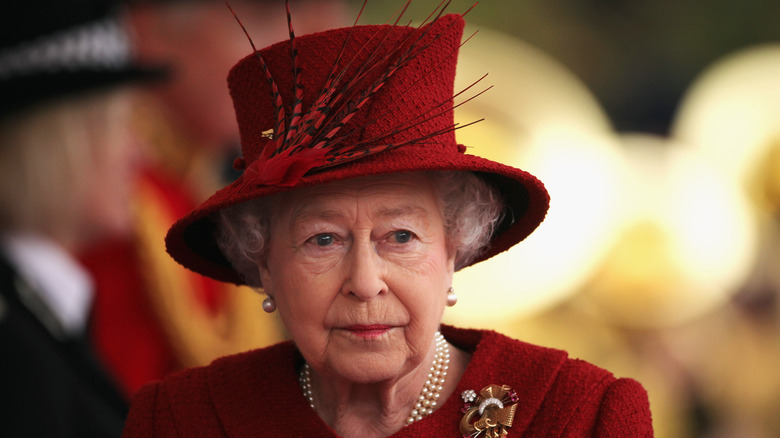 Dan Kitwood/Getty Images
On the subject of the British Royal Family, one common question has often been asked: What do they actually do? It would be easy to dismiss the late Queen Elizabeth II's duties as simply having been waving at the public in that sophisticated fashion she did. But she was a hardworking monarch and it's remarkable just how many engagements and appearances the queen actually made. 
Condé Nast Traveler reports that, in the course of her duties, she traveled to 117 countries, covering a distance of 1,032,513 miles (around 1.66 million kilometers). Naturally, she was forced to rein (or rather, reign) it in as she neared the end of her remarkably long life, but nobody clocked up the frequent flier miles like Her Majesty.
For millions of British families, however, she is also remembered for something much closer to home: Appearing on their television screens every December 25. Only one such Christmas broadcast was missed during her reign, and she had a good reason for it, too.
Queen Elizabeth II's long-held tradition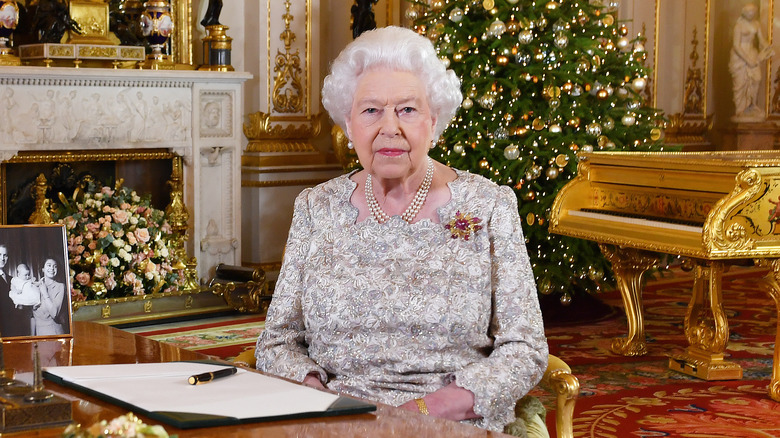 Wpa Pool/Getty Images
For many who celebrate Christmas, it's a time of peace, togetherness, sharing gifts, and eating and drinking far too much. Amid all the frivolity, though, the holiday is also a time for quiet reflection, looking back at the year that's coming to an end, and thinking about the one that's yet to come.
Queen Elizabeth II's annual Christmas Day broadcasts encapsulated some of this spirit perfectly. The first Christmas Broadcast, per the official website of The Royal Family, was hosted by King George V in 1932. "I speak now from my home and from my heart to you all," the king began, speaking words written by Rudyard Kipling. His Majesty had been doubtful about this newfangled 'radio' technology, but 20 million listeners proved that the format was worth pursuing. The king made it an annual event, though he offered just three more before his death in 1936. His son, George VI, continued the tradition, as did his granddaughter, Queen Elizabeth II.
1952 marked The Queen's first Christmas Broadcast, per the official website of the Royal Family. Paying tribute to her father, she said, "... as he used to do, I am speaking to you from my own home, where I am spending Christmas with my family ..." Family ties and values have always been a crucial part of the Christmas Broadcast, and the tradition was only missed once during The Queen's reign. In 1969, it seems, another important royal broadcast took priority.
A documentary broken Queen Elizabeth II's perfect streak of Christmas Broadcasts
Pool/Getty Images
Per Entertainment Daily, the documentary "The Royal Family" was shown on television earlier in 1969. It focused on the investiture of Prince Charles (the ceremony by which he was officially declared Prince of Wales, per ITV), now King Charles III. The documentary was shown again that Christmas, per the official website of the Royal Family.
According to Entertainment Daily, The queen opted not to make her usual broadcast as a result. She did, however, promise that it would return the following year (the beloved tradition that it was by then), and issue a written address to the nation instead. "My good wishes are no less warm and personal because they come to you in a different form," it stated, per the outlet.
As of yet, it's uncertain just how King Charles III will approach these annual addresses. One thing is absolutely certain, though: Watching them on their mid-afternoon (GMT) airtime has long been a holiday tradition for millions of families who have enjoyed the deep and personal reflections of the queen. It's yet another thing that's going to feel very different without her.