Freddie Mercury And Jimi Hendrix's Coffins Share A Similar Detail With The Queen's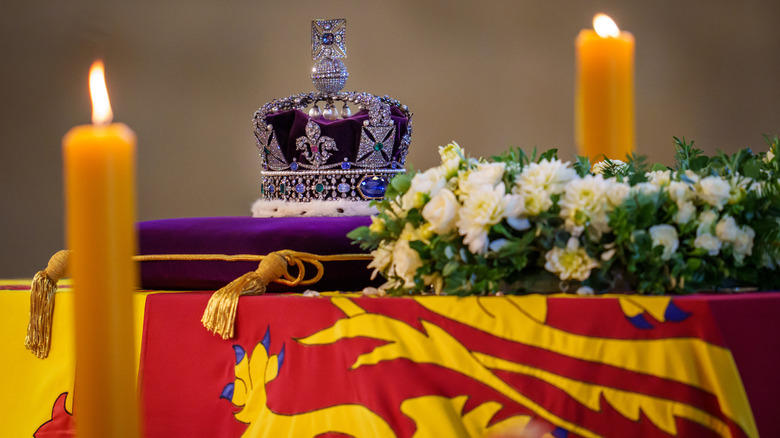 Christopher Furlong/Getty Images
From St. Giles Cathedral in Scotland to Buckingham Palace in London and finally to Westminster Hall, Queen Elizabeth's coffin has been viewed by thousands of mourners and promises to be seen by thousands more, based on AP reporting. At Westminster Hall, Elizabeth will lie in state for four days while British officials brace for hundreds of thousands of mourners to file past her. Following that, Elizabeth's funeral service will take place at Westminster Abbey before she's laid to rest on September 19 in St. George's Chapel at Windsor Castle (via "Today").
Richly appointed and draped the Scottish royal standard (per BBC), the coffin of Queen Elizabeth, who died at the age of 96 on September 8 at Balmoral Castle in Scotland, shares a touching connection to the queen's late husband, Prince Philip. Philip died in 2021 at the age of 99 after more than 70 years married to the monarch, as The Washington Post explains. Also notable, Prince Philip and Queen Elizabeth are not the only high-profile British figures from Britain — and even one from America — who were buried in caskets from the same high-end coffin maker.
The coffins of Prince Philip and Queen Elizabeth were made by the same company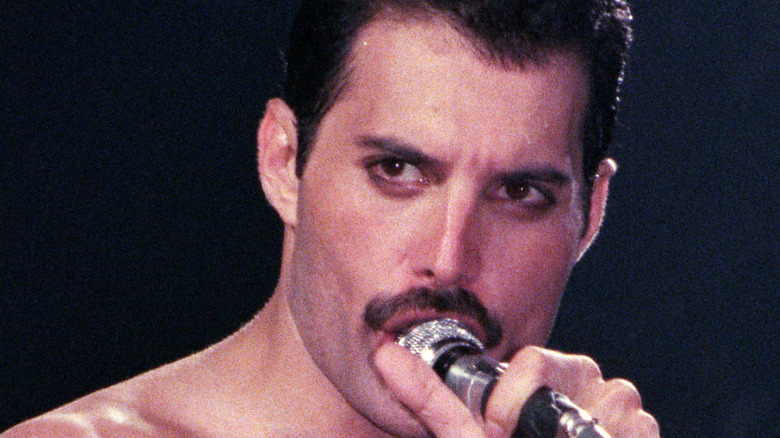 Larry Marano/Getty Images
As The Washington Post goes on to point out, the coffins that Prince Philip was interred in, and that the late sovereign, Queen Elizabeth will be entombed in, were made some three decades ago from fine English oak. The coffins, made by the well-regarded English casket-maker Henry Smith, are lined with lead and air-tight to help preserve the human remains inside, as Female First notes. The Henry Smith casket-making firm first opened in 1869, but closed in 2005 when the last family member retired, as The Telegraph goes on to report.
Royals aside, both British rock star Freddie Mercury from the band Queen, and American rock guitarist Jimi Hendrix are buried in caskets from the same maker. English pop star Diana Dors is also buried in a Henry Smith casket, according to The Telegraph. The flag seen adorning Queen Elizabeth's casket is the Royal Standard, with four corners, representing England, Scotland, and Ireland, as the Post explains.