Daniel Bryan's Greatest Moments In Wrestling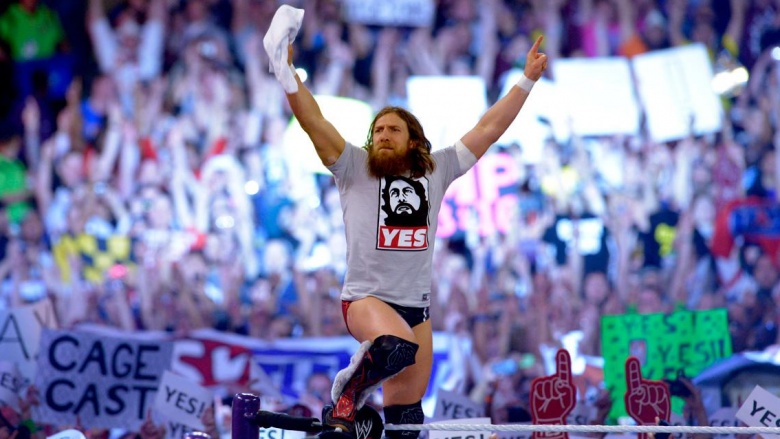 Wrestling fans all over the world are still filled with disbelief and sadness over Daniel Bryan's retirement. Despite having to retire a good 15 years too early in his career due to a series of concussions, Bryan has achieved it all when it comes to professional wrestling. After he was trained by William Regal, Bryan Danielson (his real name) debuted in the WWE-owned developmental territory, Memphis Championship Wrestling, as the American Dragon. Since then, Bryan has wrestled in New Japan Pro Wrestling, Ring of Honor, Pro Wrestling Gorilla, All Star Wrestling, Chikara, Dragon Gate, CZW and, of course, the WWE. He was able to wrestle on a technical level on par with Dean Malenko, but was able to rally entire crowds behind him as if he were "Stone Cold" Steve Austin as he lived a Shawn Michaels-esque underdog story. Daniel Bryan is an all-time great when it comes to pro wrestling and a future hall of famer, so let's look at some of the American Dragon's greatest moments in the ring.
Winning NJPW's Junior Heavyweight Tag Team Championship - 2004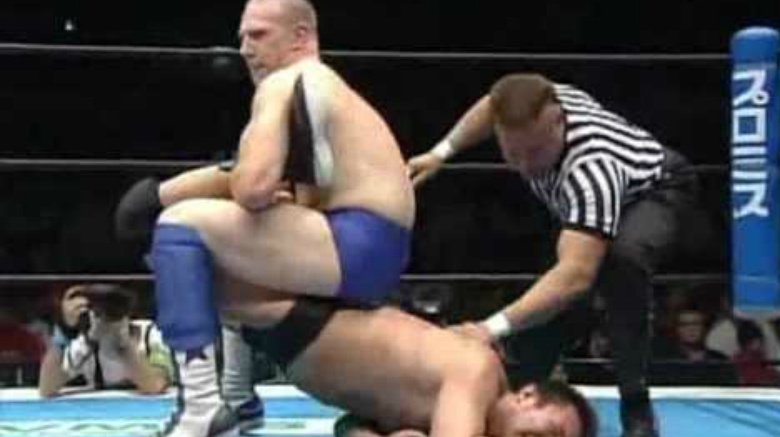 After attending Shawn Michaels' wrestling school (more like Michaels just took his money and that's about it), Bryan Danielson was thoroughly trained by technical wrestling genius William Regal. Danielson started using the American Dragon moniker, and wrestled some non-contracted matches at the WWE, where he had a match against another then-rookie: John Cena. After his work with WWE ended, Danielson immediately went to Japan. Wrestling in New Japan Pro Wrestling (the country's equivalent to the WWE), he was successful in the company's light heavyweight leagues. Teaming up with Curry Man (Christopher Daniels of TNA fame), Danielson and Daniels became the first American wrestlers to win the IWGP Junior Heavyweight Tag Team Championship belts at the promotion's 2004 Hyper Battle pay-per-view event.
Headlining Ring of Honor's first event - 2002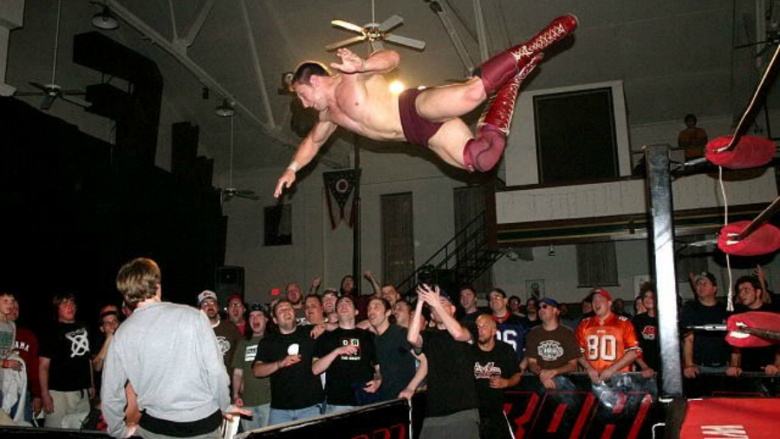 After ECW was bought out by WWE, the wrestling company RF Video sought to continue hosting events in the Philadelphia area to capitalize on the market Extreme Championship Wrestling once held in the area. On Februrary 23, 2002, Ring of Honor hosted its first wrestling event, which featured the late, great Eddie Guerrero fighting Super Crazy for the IWA Intercontinental Championship. Headlining the event was a triple threat match featuring Low Ki, Christopher Daniels, and the American Dragon. These men became the founding fathers of Ring of Honor, and would all go on to have excellent careers branching far beyond the company. As for Ring of Honor, it would go on to become to the top independent wrestling company in the country and is currently in a partnership with New Japan Pro Wrestling.
Unifying the Ring of Honor World Title and Pure Championship - 2006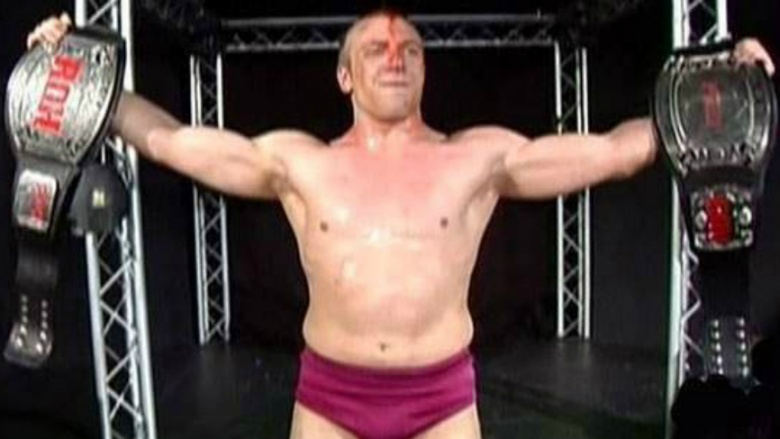 During his years at Ring of Honor, Danielson would go on to become the ROH world champion in 2005. As Danielson carried the ROH world title, the company also had the ROH Pure Championship on Nigel McGuinness. As both titles were considered of equal value, the two champions faced off in a unification match. Ultimately, Danielson walked away carrying both belts. Danielson suffered from a detached retina and torn tendons in his shoulder during his years at ROH, requiring surgery for both. Unfortunately, injuries would continue to haunt his career.
Winning the Intercontinental Championship - WrestleMania 31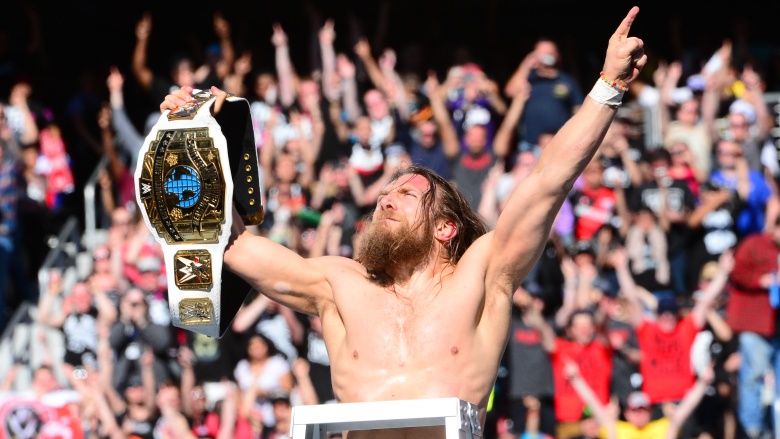 Towards the end of his WWE career, Danielson, now known by the ring name Daniel Bryan, closed things out on a high note by winning the WWE Intercontinental Championship at WrestleMania 31. After an intense ladder match against the likes of Dolph Ziggler and Dean Ambrose, Daniel Bryan stood in his captivating "Yes!" pose atop the ladder with the IC belt in his hand. Bryan would go on to add a much-needed sense of prestige and importance to the title that had been absent over the years. Now that he's hanging up his boots, we may never get another iconic moment like this ever again.
Beating John Cena for the WWE World Heavyweight Championship - SummerSlam 2013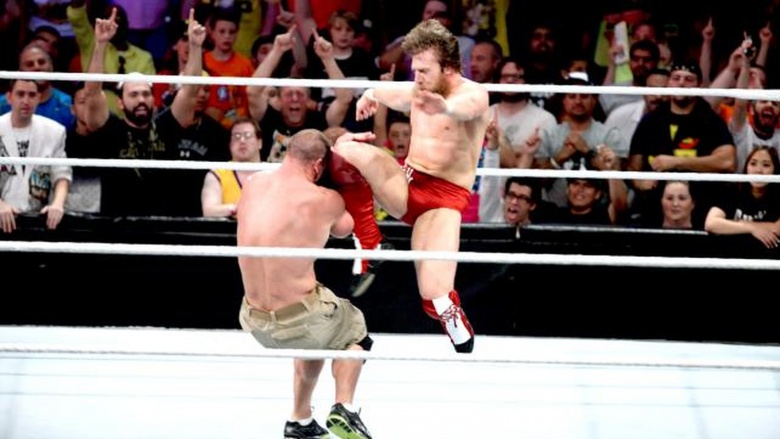 WWE fans should recognize by now that John Cena is Vince McMahon and the WWE's poster boy. Being this generation's Hulk Hogan-style character for nearly a decade, Cena has beaten countless more-talented wrestlers like they were nothing. A lot of this is due to him being overprotected and constantly shoved into the spotlight due to how much he makes the company in merchandise sales. Nevertheless, Daniel Bryan beating John Cena clean in the middle of the ring for the WWE World Heavyweight Championship was a significant achievement. Even if Bryan's reign was ultimately cut short, this was one of the few times Super Cena look a clean loss, which shows an intent to pass the torch.
Winning the World Heavyweight Championship - TLC 2011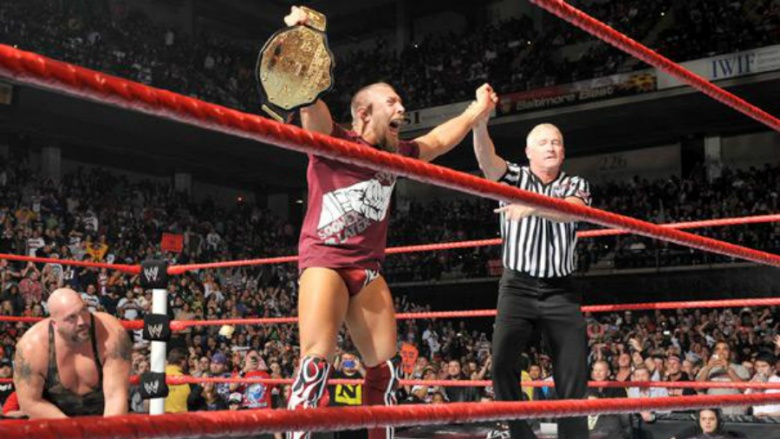 After spending a few years abroad, Daniel Bryan returned to the WWE in 2010 with a gimmick of "Everyone Taps," showcasing his skills when it comes to technical and submission-style wrestling. After winning the Money in the Bank ladder match in 2011, Bryan earned a World Heavyweight Championship match he could start at any time. Feuding with WWE titans like Mark Henry and the Big Show, Bryan was clearly outmatched from a physical standpoint for the belt. It wasn't until the Big Show defeated Mark Henry at the 2011 TLC pay-per-view event when Bryan arrived to cash-in his chance for the title. Bryan surprisingly pinned the ginormous Big Show in order to win the World Heavyweight Championship, shocking the world with an underdog-like rise to the top. Unfortunately, Bryan would lose the title a few months later to Sheamus in an 18-second-long match at WrestleMania 28, and be shuffled back down into the WWE mid-card for far too many years.
Winning the WWE World Heavyweight Championship - WrestleMania 30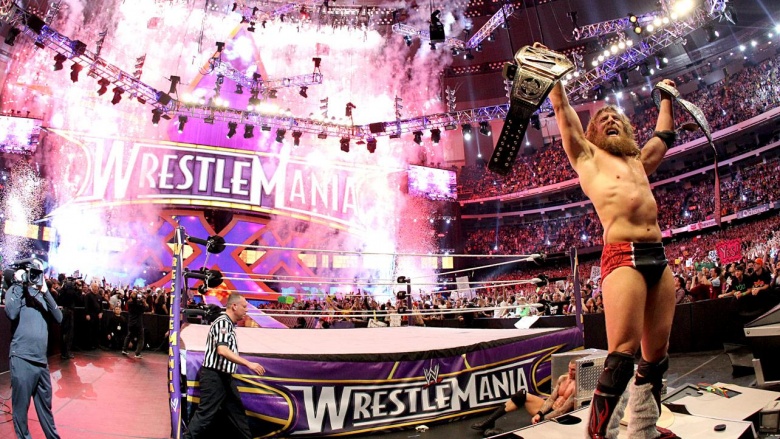 This is where all the hard work and years of selfless dedication to the sport of professional wrestling paid off for Daniel Bryan. The 2014 Royal Rumble originally led to a scheduled match between Batista and Randy Orton for the WWE Heavyweight Championship at WrestleMania 30. Bryan's widespread popularity led to WWE's creative teams actually having to change the event around so that Daniel Bryan would stand victorious with the title in the end. Bryan had to beat Triple H earlier in the night just to earn himself a spot in the main event, changing Orton vs. Batista into a triple threat match, where Daniel won the title and gave us one of the greatest feel-good moments to ever happen in WWE history. Daniel Bryan was as captivating as he was talented, and we're sad to see one of the greatest wrestlers of all time have to step down so early in his career. Thank you, Bryan Danielson.