Who Are Queen Elizabeth II's Pallbearers?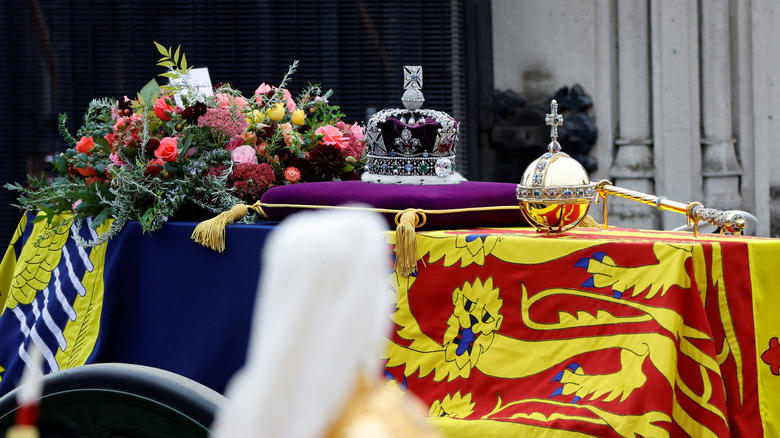 Wpa Pool/Getty Images
Following the death of Queen Elizabeth II on September 8, 2022, the monarch's coffin began a long slow journey from Balmoral Castle in Aberdeenshire, Scotland, to Westminster Hall in London, England, where she lay in state for four days, visited by multitudes of mourners.
The transferal of the queen's coffin was undertaken following arduously planned out protocols, with different members of the military acting as pallbearers on different legs of the journey. As reported by the BBC, members of the Royal Air Force transferred the queen's coffin from Edinburgh to the RAF airbase at Northolt, with the father of one of the airmen, Senior Aircraftman Toby Stafford, describing the duty as a "great honor."
Though the precise identities of the queen's pallbearers have not been officially released by Buckingham Palace, other military personnel have revealed their involvement, such as the 21-year-old soldier Ben Tubuna, a member of the Royal Regiment who also helped carry the queen's coffin in Scotland and who confirmed his involvement in the funeral proper, per i News. Tubuna also revealed he had been approached to volunteer for the task months prior to Queen Elizabeth's death, and that there had been numerous rehearsals.
But one ceremonial unit will have been rehearsing more than most: the queen's 1st Battalion Grenadier Guards, whose red tunics are synonymous with British royal pageantry. It is the Grenadier Guards who play a central role as pallbearers during British royal funerals.
Who are the Grenadier Guards?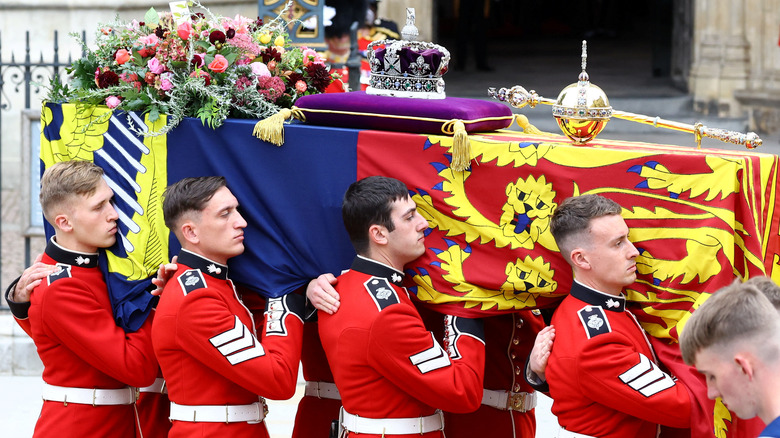 Wpa Pool/Getty Images
The Queen's Company of Grenadier Guards has a long history, having originally been formed way back in 1656. According to The National News, the Grenadier Guards have traditionally been closely associated with the monarchy throughout their existence. Up until her death, Queen Elizabeth II was the honorary Colonel of the Grenadier Guards, a title which has now passed to her son and heir, King Charles III.
Per the same source, the Grenadier Guards' close relationship with the late queen and their role as pallbearers during her state funeral was further symbolized by the placement by the king of a flag bearing the Grenadier Guards' insignia over the coffin itself, which was then wrapped around the coffin as the guards carried it.
The Grenadier Guards have ceremonial duties in day-to-day royal life, particularly as guards at royal palaces. However, they also reportedly have a military function and are considered a light infantry unit.