Paul Newman's Somber Final Words To His Best Friend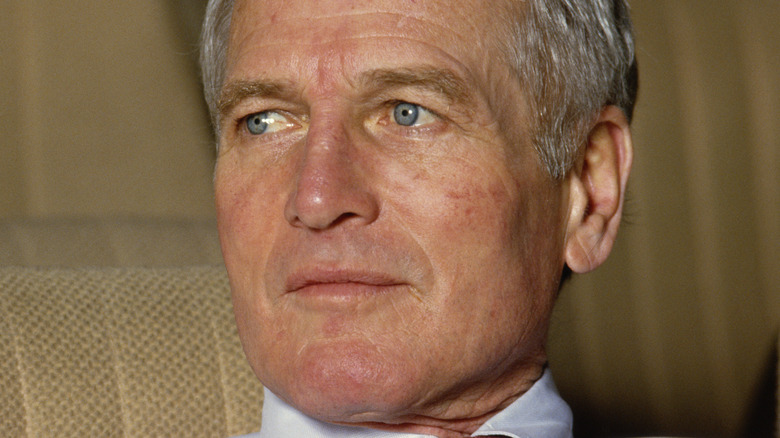 Georges De Keerle/Getty Images
When Academy Award winning actor and "Butch Cassidy and the Sundance Kid" star Paul Newman died in September 2008, many considered it the end of an era. Newman had been one of the few remaining figures of the golden age of Hollywood, and even novelist Gore Vidal, who famously was more fond of criticism than praise, called Newman and his wife, Joanne Woodward, the "last movie stars" (per NPR).
With a life steeped in the arts and show business, it is little surprise that Newman's last meeting with his best friend, A. E. Hotchner, seems like it could have come straight out of a film.
The exchange was included in Hotchner's book, "Paul and Me: 53 Years of Adventures and Misadventures with My Pal, Paul Newman," which details both the start of their incredible friendship and its bittersweet end.
According to The New York Times, Newman and Hotchner first met through show business. Hotchner had written the adapted screenplay for a Hemingway short story called "The Battler." James Dean was supposed to play the title role, but died in an automobile accident shortly before filming was set to start. When the role was recast, Newman — who was then a little-known actor — won the part.
A friendship leads to a food business empire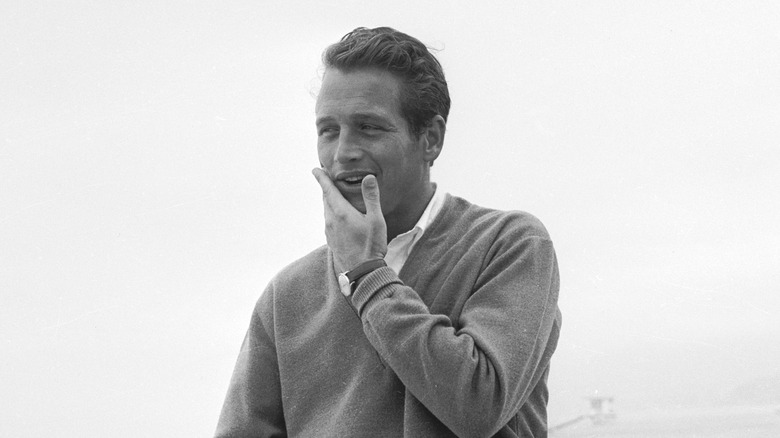 Hulton Archive/Getty Images
The two not only kept in touch but forged a deep friendship. According to The Guardian, the "Cool Hand Luke" star stood as Hotchner's best man at both his first wedding in 1970 and his second one in 2008. They lived close to one another and enjoyed fishing and chatting over beers. However, the two pals may best be known for their collaboration that created a food empire: Newman's Own.
According to The New York Times, the two men decided "on a lark" to make use of their empty wine bottles and make salad dressings for their friends as Christmas gifts. The dressings were a hit, and two years later, Newman's Own was born. The company has since branched out from dressings to include sauces, popcorn, lemonade, and other goods, with 100% of profits going to charity. The Newman's Own website estimates that it has donated around $570 million to various philanthropic causes since its inception.
″Paul and I never got involved in anything over the years other than mischief until this wacko food thing came up,″ Hotchner joked in an interview with the AP about their business success. However, the "wacko" food thing was not their last foray into philanthropy, as the friends also founded a number of camps, called the Hole in the Wall Gang Camp, for children battling serious illnesses such as cancer.
The last line that befits a Hollywood titan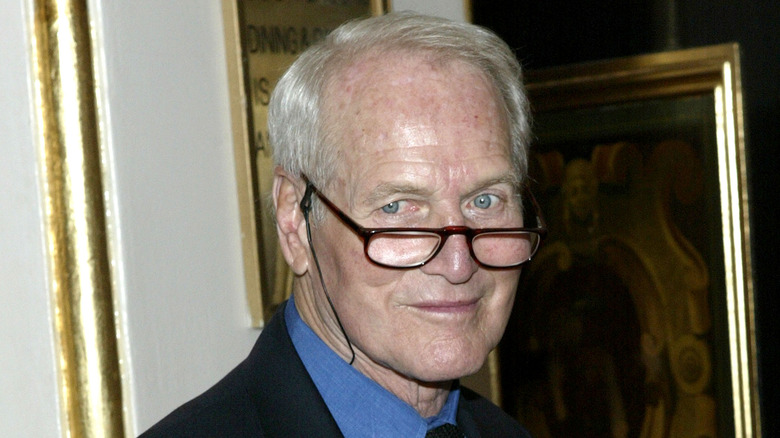 Paul Hawthorne/Getty Images
After Newman was diagnosed with cancer around 2007, his health deteriorated and he began prioritizing the commitments in his life. Though he remained as involved as possible with his philanthropy, he retired from his acting career and stepped down from directing a local production of "Of Mice and Men" (via Reuters).
Hotchner, who still lived close by and visited his friend every other week, noted that he could see Newman losing his strength as his illness progressed. He saw Newman only a few days before he passed away, and detailed their final exchange to The New York Times. Hotchner confessed that the overall conversation was light and reminiscent.
 "We didn't really talk about anything other than some funny things that happened," he said.
But Hotchner noted that Newman's last line was particularly special.
 "As I was leaving, I said, 'Well, I'll keep in touch.' He said, 'Yeah, it's been a hell of a ride.' I guess I'll always remember that."