Here's Who Represented Ukraine At Queen Elizabeth's Funeral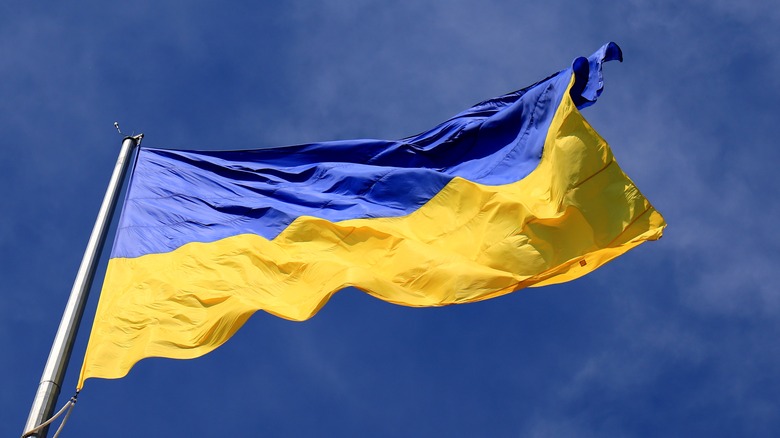 rospoint/Shutterstock
The funeral for Queen Elizabeth II wasn't just a once-in-a-lifetime historical passing of a beloved monarch and public figure, it was a once-in-a-lifetime gathering of many of the world's most prominent political leaders. Cameras panned across the interior of Westminster Abbey and took note of who of the 2,000 invited guests had shown up. As iNews reports, the list reads like a governmental red-carpet: Canadian Prime Minister Justin Trudeau, French President Emmanuel Macron, Australian Prime Minister Anthony Albanese, U.S. President Joe Biden, and many, many more. Some countries, like Russia and Belarus, were not invited because of Russia's war in Ukraine. And Ukraine itself? No one less than the First Lady Olena Zelenska made an appearance. 
As the Daily Mail describes, Ms. Zelenska met one-on-one with the Princess of Wales, Kate Middleton, after arriving in London on September 18, the day before Queen Elizabeth's funeral. Middleton held an audience for Ms. Zelenska in Buckingham Palace, where the two spoke a bit after Ms. Zelenska visited Westminster Hall to pay her respects to the queen, who was there lying in state.
Given Ukraine's ongoing war with Russia, it's frankly stunning that the nation not only thought to send someone to Queen Elizabeth's funeral, but made time to do so, and then sent the first lady herself. The Daily Mail reports the U.K.'s ambassador in the Ukrainian city of Kyiv, Melinda Simmons, said that she was "'deeply honored' by the president's gesture 'given all else that is happening in (Ukraine) at this time'."
A deep, friendly relationship between the UK and Ukraine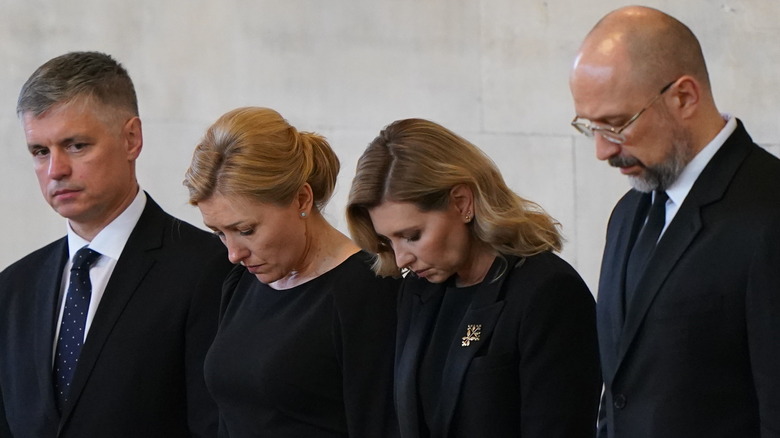 Wpa Pool/Getty Images
In some ways, it's important to be reminded of world events beyond the death of Queen Elizabeth II. Every minute of every day since February, Ukrainians have been baring their teeth and playing the unbeatable underdog against the Russian behemoth. They lost ground in the eastern part of their country early on in the war, and since the start of September regained about 8,000 square kilometers (3,088 square miles), as CNBC quotes. Under such circumstances, it's quite a show of dedication to international relationships that Olena Zelenska made the flight safely out of her war-torn country to pay respects to the late queen. The U.K. officially recognized Ukraine's sovereignty in 1991, as the U.K.'s governmental website says, and the two have enjoyed strong, consistent, and peaceful diplomatic and trade ties since then. 
Ukrainian President Volodymyr Zelenskyy, understandably, could not make the trip from Ukraine because he's heading the nation's war effort. And yet, he too took time to express his sympathy to the royal family. As iTV says, he wrote in a condolence book, "On behalf of the people of Ukraine and myself, I express sincere condolences over the death of Her Majesty Queen Elizabeth II. Ukrainian women and men share this great loss. We mourn with the United Kingdom, the Commonwealth of Nations and all subjects of the British Crown. The memory of Her Majesty and her selfless service to her people will forever remain in the history of mankind."