How Much Will Queen Elizabeth's Funeral Reportedly Cost?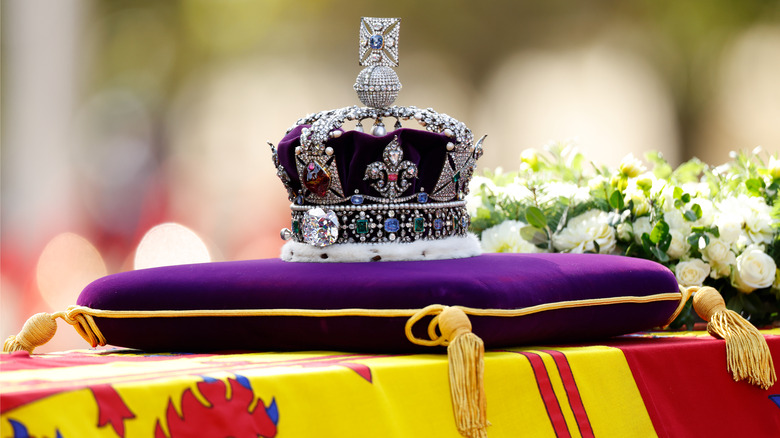 Max Mumby/indigo/Getty Images
The death of Queen Elizabeth II on September 8, 2022, rocked the world, with around 19.3 million viewers watching her funeral's broadcast on BBC One (per Daily Mail). From the procession to Westminster Abbey to the song that played at the end of Queen Elizabeth II's funeral, many countries stopped to pay tribute to the iconic monarch. The queen's send-off is the first British state funeral since Winston Churchill's in 1965. According to The Washington Post, the queen's funeral is the United Kingdom's biggest security event since World War II. The outlet reported that 10,000 uniformed police officers and thousands of undercover police were on hand to protect 90 worldwide leaders, including President Joe Biden. In addition, two million people were lining the streets of London. Queen Elizabeth's funeral is a marked ending of an era.
According to Newsweek, the queen's 70-year reign met 13 presidents starting with Harry Truman and ending with Joe Biden. Matt Glassman, a senior fellow at Georgetown University's Government Affairs Institute, noted an astounding fact about the monarch. Glassman tweeted: "Just a reminder that Queen Elizabeth has reigned for 30% of U.S. history." But some have wondered how much the queen's funeral reportedly cost.
Cost of Queen Elizabeth's funeral will be announced soon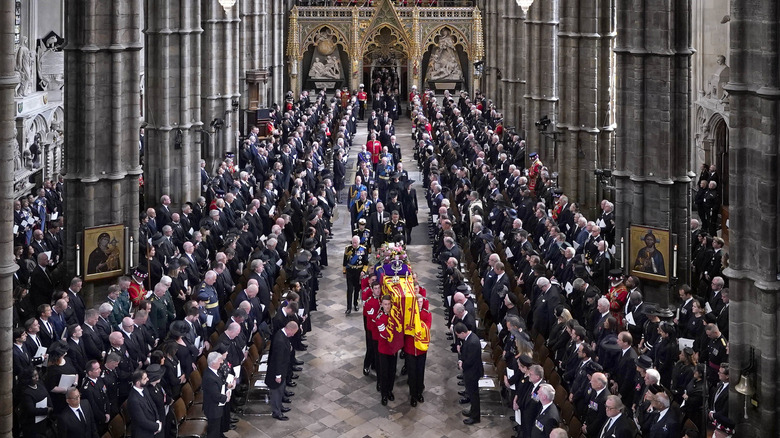 Wpa Pool/Getty Images
According to The New York Times, the cost of Queen Elizabeth's funeral will be announced "in due course." The unprecedented scale and security of the beloved monarch's funeral make it difficult to estimate. One thing experts agree on is that the cost will be huge. The ceremonies and events surrounding the Queen Mother's funeral including security in 2002, totaled nearly $6 million. Australian outlet News.com.au reported that the monarch's funeral would cost around $9 million Australian, but the actual costs aren't known. And it appears that "The Firm" isn't in a hurry to discuss the funeral price tag.
One reason Buckingham Palace may be reluctant to disclose the costs of the queen's funeral is the current economic situation in the U.K. Inflation sits at 10%, and heating costs are expected to explode this winter. Per Independent.ie, King Charles III was taunted during his visit to Cardiff, "While we struggle to heat our homes, we have to pay for your parade." Another reason that the royals aren't keen to talk about money right now is that King Charles isn't as popular as his mother. In the latest You.gov survey, the new monarch is ranked number seven while his mother is ranked number one. Catherine, Princess of Wales, came in second and William, Prince of Wales, was third. The 73-year-old is also ranked below by his sister, Princess Anne, and her daughter, Zara Tindall.