The Unexpected Star Of The Queen's Funeral Wasn't Even A Royal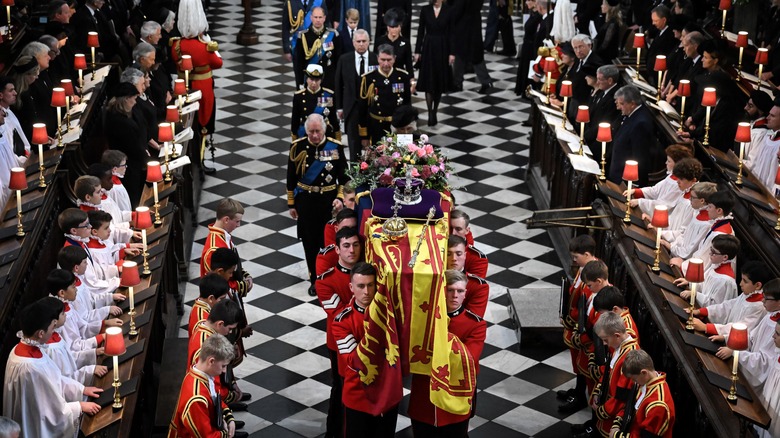 Wpa Pool/Getty Images
Queen Elizabeth II's funeral was a formal event that included a service conducted by The Very Reverend Dr David Hoyle MBE, Dean of Westminster. Despite many, many high-profile guests, most eyes — and ears — were on the Choir of Westminster Abbey and the Choir of the Chapel Royal, St James's Palace, directed by James O'Donnell, per ABC News.
The choir, which includes 30 boys and 12 adult singers, was founded in the 14th century when the Abbey was a Benedictine monastery. The choir's foremost purpose was singing daily services. Currently, the choir is also part of several important occasions, including the weddings and commemorations for special events. The choir tours across the world, and was invited by Pope Benedict XVI to perform at the Sistine Chapel Choir at a Papal Mass in St. Peter's Basilica in 2012. You can even buy choral recordings, which include music from the 19th and 20th centuries, per Westminster Abbey.
Despite the funeral being attended by royals from around the world, one member of the choir managed to outshine them all.
One of the choirboys was dubbed a superstar
The Westminster Abbey Choir performed several hymns and anthems, and even two new pieces created especially for the funeral by Scottish composer Sir James MacMillan, according to Newsweek. Among them was one unexpected star — a red-headed choirboy, who was recognized for his passionate efforts.
"The lil red-headed choirboy at the Queens funeral...is a Superstar," one Twitter user wrote. "The ginger choir boy is the MVP," another added. "Little redhead choirboy has stolen my heart with his earnestness," another user chimed in. One user pointed out that the red-headed choirboy was putting his heart into it and thus deserved a 10 out of 10 rating. "He was absolutely adorable. He embraced the true essence of the music," another pointed out.
Queen Elizabeth II selected many songs performed at her funeral. They included "The Lord Is My Shepherd" and "The Day Thou Gavest, Lord, Is Ended," per The Scottish Sun.