The Reason King Charles Signed His Funeral Note To The Queen With The Letter R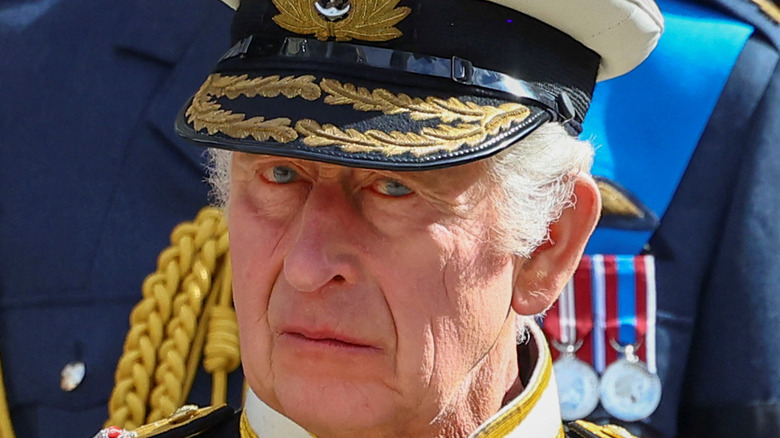 Wpa Pool/Getty Images
The state funeral of Queen Elizabeth II on Monday, September 19, 2022, was one of the biggest spectacles in recent memory. And for many, it was one of the biggest tearjerkers, too, for various reasons. The event was a sendoff for one of the most beloved, visible, and longest-serving public figures in recent memory, whose lifelong dedication to her role as head of state — fulfilling a promise that she made on her ascension to the throne in 1952 — won her admirers across the globe.
The level of respect and admiration the queen commanded was highlighted in the days prior to the funeral, when multitudes of monarchists from both the U.K. and abroad queued through London for up to 24 hours to see the late monarch's coffin as she lay in state at Westminster Abbey, per NPR. The queen's death was also considered by many to be the end of an era of stability for the island nation at a time when the country faces worrying social challenges, such as the cost of living crisis and the aftermath of Brexit.
But the state funeral of Queen Elizabeth II is also at heart story of a family saying goodbye to a beloved mother, grandmother, and great-grandmother, with the royal family paying touching tribute to the late monarch in public addresses and symbolic gestures. One such gesture was a handwritten note laid on her coffin by her son, King Charles III.
R means rex, the Latin word for king
One of the most moving moments of Queen Elizabeth II's state funeral came when King Charles III placed a handwritten note on his mother's coffin, in the center of a wreath. According to CNN, the wreath was specially designed by the new king to contain cuttings from various symbolic plants, including a spring of myrtle that was grown from a cutting taken from the late queen's bouquet during her wedding to her husband Philip in 1947.
The note said simply: "In loving memory," a touching tribute. However, many viewers were left confused by how Charles signed the letter: rather than his birthname or the letter "C," the new king signed the note with the letter "R." CNN explains that the reasoning behind this is based on Latin. The Latin word for king is "rex," and it is this title that Charles is referring to in the note, highlighting his continuation of the monarchy that Elizabeth led for seven decades.