How Many Royals Are Buried At Westminster Abbey?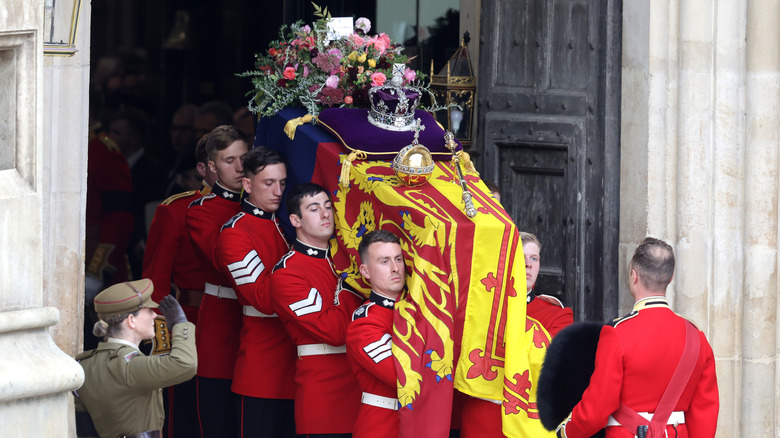 Chris Jackson/Getty Images
Westminster Abbey is the final resting place of over 3,300 people, including some of the most important historical figures of the country. In fact, you might be surprised to know Isaac Newton, Jane Austen, Charles Darwin, and the Brontë sisters are all buried here (via Westminster Abbey). 
The church you see today was built by Henry III in the 13th century, but there was an early version of Westminster Abby built on the same spot two centuries earlier, where King Edward the Confessor was buried in 1066 (per Westminster Abbey). Since then, a total of 30 kings and queens have been buried at Westminster Abby inside different small chapels. This includes many medieval royals like Edward I and his wife Eleanor of Castile, Edward III, and Richard II (per Westminster Abbey). 
A second chapel holds the remains of Henry VII and James I. Half sisters Queen Elizabeth I and Queen Mary I are both buried here together, even though one of them was Protestant and the other one Catholic.
The last king to be buried in Westminster Abby was George II in 1760, who is resting next to his wife Caroline (per Westminster Abbey). After his burial, there was simply no space left to bury anybody else in Westminster Abby. In fact, the last few kings and queens buried there — including Queen Anne, Queen Mary II and King William III, were buried without a proper tomb and just using a stone marker because there was no space to build anything for them inside the abbey (per NJ.com). 
Where the monarchs now rest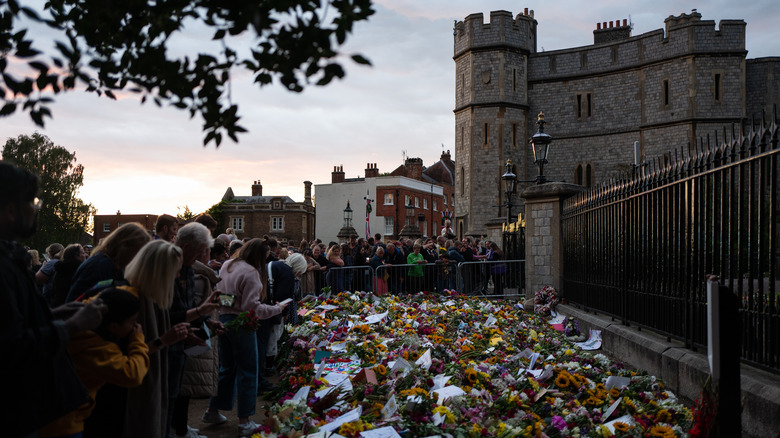 Leon Neal/Getty Images
Westminster Abbey has not been used for the funeral of a king or queen since the 18th century. King George VI's funeral (and others before him) instead took place at St. George's Chapel, where the queen will have the final committal service before her burial (via Town and Country). Westminster Abby, located in the heart of London, was likely a better choice for the beloved monarch, who was on the throne for 70 years and was expected to attract large crowds of mourners wanting to pay their final respects.
Although Queen Elizabeth II was the first monarch in over two centuries to have her funeral at Westminster Abbey, she won't be buried there either (per NJ.com). Instead, the queen's final resting place will be the small Windsor Castle's King George VI Memorial Chapel in the Royal Vault, next to her husband Prince Phillip, her father King George VI, and the Queen's mother, according to Town and Country Magazine. The queen's burial service on September 19th will be private, attended only by her close family, including King Charles and his siblings and families (per NJ.com).