There Were A Staggering Number Of People Lined In Front Of Windsor Castle To See The Queen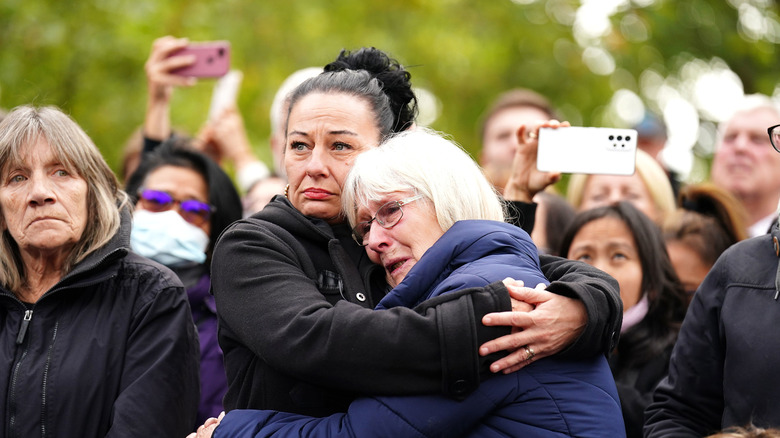 Wpa Pool/Getty Images
After Queen Elizabeth II died on September 8, 2022, her casket was taken to Westminster Hall where it was made available to the public for viewing, according to The Guardian. But it was no easy feat for the average person to get into the hall. Lines stretched for as many as seven miles at some points, and people who wanted to see the queen's adorned coffin had to stand in line for hours. Even then, they only got a rare few moments near the casket when they did finally reach the front of the queue, per NPR. 
Overall, hundreds of thousands of people were said to have visited her casket, with one man saying in an interview with NPR, "I just felt compelled to come down here." King Charles III even visited those waiting to see the queen, according to news station WYFF 4. Sky News reported that while some mourners were able to see the queen's coffin lying in state at Westminster Hall, others lined up outside of Windsor Castle, which is a little over 20 miles from Buckingham Palace and sits on 13 acres, per Brittanica.
Nearly 100,000 people flocked to Windsor Castle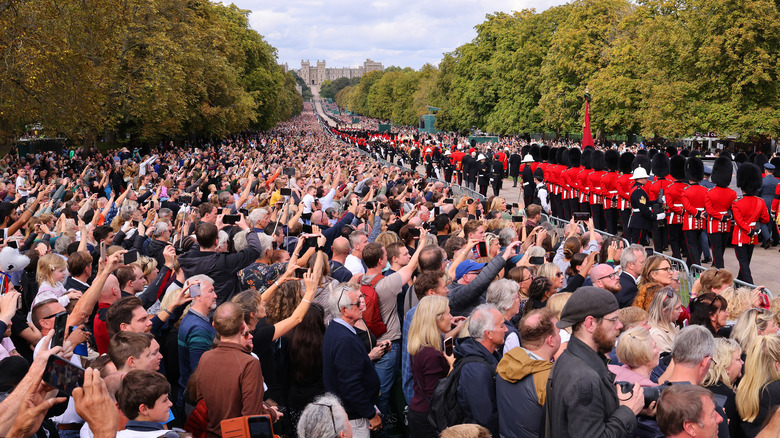 Richard Heathcote/Getty Images
Following the funeral itself in Westminster Abbey, the queen was carried in a procession through London, according to CBS News. Subsequently, a hearse took her to Windsor, to the location of her family chapel for a private burial. Along a three-mile stretch of road where "The Long Walk" portion of the funeral procession took place along the road to Windsor Castle, a staggering number of people showed up to get a glimpse of the queen's casket for the last time –- 97,000 according to a Sky News report. 
In videos of the procession, the hearse could be seen slowly driving through thick crowds of people looking to pay tribute. Crowds cheered their late queen, and children were perched on shoulders for a glimpse of the state hearse carrying the fallen monarch to her final resting place. Shouts of "God save the Queen" could be heard, per Sky News.