What We Know About Angela Kelly, Queen Elizabeth's Personal Dresser Of 30 Years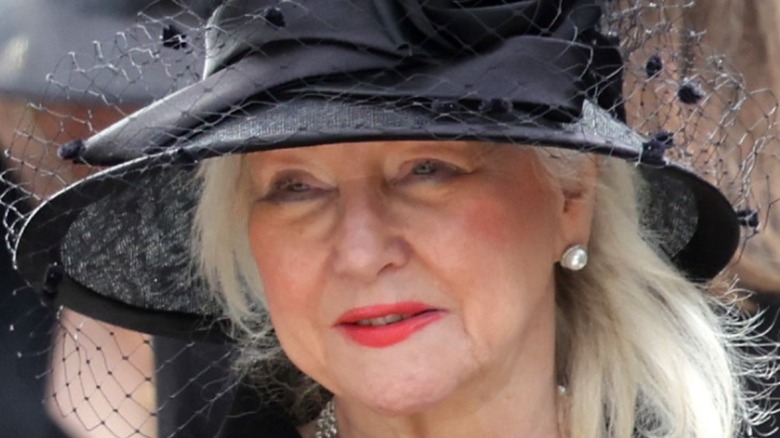 Chris Jackson/Getty
Though Angela Kelly was Queen Elizabeth II's employee for almost 30 years, she became a friend to the queen as well. According to Vogue, royal staff members reported often hearing the two laughing together from down a hallway. Reportedly, the queen also sometimes visited Kelly in her "grace and favor house" — a home on the Windsor Castle estate, given to her by the queen. Kelly herself described their rapport as "a working relationship — but a close one," saying that, like "two typical women," they discussed clothes and jewelry together.
That was more than just a hobby for Kelly: She was the queen's senior dresser. Her full title was "personal assistant, adviser, and curator to Her Majesty the Queen (jewelry, insignias, and wardrobe)." Prior to taking that position, she was an assistant dresser to the queen beginning in 1994. In her later role, she kept track of the queen's jewels and monitored which of the queen's outfits and accessories were worn on a given occasion (via Daily Mail). As the queen's assistant, she also helped the queen organize her daily life (via Hello! Magazine).
According to Vogue, Kelly also designed gowns, including the yellow outfit the queen wore to the wedding of the Prince and Princess of Wales, William and Kate Middleton. She made the replica christening gown that the royal family has used since the mid-2000s, when the original Victorian gown became too fragile. She replicated the original's creamy color by dyeing lace in tea (via Hello! Magazine).
Joking with the queen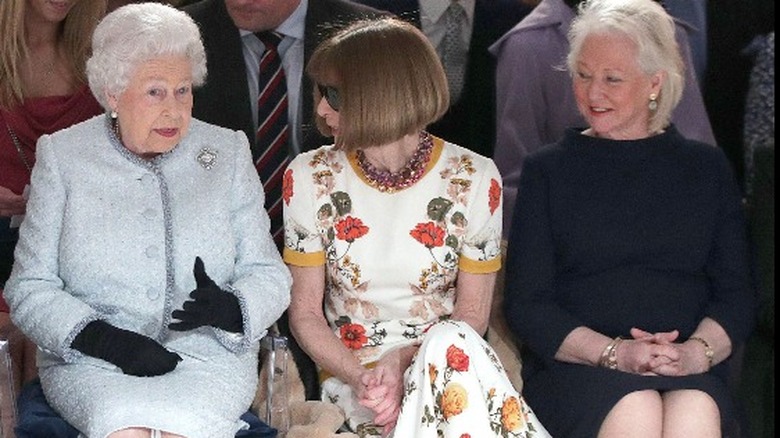 Wpa Pool/Getty
Prior to her death, the queen gave Angela Kelly (above right with the queen and Anna Wintour) permission to publish three memoirs about her work with the royal family. The third has yet to be released, per Hello! Magazine.
One of them, called "The Other Side of the Coin: The Queen, The Dresser and the Wardrobe," came out in 2019. In that book, Kelly relates a funny anecdote from a trip to Australia with the queen in 2008. The queen had told her they would probably see many kookaburra birds on the trip, so when they didn't, Kelly bought a stuffed toy kookaburra and put it in a cage in the queen's room. The queen was afraid the bird would fly out when Kelly opened the door, so Kelly held it and told her it was dead. When the "horrified" queen took it from her, she realized it was a toy and jokingly told Kelly, "You're sacked" (via Daily Mail).
The queen also gave Kelly permission to continue living in her Windsor home. The queen's staff now have a month's notice to find a new job or be moved to another royal household, but Hello! Magazine theorizes that Kelly, 64, will retire instead. Kelly has said she hopes to visit America after the queen's funeral.