Meet Adele Hankey: Queen Elizabeth's American Pen Pal For Seven Decades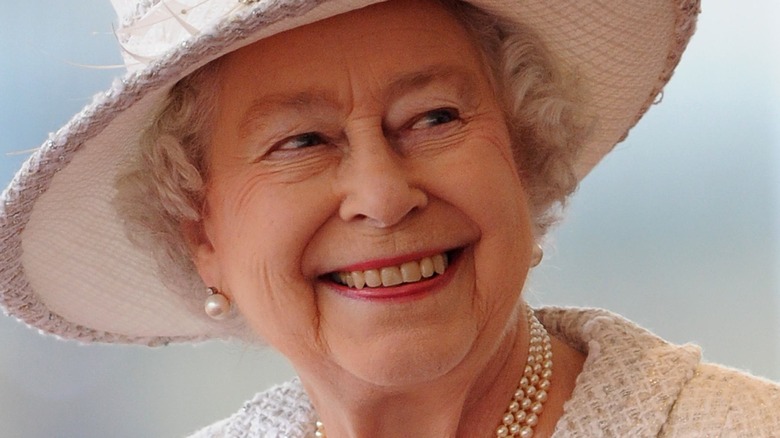 Paul Hackett - WPA Pool/Getty Images
Prominent themes throughout the reign of Queen Elizabeth II was modernization and humanization of the British monarchy. She became queen when television was only in its infancy. However, she used this new tool to reach the public in their own living rooms when she arranged for cameras to broadcast her coronation ceremony in 1953. She believed that you "have to be seen to be believed" (via The New York Times). Therefore, for the entirety of her reign, cameras showed her speaking with ordinary people in crowds rather than simply waving at them without making any personal connections (per CNN). She even allowed for a stunt double dressed as her to parachute into the 2012 Olympics Opening Ceremony with James Bond.
Sometimes public figures do not seem accessible to the public. It is hard to imagine someone like Queen Elizabeth II doing anything mundane. Though she made many attempts to show the human side of the monarchy to the general public, some aspects of her every day life remained more under the radar — like her penpal relationship with Adele Hankey.
Adele Hankey and Queen Elizabeth II shared a birthday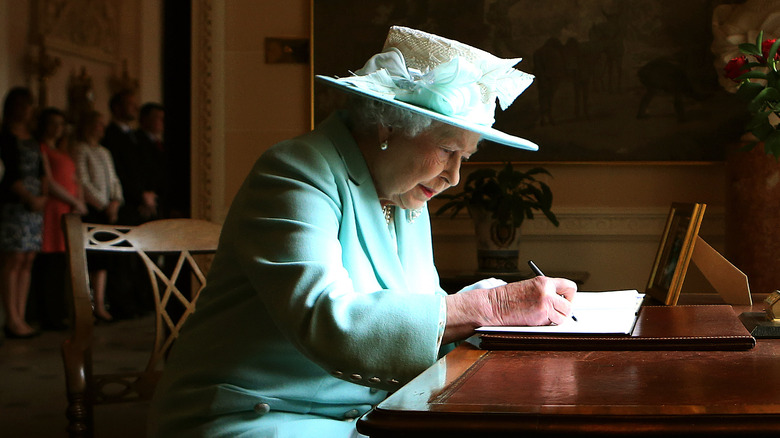 Brian Lawless - WPA Pool/Getty Images
Adele Hankey of North Dakota had a surprising way of accessing the human side of Queen Elizabeth II. KFYR reported that Hankey was born on the same day as the queen: April 21, 1926. Hankey sent a letter to the queen after her royal coronation in 1953 and received a response. They began a birthday tradition that lasted 70 years despite never meeting in person. In these annual handwritten letters, Hankey and the queen discussed their love of cooking, especially marmalade. Upon the death of the queen on September 8th, 2022, Hankey said she will miss the letters and might wear a hat on her 100th birthday as the queen so often did.
While the world will remember Queen Elizabeth II's steadfast leadership through familial, national, and global turmoil, details such as taking the time to be a pen pal with someone thousands of miles away make the queen all the more memorable. Behind the massive Imperial State Crown, which the queen wore during her 1953 coronation, really was a regular person who liked marmalade and connecting with people.