Rock Songs You Need To Hear Before You Die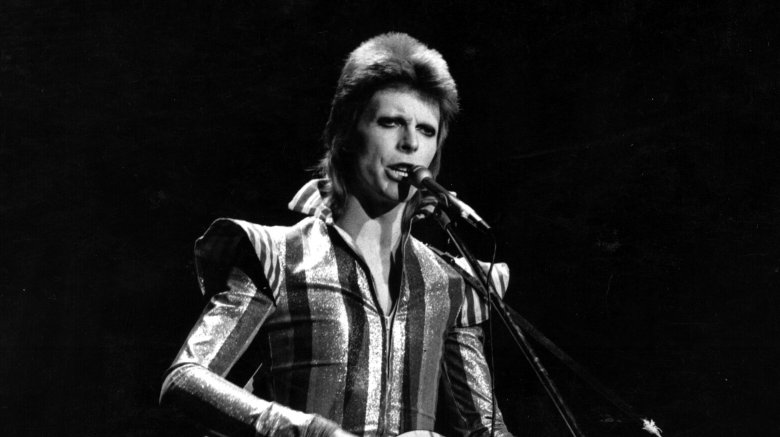 Getty Images
Rock music has evolved over the decades, spanning a number of genres including punk, metal, new wave, Britpop, glam, and more. While thousands upon thousands of classic songs have been recorded over the years, there are certain tracks that stand out as revolutionary or groundbreaking or just plain mesmerizing. Some of these are all-time classics, others are more underground, but all of these are songs you need to hear before you die.
David Bowie - 'Space Oddity'
The iconic David Bowie was one of rock's most innovative performers, and he displayed his groundbreaking talent on his very first hit single, "Space Oddity." The song, released five days before the launch of Apollo 11 in 1969, tells the tale of fictional astronaut Major Tom, a character Bowie would revisit in later songs like "Ashes to Ashes." According to Bowie, he was inspired to write the song after seeing the 1968 Stanley Kubrick film 2001: A Space Odyssey, which he found "amazing." 
"I was out of my gourd anyway, I was very stoned when I went to see [the movie], several times, and it was really a revelation to me. It got the song flowing," Bowie told Performing Songwriter magazine in 2003.
The song itself is very cinematic in nature, featuring a dramatic countdown and a back-and-forth dialogue between Major Tom and Ground Control, painting a beautiful yet haunting picture of space travel.
Nine Inch Nails - 'Head Like a Hole'
Nine Inch Nails mastermind Trent Reznor owes a debt to Ministry front man Al Jourgensen, who influenced NIN's early sound, and apparently even inspired the band's name and title of their breakthrough single. During a Ministry concert in 1987, Jourgensen reportedly said that "listening to Ministry is like having a 9-inch nail hammered into your head like a hole." Regardless of its inspiration, "Head Like a Hole" is a tour de force that helped bring industrial music into the mainstream consciousness, emerging as the standout track on NIN's 1989 debut album Pretty Hate Machine.
With lines like "God Money / I'll do anything for you" and the powerful chorus, "Head like a hole / Black as your soul / I'd rather die / Than give you control," the song has a double meaning of sorts. There is a dominance/submission aspect to it, but there's also a commentary on the god-like control money can have over an individual.
"Head Like a Hole" is a live staple for Nine Inch Nails, often closing out the band's set. With its aggressive chorus and catchy beat, it's a rare song that can play as well to headbangers as it can to clubgoers.
The Stooges - 'I Wanna Be Your Dog'
Iggy Pop is one of rock's all-time great live performers, throwing his body around like a rag doll in concert. He's also widely considered to be the Godfather of Punk. While his band the Stooges weren't necessarily a punk band, they helped pave the way for the genre that would emerge in the mid-'70s with the Ramones and the Sex Pistols. In fact, the song "I Wanna Be Your Dog" from the Stooges' 1969 self-titled debut album combined elements of punk and heavy metal before either genre existed. As for the meaning, Iggy told Howard Stern, "Have you ever seen like a really good-looking girl, really nicely dressed, and she walking down with her dog, right? ... Basically, it's the idea of 'I want to unite with your body. I don't wanna talk about literature with you, I wanna dog you.'"
As with most Stooges or Iggy Pop songs, hearing the recorded version of "I Wanna Be Your Dog," as great as it is, doesn't do it as much justice as seeing Iggy perform it live — something about seeing a wiry, shirtless dude who is about to leap into the audience with his pants barely hanging on adds an extra element of danger to a song that is raw as it as powerful.
Led Zeppelin - 'Immigrant Song'
When it comes to songs you need to hear before you die, there are a ton of Led Zeppelin tunes that would qualify. After all, the band recorded classic track after classic track. Here, we're going with "Immigrant Song," a track that showcases singer Robert Plant's wide-ranging vocals. The song was inspired by the band's visit to Iceland, with Plant explaining, "We weren't being pompous. ... We did come from the land of the ice and snow. We were guests of the Icelandic Government on a cultural mission."
Containing lyrics referencing Norse mythology, the song is told from the perspective of Vikings, a theme that would later be adopted by several metal bands. The song also contained the lyric "the hammer of the gods," a phrase that would be used by many to describe Led Zeppelin's overall sound moving forward.
All that said, "Immigrant Song" simply rocks hard, as Jimmy Page's monster riffing and John Bonham's unparalleled drumming create a muscular backdrop to Plant's banshee-like wail.
"Immigrant Song" has been covered countless times, with Nine Inch Nails' Trent Reznor teaming up with the Yeah Yeah Yeahs' Karen O to collaborate on a version for the David Fincher-directed The Girl With the Dragon Tattoo in 2011.
Velvet Underground - 'Heroin'
The Velvet Undergound should have been one of rock's biggest bands but they were way ahead of their time. Musically and lyrically, the band experimented with sounds in the 1960s that would still seem groundbreaking by today's standards. "Heroin" shows the Velvet Underground at their experimental best, starting off slowly and building its way up to a raucous crescendo.
Lyrically, front man Lou Reed offers a disturbing yet poetic look into how heroin can take control of your mind and body. However, Reed wrote the song when he was supposed to be in a very different mindset. "I was working for a record company as a songwriter, where they'd lock me in a room and they'd say write ten surfing songs, ya know, and I wrote 'Heroin,'" he told radio station WLIR.
In a day and age where there is a heroin epidemic running rampant throughout the United States, the harsh and graphic lyrics of "Heroin" would serve as much-needed wake-up call to the dangers of the drug.
System of a Down - 'Chop Suey!'
No, this song isn't about a popular Chinese dish that combines a number of seemingly random ingredients, but System of a Down's "Chop Suey!" is still aptly named as it's one of the most bizarre tracks to become a hit at rock radio. Combining lightning-quick verses with an epic chorus, the song is as frantic as it is beautiful, displaying the band's razor-tight musicianship and singer Serj Tankian's operatic vocals.
The song was the first single off the band's critically acclaimed opus Toxicity, which eerily topped the Billboard 200 album chart the week of 9/11 in 2001. Originally, "Chop Suey!" was titled "Suicide" but the name was changed in fear that it would not receive radio play.
Special note: Unless you're some sort of pro, think twice before selecting "Chop Suey!" during an after-work karaoke night out with your co-workers, as it just may be the hardest song in the book to sing along to.
Metallica - 'Master of Puppets'
In the 1980s, Metallica established itself as the master of thrash metal, and "Master of Puppets" is one of the greatest thrash metal songs of all time. While Metallica introduced the world to thrash with its 1983 debut album Kill 'Em All, it unleashed its masterpiece in 1986 with its third disc, Master of Puppets, led by the aforementioned title track. The album would be the last to feature virtuoso bassist Cliff Burton, who tragically died in a bus crash the same year the disc came out. Before his death, he called "Master of Puppets" the "best Metallica song yet."
As for the lyrics, front man James Hetfield explained to Thrasher magazine, "'Master of Puppets' deals pretty much with drugs. How things get switched around, instead of you controlling what you're taking and doing it's drugs controlling you." Preach, brother.
The Rolling Stones - 'Sympathy for the Devil'
It's hard to pick just one Rolling Stones song as one you need to hear before you die, as the band has had a legendary career spanning more than 50 years. One track that sticks out among the rest, however, is "Sympathy for the Devil" off their 1968 album Beggars Banquet. Backed by a samba beat, the song is sung by Mick Jagger from the perspective of the devil, a daring move for the time, with some accusing the Stones of devil worshiping. The song serves as a history lesson of sorts, recounting atrocities from the ancient past to the modern day.
In an interview with Creem magazine, Jagger said, "[When people started taking us as devil worshipers], I thought it was a really odd thing, because it was only one song, after all. It wasn't like it was a whole album, with lots of occult signs on the back. People seemed to embrace the image so readily, [and] it has carried all the way over into heavy metal bands today."
The lyrics were so current to the times that the band actually had to change the line "I shouted out 'Who killed Kennedy?'" to "Who killed the Kennedys?" as Robert Kennedy was assassinated during the recording of the track.
The Clash - 'White Riot'
On its very first single, "White Riot," legendary punk act The Clash came out swinging against authority and oppression. Initially, there was a thought that the song was promoting a race war, but that wasn't the case. Singer-guitarist Joe Strummer and bassist Paul Simonon were inspired when they found themselves in England's Notting Hill and witnessed black youths clashing with white police during a festival to celebrate Caribbean culture. Strummer explained to NME that he thought white youths needed to step up and show some of that same courage: "The only thing we're saying about the blacks is that they've got their problems and they're prepared to deal with them. But white men, they just ain't prepared to deal with them — everything's too cozy. They've got stereos, drugs, hi-fis, cars. The poor blacks and the poor whites are in the same boat."
Despite the tune's intended meaning, the song often incited violence at The Clash's shows, and there was often a fierce debate among band members as to whether to play it, with Strummer even decking singer-guitarist Mick Jones for refusing to play it at a gig in 1979.
The Who - 'Baba O'Riley'
Often mistakenly called "Teenage Wasteland" because of the the famous line from the song, The Who's "Baba O'Riley" is in many ways the ultimate rock anthem. Powered by a revolutionary backing track which guitarist Pete Townshend created using the Marimba repeat function of an organ, the song was originally slated for The Who's Lifehouse project, a rock opera that was scrapped. Instead it appeared as the first song on the band's Who's Next album. The phrase "Baba O'Riley" never appears in the song; rather it's a nod to Townshend's spiritual guru Meher Baba and an experimental composer named Terry Riley. Musically, the song is simple yet complex, as Townshend's powerful guitars and singer Roger Daltrey's massive vocals make it an ultimate sing-along classic that's one of the most powerful rock tunes ever written.
'"Baba O'Riley" would reach new audiences when it was used as the theme song to the CBS show CSI: NY. In fact, every show in the CSI franchise used a Who song as its theme.
AC/DC - 'Back in Black'
Not only is AC/DC's "Back in Black" one of the greatest hard rock songs of all time, it's a representation of triumph for a band that could have easily called it quits. Following the death of their lead singer Bon Scott in early 1980, AC/DC's future was up in the air. But only weeks later, the band recruited singer Brian Johnson, who not too long after joined the band in the studio to record the album Back in Black. The title track served as a tribute to Scott, with Johnson telling Mojo magazine that the band asked him to write lyrics that would celebrate Scott's wild life instead of being morbid, motivating him to come up with lines like,  "I kept looking at the sky / cause it's gettin' me high / Forget the hearse / cause I'll never die / I got nine lives cat's eyes /Abusin' every one of them and runnin' wild."
Back in Black would go on to become one of the most successful rock albums of all time, with Johnson continuing the legacy that Scott had established with AC/DC.
The Beatles - 'A Day in the Life'
You can't have a list of rock songs you need to hear before you die without including The Beatles, arguably the greatest rock band of all time. The list of "must-hear" Beatles song is seemingly endless, but one track that epitomizes the band's greatness is "A Day in the Life" off the 1967 album Sgt. Pepper's Lonely Hearts Club Band. The song combines the edginess of John Lennon, who wrote the lion's share of the track's music and lyrics, with the whimsical nature of Paul McCartney, who contributed the middle section (which was originally intended to be a separate tune). The song was inspired by current newspaper headlines of the day, including the car-crash death of Tara Browne, an heir to the Guinness fortune whom Lennon and McCartney both knew. 
Musically, "A Day in the Life" shows the Beatles' pop, rock and experimental sides, with a number of twists and turns throughout the song. It was a case of two of rock's greatest songwriters coming together to pen an absolute masterpiece. As Lennon told Rolling Stone, "'A Day In The Life' — that was something. I dug it. It was a good piece of work between Paul and me. ... Now and then we really turn each other on with a bit of song. ... It just sort of happened beautifully."