Everything We Know About Adnan Syed's Overturned Murder Conviction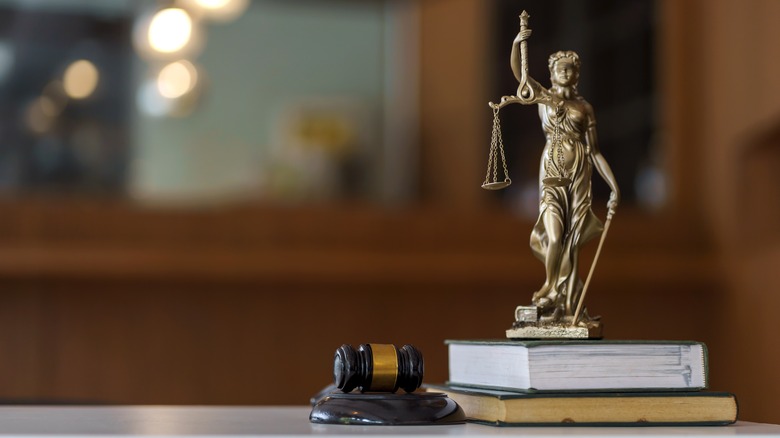 PanuShot/Shutterstock
Back in February 1999, 18-year-old Hae Min Lee was found strangled to death and buried in a makeshift grave in Leakin Park in Baltimore, Maryland. The primary suspect was Adnan Syed, her ex-boyfriend and "popular honors student," as The Baltimore Sun says, at Woodlawn High School. The prosecution said that Syed couldn't handle the breakup, lost it, murdered Lee in his car after grappling with her, and then tried to hide her body in the ground. 
Using this narrative, the prosecution built a case on cell phone location data that synced up with testimony from Syed's friend and co-defendant Jay Wilds, as The New York Times explains. Wilds seemed to corroborate Syed's presence in the area of Leakin Park at the time of Lee's death. After an original mistrial ended in December, 1999, Syed was convicted of Lee's murder the following February, as The Guardian states. He was given a life sentence plus 30 years at 17 years old, and has been behind bars ever since. 
Syed's case got so much national attention that it spawned media spin-offs. In 2019 HBO launched a four-episode mini-series, "The Case Against Adnan Syed," which covered the case approaching the 20th anniversary of Syed's conviction. (The trailer is on YouTube.) Syed's case also provoked the launch of an award-winning podcast, "Serial," which follows one criminal case per season. The first season, in 2014, featured Syed, and now that original season has had an additional episode added to it — lucky No. 13. The title says it all: "Adnan is Out."
Released after 23 years
Calypso Photo/Shutterstock
Part of the public's interest in Adnan Seyd's case comes from the lack of any physical evidence connected to Hae Min Lee's murder. This, plus Seyd's unrelenting insistence that he's innocent, led to the now-41-year-old gaining a massive following of supporters during his imprisonment. And now, as The Baltimore Sun describes, those supporters and Seyd both have a reason to celebrate. Seyd's sentence has been overturned by Associate Judge Melissa M. Phinn, a judge on the Baltimore City Circuit Court, 8th Judicial Circuit (via Maryland Manual On-line).
The change in ruling stems from the Brady Rule from the 1963 Brady v. Maryland case, outlined on Cornell Law School. The Brady Rule states that the prosecution must reveal any evidence it possesses that might help to exonerate the accused. The evidence can take a variety of forms, including the presence of police misconduct, undisclosed records or reports, information that discredits a witness' story, and so on (via Shouse California Law Group), provided the evidence denotes a "reasonable probability" that the outcome of the trial would have been different if the evidence in question had been presented at the time.
In this case, as The Baltimore Sun says, the formerly undisclosed evidence amounts to the authorities knowing of at least one additional suspect at the time of Seyd's arrest and trial: a serial rapist. Lee's car was also found near the house of another alternative suspect. This was enough for Judge Phinn to overrule Seyd's sentence.  
Seyd still might be put on trial again
Bear in mind that Adnan Seyd (above) has not been acquitted of his crime. Judge Phinn's ruling in the "interest of justice and fairness" placed Seyd on "home detention" for 30 days, where he had to wear a GPS monitor, as The Baltimore Sun says. Now, Baltimore State's Attorney Marilyn Mosby's office has to decide whether or not it'll drop Seyd's charges or bring him to trial once again. 
Experts prior to Judge Phinn have described other problems with Seyd's case, aside from its overall lack of concrete evidence. The Guardian quotes lawyer and activist Rabia Chaudry as saying, "Every piece of forensic evidence collected pointed to Adnan's innocence. From the hairs found on Lee's body, which did not match Adnan, to the dozens of soil samples taken from his clothing, shoes, car and room, which returned negative results for matching soil from Leakin Park."
During Judge Phinn's ruling, Seyd remained stone-faced, while his family gasped and cried. Once Judge Phinn said, "All right Mr. Syed, you're free to join your family," and Syed made it outside to a throng of reporters and supporters, he was finally seen breaking a smile. The family of victim Hae Min Lee, by contrast, found renewed suffering during this period, as they do any time a piece of media related to Lee comes out. Lee's brother, Young Lee, said to Judge Phinn via video (per The New York Times), "This is not a podcast for me. This is real life — a never-ending nightmare for 20-plus years."
In March 2023, NBC News reported a new development that again puts Seyd's fate in question: The previous murder charges were reinstated against him after an appeals court ruled in favor of Lee's family, who argued that they were not given sufficient notice of the hearing that paved the way for the vacation of the murder charges against Seyd.